How Buckeyes defensive ends fare in name, image, likeness space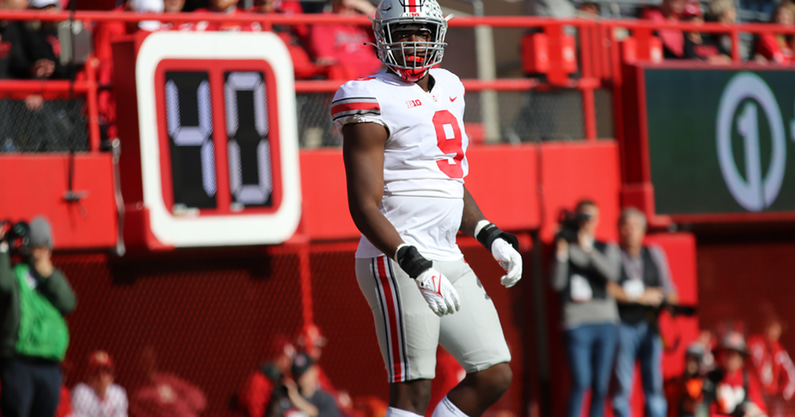 The summer offseason is in full swing, and Lettermen Row is trying to survive it with our annual Position Week breakdowns. By the time all nine units and coaching staff at Ohio State have been covered, training camp and media days will nearly have arrived, and the return of football in the Horseshoe will be just around the corner. Our positional weeks roll along with the deep Buckeyes defensive line unit.
---
COLUMBUS — The Ohio State defensive ends haven't been where they wanted to for the last two seasons.
That doesn't mean they aren't capable of getting back to that standard. No, the Buckeyes pass-rush specialists and defensive leaders are gearing up to get right back on track. And they know how that should look and feel — both on and off the field.
"We know what to expect," Ohio State senior defensive end Zach Harrison said. "We know when we're hitting on all cylinders, and we know when we're not. And it's not a secret because we all know, so we can be open about it and call each other out. … We know that supposed to look like, as opposed to when I came in, and when they came in, and the majority of the guys who had playing time were the five seniors on a team. None of us had ever played. Now, even the young guys in the room all have valuable game reps.
"We all know what to expect and what it is supposed to look like."
If they can handle their business on the field, businesses will want to partner with them on deals regarding their name, image and likeness. With the talent assembled in the Rushmen room, those chances will certainly come.
Lettermen Row is in the early days of Defensive Line Week, breaking down the Buckeyes Rushmen in the trenches. So it's also a perfect time to dive into the opportunities some of the biggest names at the position on the roster have in the space of Name, Image and Likeness now and into the future.
Note: All values are based on the On3 NIL Valuation, the industry's leading index that sets the standard market NIL value for high school and college-level athletes. 
Ohio State defensive ends NIL valuation
Zach Harrison: The former five-star recruit and current Buckeyes captain has the highest NIL valuation of any Ohio State defensive end, checking in at a value of $477,000. He is currently the No. 49 player in college football in terms of valuation, and that has a chance to go up even further if he has a good senior season. Harrison signed with NIL Management
Jack Sawyer: Like Harrison, Sawyer is a former five-star prospect who is from Central Ohio. His NIL valuation sits at $212,000, and it certainly will increase. He had a great freshman year for the Buckeyes on and off the field, becoming a part of the defensive line rotation and signing NIL deals, most notably with Mark Wahlberg Chevrolet for a car. Sawyer figures to be a bigger part of the defense this fall, which will be good news for his value.
J.T. Tuimoloau: Another second-year defensive end, J.T. Tuimoloau was a five-star in high school, but he kept himself out of the media spotlight during his recruitment. His value, even without the attention, is at $57,000, a number that will grow as he gets more time on the field for the Buckeyes. Tuimoloau is a prime candidate for a breakout fall, both on the field and in the NIL space.
Javontae Jean-Baptiste: One of the senior leaders of the unit, Javontae Jean-Baptiste has a current value of $49,000. Jean-Baptiste has had a productive career so far with the Buckeyes, and a big senior year could propel him up the NIL valuation.
Caden Curry: One of the early-enrollees and surprises of spring practice, Caden Curry already has an On3 NIL valuation of $43,000, and that will get bigger as early as this fall. Curry has the skills necessary to become a playmaker for the Rushmen. That'll come with plenty of NIL opportunities.
Kenyatta Jackson: With a valuation of $36,000, Jackson arrived on campus this summer.
Omari Abor: Another summer enrollee, Abor has a value set at $31,000.