Ohio State Athletic Director Gene Smith honored with major leadership award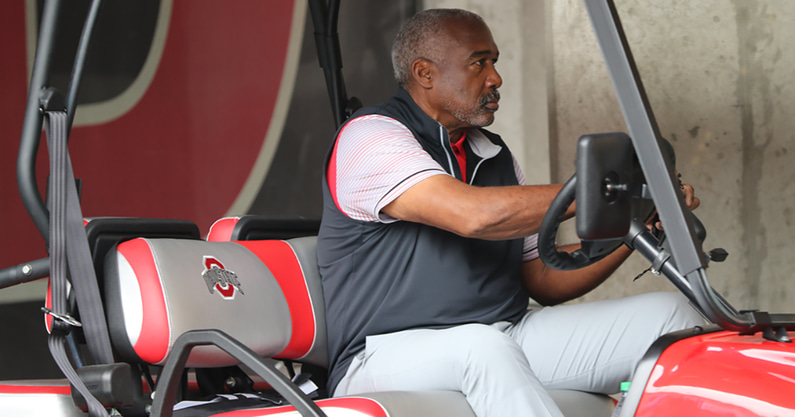 COLUMBUS — Ohio State athletic director Gene Smith has helped lead college athletics into new territory at nearly every turn during his time as a Buckeyes administrator.
He is now being honored for his work in the world of college athletics. Smith received the David Williams II Leadership Award by the Lead1 Association at the annual Collegiate Sports Summit this week. The event has been taking place this week in Dallas.
According to an Ohio State release, the award given to Smith is "presented to an athletics director who personifies exemplary leadership, vision, service, and dedication in intercollegiate athletics." Smith certainly fits the bill, and he was honored for his work.
"I feel so honored and privileged to have the opportunity to receive this award in David's name," Smith said in a release put out by Ohio State. "He was a trailblazer. We're both very different in where we came from, but we shared one passion and that was the student-athletes that all of us in this room serve.
"We cannot forget the ecosystem we serve: it's those young people that we're blessed to serve every day. We need to help them understand that they have a chance in our society to be leaders."
David Williams II, who the award is named after, spent 14 years at Ohio State, spanning from 1986 to 2000. He was vice president for student and urban/community affairs at Ohio State before leaving for a post at Vanderbilt, where he served as the vice chancellor and athletic director for a period of time before his death in 2019.
Smith is at the forefront of the changing landscape of college athletics. He has been on various committees focused on where the NCAA can improve, how the Name, Image and Likeness task force and better-help athletes, how the College Football Playoff can be better-suited for the sport and NCAA Tournament committees during his career.
For all of his work as a college football and sports leader, he was honored with the major award, just another example of the weight he carries in the ever-shifting landscape of college athletics.