Freshman defensive lineman Hero Kanu sheds black stripe for Buckeyes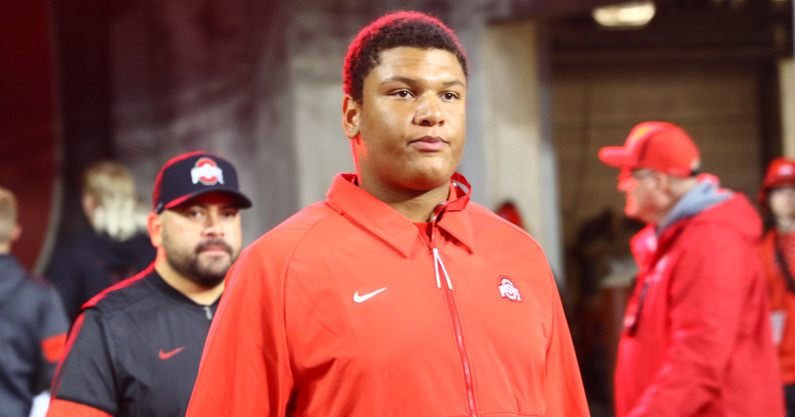 COLUMBUS — Hero Kanu may have arrived in June for Ohio State, but he is already starting to show why he was so highly-coveted by the Buckeyes out of high school.
That work put in so far in his career is paying off in the middle of the fall.
Kanu, a former four-star prospect from Santa Margarita Catholic (Rancho Santa Margarita, California) High shed his black stripe for the Buckeyes this week at practice, a mark that signifies that he is officially a member of the football program.
Ohio State has one of the deepest defensive lines in the country; Kanu will have a tough time finding the field this fall during his first season with the program. But he certainly is putting the foundation down to be a big part of the plans in the future of the Rushmen under Larry Johnson.
He took a big step forward on that path Wednesday by shedding his black stripe. Hero Kanu is now officially a member of the Buckeyes program.
Hero Kanu joins other Ohio State freshmen to lose black stripes this preseason
Defensive back Ryan Turner, wide receiver Kojo Antwi, wide receiver Kaleb Brown, defensive end Kenyatta Jackson, cornerback Jyaire Brown, linebacker C.J. Hicks, tailback Dallan Hayden and wide receiver Kyion Grayes were all freshmen who shed their stripe during camp. Freshman safety Sonny Styles, who reclassified from the class of 2023 into the class of 2022, shed his black stripe just before the season began.
Defensive end Caden Curry and safety Kye Stokes lost their black stripes during spring practice.
Now Hero Kanu is the latest freshman to shed his.
Counting down
Buckeyes vs. Wisconsin: 2 days away
Buckeyes vs. Michigan: 65 days away
Are you subscribed yet?
Are you ready to get all your latest Ohio State news in one place? Become a member of Lettermen Row today. With your Lettermen Row/On3+ membership, you'll not only have access to the everything that's happening with the Buckeyes, but you'll also be able to peruse other fan sites within the network to hear just how rivals are feeling about Ohio State, as well. Make sure to follow along on Twitter, Instagram and on Youtube for all the latest Buckeyes news you need to know.
Already signed up? Don't forget to join us in the Lettermen Lounge to talk about the latest Ohio State sports news.