Buckeyes plan on having Jaxon Smith-Njigba for pivotal Penn State trip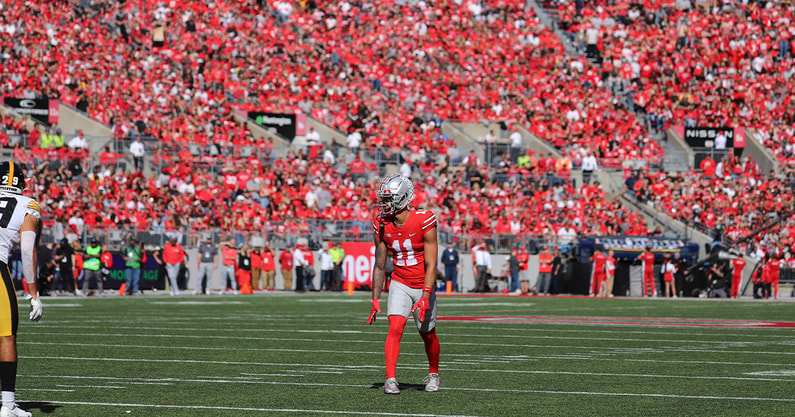 COLUMBUS — Ohio State had a set number of snaps for Jaxon Smith-Njigba on Saturday.
After just 22 snaps, two more than the 20 the Buckeyes originally wanted out of their star receiver in his first action since mid-September due to a hamstring injury, he was shut down and sidelined after running a route down the field — and favoring one of his legs on the way back to the bench.
Ohio State coach Ryan Day made sure to clarify that there was no further injury or health scare for Smith-Njigba. No, he was shut down for the snap count — and snap count only.
Smith-Njigba didn't have a huge impact on the Buckeyes 54-10 win over Iowa on Saturday, but his return — and maintained health — was certainly a welcomed sight for an offense that would love to have its best weapon back to full speed.
Ohio State coach Ryan Day could tell that Smith-Njigba wanted to be back out on the field beyond his allotted 20 plays. But it's all part of the plan to get the junior playmaker back into the offensive plans — and keep him healthy.
"He's always been trying to get back out there," Day said Tuesday during his weekly press conference. "He's a competitor, and it's been hard for him not to be out there more. But we wanted to make sure that we kept that number to right about 20 and make sure we didn't put him out there more."
Day and the Buckeyes do not have a planned pitch count set for Smith-Njigba this week when they hit the road for a showdown with No. 13 Penn State, but they do expect him to be in the lineup for the Noon kickoff in State College.
"That's the plan," Day said.
Smith-Njigba was targeted by Ohio State quarterback C.J. Stroud three times on Saturday. He caught one pass for 7 yards in his first action since the Week Three win over Toledo. Of course, the Buckeyes have been doing just fine offensively without him this season; they have the best offense in the country according to many metrics.
Adding a healthy Smith-Njigba into the equation would make the Buckeyes even more dangerous to defend.
But that can only come if he is healthy. Day and Ohio State have relied on the training staff and medical personnel to make sure he is ready to go in a full capacity before they bring him back full-time, not on a pitch count.
Could he be on a snap count this week at Penn State? Possibly. But the Buckeyes are in wait-and-see mode, still relying on the right people to make the right calls regarding their superstar.
"As the week goes on, we'll know more," Day said. "… We'll keep figuring more stuff out and by the end of the week, we'll have a better idea."
The 'pitch count' worked on Saturday, and it kept him from suffering a further injury.
And if he shows more progress in the days and weeks ahead, the snap count for Jaxon Smith-Njigba will continue to go up until he can be on the field for an entire game — and have a massive impact on this Ohio State offense.