Buckeyes finding balance between giving Kyle McCord full playbook in fourth quarter, 'respecting game'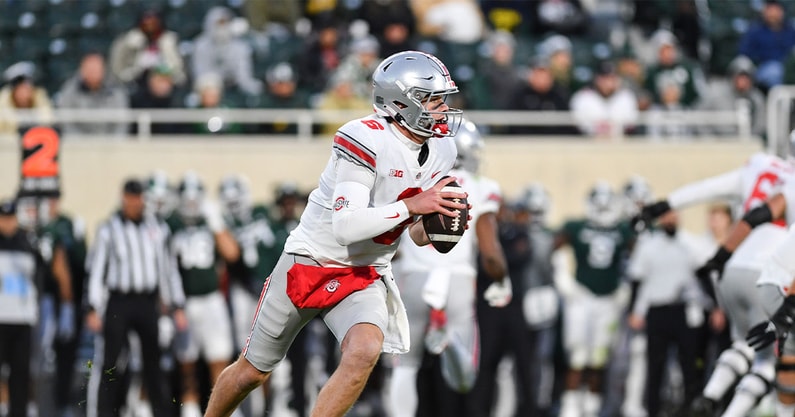 COLUMBUS — Ohio State has a fourth-quarter problem that most programs should be jealous of, and they certainly would like to have.
How should the Buckeyes handle late-game snaps for backup quarterback Kyle McCord? The second-year signal-caller and former five-star prospect has played in four of six games this season. He has attempted passes in all four appearances once C.J. Stroud and the starting offense are finished torching defenses.
McCord has played 11 drives for the Buckeyes this season. He has attempted just 16 passes, completing 12 of them for 157 yards and one touchdown, a 72-yard pitch-and-catch-and-run to Jayden Ballard against Toledo. He has handed the ball off far more than he has thrown it — because he plays when the game is already decided.
The 'to let Kyle McCord run the offense and let it rip or not to' isn't black and white. It's a balance coach Ryan Day and the Buckeyes are trying to juggle, one that makes them consider the future of the program, sportsmanship, respecting the game and plenty of other factors.
"It's obviously a good problem to have, don't get me wrong," Day said Tuesday. "But it's something that, you know, you want to make sure you respect the game. But at the same time, you want to get him going a little bit. … You start to get inside of five or six minutes in the fourth quarter when you're up in a lopsided game, I just want to make sure I respect the game in that area.
"But we certainly want to get him in the game, especially at the end of the third quarter or early fourth quarter and get some first downs, let him go play."
McCord has only been on the field during blowouts this fall. Through six games, Ohio State is averaging a scoring margin of 29.7 points per game through three quarters. Take out the Notre Dame game, and that scoring margin skyrockets even further.
Day's point is valid. Ohio State could have ran the score up on Arkansas State, Toledo, Rutgers and even Michigan State and Wisconsin had he allowed McCord and the second-team offense to operate at the same level as Stroud and the first-teamers for the entire fourth quarter.
McCord would gain game reps that way. But it's not in Ryan Day's philosophy to continue piling on points for the sake of piling on points.
He wants to have a certain respect for the sport and game. Like it or not, that's the way he handles his blowouts. And that's the way he'll likely continue to handle the Kyle McCord — and Devin Brown — led offenses moving forward.
"It's good to get [McCord] in the game and get whoever in the game, whether it's the quarterback or anybody else," Day said. "Getting those game reps under your belt, it's different than in practice. But that's just the way I have always believed the way the game should be played. When you're rolling and you're in the third quarter and beginning of the fourth quarter, go play.
"But when you start to get toward the end of those games and they get a little lopsided, I just think that's the way to respect the game."
McCord needs reps if he is going to be the starting quarterback of a national-title contender next fall, once Stroud leaves for the NFL. And Day understands that better than anyone else inside and outside of the Woody Hayes Athletic Center.
But the Buckeyes head coach also wants to make sure he is keeping a certain level of respect for the game.
It's a problem Ohio State has. A good one, indeed, and one that 130 other programs around the country would love to have.