Buckeyes midseason progress report, areas of emphasis for off week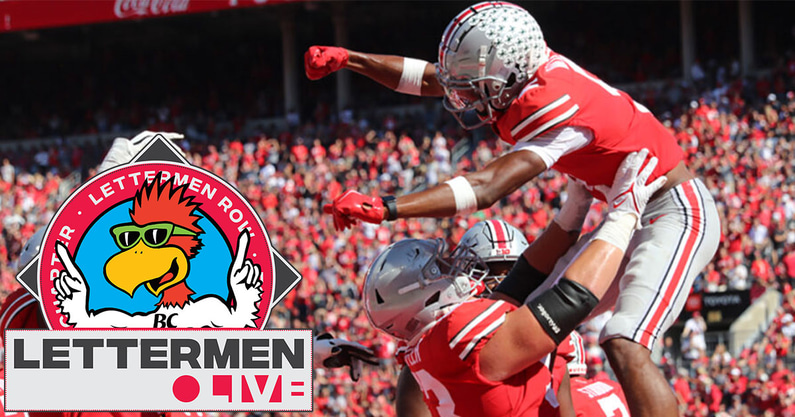 COLUMBUS — The Buckeyes are on a roll. Ohio State has looked like a completely different team over the last three weeks than it did during the first three games.
Blowout wins over Akron, Rutgers and Maryland have infused energy and confidence into Ryan Day's program, and the Buckeyes now head into their bye week at 5-1 as the No. 6-ranked team in the country.
How has Ohio State been able to turn things around so quickly and convincingly? That's what the Lettermen Row crew broke down on Monday in the latest episode of Lettermen Live hosted by Roosters.
Lettermen Row senior writer Austin Ward is joined by former Buckeyes linebacker Bobby Carpenter, former Ohio State quarterback Justin Zwick, Nicole Cox of Roosters and Lettermen Row beat writer Spencer Holbrook to analyze the Buckeyes performance against Maryland and what it means going forward.
The crew hands out some Buckeye Leaves to Saturday's top performers, and there's no surprise to hear some of the names in the discussion.
C.J. Stroud is continuing to see his stock soar as a Heisman Trophy favorite. The Buckeyes quarterback is throwing to a receivers unit that is proving it is the best in the country every week. Chris Olave is climbing the Ohio State chart for all-time career touchdown receptions. David Boston's mark of 34 touchdowns is well within reach as Olave now sits at 29 scores with six regular-season games left.
On the other side of the ball, Ohio State has found some answers behind a handful of key playmakers. There is also a lot of credit due to Kerry Coombs for the way he has handled his business like a professional.
If the Buckeyes keep firing on all cylinders like they have over the past three weeks, winning another Big Ten championship and another College Football Playoff appearance is within reach.
You won't want to those discussions and much more in the latest episode of Lettermen Live hosted by Roosters. Don't forget to grab the $2 appetizers every Tuesday at all Roosters locations. Fried mushrooms is this week's appetizer while supplies last.
As always, Lettermen Live is hosted by Roosters on Olentangy River Road in Columbus.
Check it out in the link below and find more episodes all Ohio State on Lettermen Row video content on our YouTube channel.
Lettermen Live is also available on Apple, Spotify, Stitcher and Google Play. Please rate, review and subscribe to all Lettermen Row podcasts.