Buckeyes flexing elite potential, bringing momentum into The Game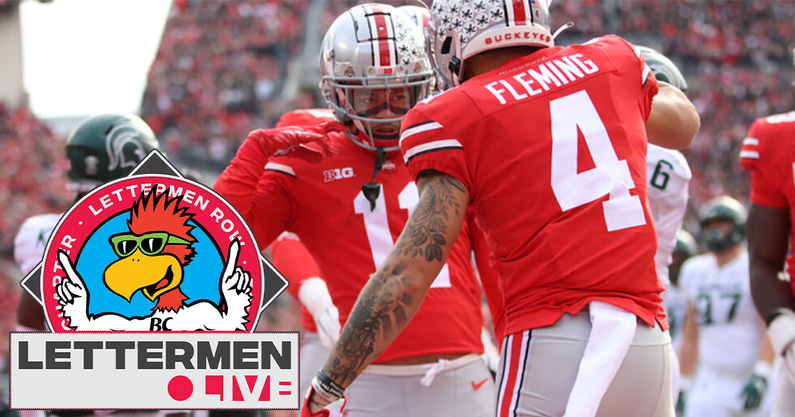 COLUMBUS — Led by quarterback C.J. Stroud, the Buckeyes absolutely dominated Michigan State on Saturday in a top-10 showdown.
Now, Ohio State will have to remain focused for a second consecutive game against a top-10 opponent.
It's Michigan Week, and the Buckeyes are as geared up for the rivalry game as they always are.
"They know what this is going to be like," Buckeyes receiver Chris Olave said. "It's 365 days that this happens at the facility, our hatred for them. We do that in offseason. I know they feel that."
The Lettermen Row crew is back to break down what to expect ahead for the Michigan matchup – and what we learned about the Buckeyes in their big win over the Spartans – in the latest episode of Lettermen Live hosted by Roosters.
Lettermen Row senior writer Austin Ward is joined by former Ohio State linebacker Bobby Carpenter, former Buckeyes quarterback Justin Zwick, Nicole Cox of Roosters and Lettermen Row director of recruiting Jeremy Birmingham.
Their conversation entails a breakdown of Stroud's massive performance against the Spartans and his candidacy to win the Heisman Trophy, analysis of a Buckeyes defense that continues to play with confidence and other Ohio State standouts from Saturday's win.
They also give a preview of what the Wolverines may throw the Buckeyes way when the two clash in Ann Arbor this weekend.
Find out those answers and more in this week's loaded episode. Don't forget to grab the $2 appetizers every Tuesday at all Roosters locations. This week's appetizer is mozzarella sticks.
As always, Lettermen Live is hosted by Roosters on Olentangy River Road in Columbus.
Check it out in the link below and find more episodes all Ohio State on Lettermen Row video content on our YouTube channel.
Lettermen Live is also available on Apple, Spotify, Stitcher and Google Play. Please rate, review and subscribe to all Lettermen Row podcasts.