Photos: Buckeyes blast Maryland on homecoming weekend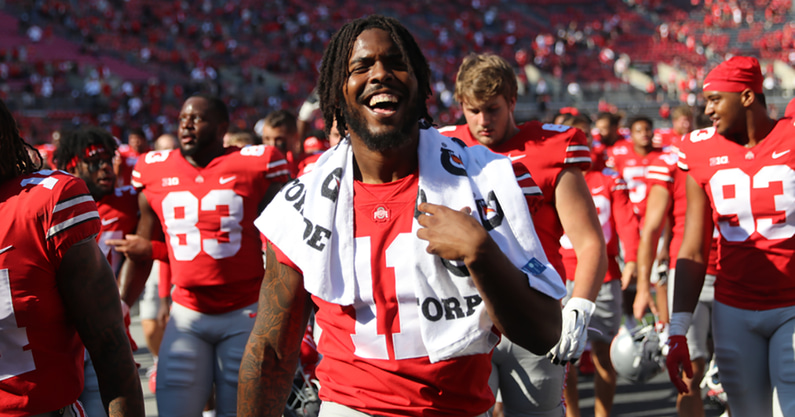 COLUMBUS – Ohio State looks to be getting back to normal.
The Buckeyes eased off the gas pedal against Akron and Rutgers over the last two weeks. Ohio State coach Ryan Day probably could have let the offense loose and scored 70-plus points if he wanted to. Instead, he chose mercy and coasted to victories with final scores of 59-7 and 52-13.
Day and Ohio State slowed itself down again in the second half but still pounded the Terrapins 66-17 at Ohio Stadium.
Ohio State's offense put up just under 600 yards of total offense on an overmatched Terrapins team.
C.J. Stroud continued to show signs that he is one of college football's rising young stars and that the injured shoulder ailing him over the first three weeks is fully healthy. TreVeyon Henderson did TreVeyon Henderson things. The Buckeyes receiving corps was again at the core of the offense, led by the country's best trio of pass catchers.
Defensively, Matt Barnes is continuing to dial up different looks and effective blitzes. The Buckeyes held its third consecutive opponent to less than 350 yards of total offense following the dominant performance over Akron (229 yards allowed) and Rutgers (346 yards).
It was the usual suspects getting it done on offense. And some of the same defensive players who have broken out over the last few weeks are still stepping up. Given the blowout, though, there were also plenty of new faces on the scene who showed up and showed out.
On an absolutely beautiful fall day in Columbus Lettermen Row on hand was on hand to snap plenty of angles from inside The Horseshoe.
Below you can sift through a photo gallery of more than 150 shots from the Buckeyes win over the Terrapins.
When the gallery loads, hover over the first item and then use your left-right arrows to scroll through photos