Matthew Jones 'doing awesome,' finally settling into starting role for Buckeyes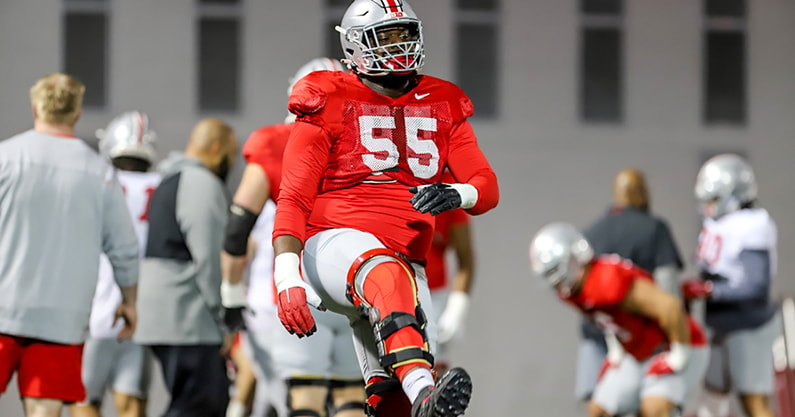 COLUMBUS — Ohio State offensive lineman Matthew Jones is done waiting on the sideline for his turn.
The fifth-year Buckeyes guard has sat out an entire season. He was a backup for three others, appearing as a second-team guard for a year and being the versatile fill-in sixth offensive lineman in each of the last two seasons.
Jones has shown an ability to play at a high level at every point during his career, including three starts in 2020 while others were out with COVID. There certainly was an argument that the Buckeyes performed better as an offensive line when he was on the field last season, even though he was a backup.
So as he makes his way through his final spring and a fifth fall with the Buckeyes, Jones is done waiting for his chance to solidify himself as a starter. He is among the best five now. And he's happy he waited it out as a backup in the buildup to cracking the starting lineup.
"I feel like it's worth it," Jones said. "Everything was worth it."
Jones didn't wait his turn for playing time while sitting behind offensive linemen with less talent. He was the backup for now-NFL contributors Wyatt Davis and Jonah Jackson. He was former five-star Harry Miller's understudy for a year and backed up Thayer Munford and Paris Johnson for a season. There's been plenty of talent to try passing for playing time. Jones was good enough to be on the field at all times. It just never worked out in his favor.
Not this spring, through. He is making the most of a clear path to the starting right guard position on a new offensive line, one that figures to be among the best the Buckeyes have had in years.
"We're hoping that this is a great opportunity for Matt," Ohio State coach Ryan Day said. "He's been thrust into this role. And so far, he has been doing a great job. But he's got to keep coming and keep growing. Because like every position at Ohio State, the expectation is that you're the best in the country at what you do."
Jones seems to be embracing the role of a new starter. Sure, he is in his fifth year with the Buckeyes program. But he's also operating as a first-time starter for an offensive line unit that has plenty of talent around him. Jones is having one of his best springs — at the perfect time to finally step into the role he's been working for.
"He's doing awesome," offensive coordinator Kevin Wilson said. "He's in Year Five, and he's got some recognition as an [All-Big Ten Honorable Mention], so he has not been bad. He's a starter and he actually is playing very good. He and Donovan, I think with Luke, we're going to be good inside. If we get those tackles comfortable, that front five has a chance to be really, really good.
"But Matt Jones has had a tremendous winter. Mature, in good health, in good spirits in good condition. He has a chance to have a really good year."
After patiently waiting for a crack at the starting five up front, Jones has all but completed the journey. The Buckeyes line appears to be locked in with Paris Johnson, Donovan Jackson, Luke Wypler, Jones and Dawand Jones.
Having that spot locked up, after years of being the second in line and first off the bench, can only help the already-confident Matthew Jones continue to embrace the role as a full-time starter.
"It helps me a lot," Jones said. "Especially in a way I train, more buy in to the details of my technique and everything. It helps me a lot. And it also brings motivation that I gotta keep going."
Matthew Jones already did the waiting. After four years, his time to truly make an impact at Ohio State is now.