Miyan Williams brings 'downhill' style, balance to Buckeyes offense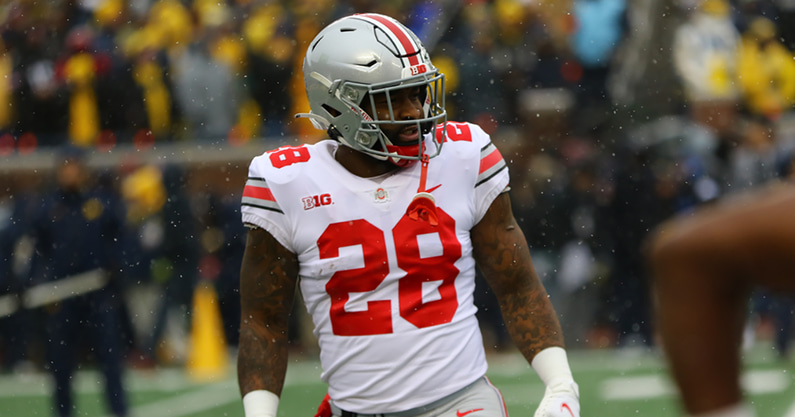 The summer offseason is in full swing, and Lettermen Row is trying to survive it with our annual Position Week breakdowns. By the time all nine units and coaching staff at Ohio State have been covered, training camp and media days will nearly have arrived, and the return of football in the Horseshoe will be just around the corner. Our positional weeks roll along with one of the premier offensive groups: running backs.
---
COLUMBUS — Miyan Williams isn't the headliner of the Ohio State tailback room.
He doesn't garner the same attention as flashy do-it-all Heisman candidate TreVeyon Henderson, and he isn't receiving the offseason hype like Evan Pryor has gained in his second summer with the Buckeyes.
But Williams can latch onto something neither Henderson or Pryor can — and that's what makes him such an intriguing option for Tony Alford and the Buckeyes running game.
"Well, you've got to get him on the ground. The guy is only 3 feet tall, so you don't have a lot of surface area to hit," Alford said jokingly. "But Miyan is a really, really, really good player. the way he gets his yards is different than the way that Evan or even TreVeyon you're gonna get their yards. But they have enough speed to get around you. Miyan's got to kind of run through you. But he's hard to get on the ground."
Alford is exactly right. And the stats back it up. Williams forced the highest rate of missed tackles in Big Ten a year ago. His 71 carries for Ohio State provided a small sample size, but his highlight tape tells the story of a beefy, physical running back that can be the perfect change of pace — and counter-punch — to what Henderson and Pryor bring to the backfield.
Now with a full year of experience, Williams can take his violent running style and refine it.
"He's got to just make sure that he's running vertically and not going side to side," Alford said. "He's got to go downhill. When he gets a chance to get his pads going downhill, he's got to do that."
To be clear: Miyan Williams is much more than a down-hill runner with power to balance out the speed and agility of Henderson and Pryor. Williams was speedy in his longest touchdown run of the year for Ohio State, a 71-yard scamper in the season opener against Minnesota. And he has shown some wiggle, creating missed tackles with some hidden agility.
The Buckeyes understand Williams is versatile enough to be useful in every situation. They're not going to limit him to just using his power to punish defenses. But Ohio State also knows how good all three backs are — and Williams is a big part of that.
"He does have enough lateral quickness to make some moves, as well," Alford said. "So I don't want to take that away from him. We have three really good players, really dynamic players in their own right that are all different. And they can all pose different problems for defenses. They can all present different skill sets for our offense."
Henderson and Pryor are gaining all the publicity this offseason — and rightfully so. Both are talented players capable of home-run highlights for the Buckeyes.
But Miyan Williams gives Ohio State another gear in the backfield. And the Buckeyes haven't forgotten about it.