Talented Buckeyes tackles 'locked in,' blocking out NFL Draft noise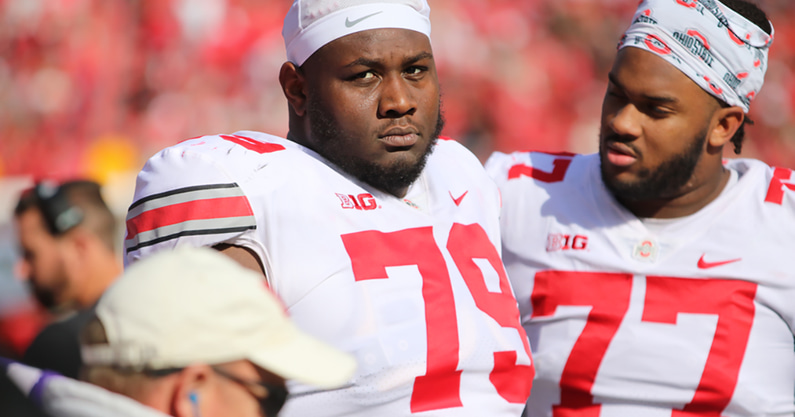 The summer offseason is in full swing, and Lettermen Row is trying to survive it with our annual Position Week breakdowns. By the time all nine units and coaching staff at Ohio State have been covered, training camp and media days will nearly have arrived, and the return of football in the Horseshoe will be just around the corner. Our positional weeks roll along with the talented Buckeyes offensive line unit.
---
COLUMBUS — Dawand Jones could have entered the NFL Draft after just one season starting at right tackle. He decided against it, coming back for another season to boost his stock on the outside of the offensive line.
Opposite Jones on the Buckeyes offensive line, Paris Johnson is entering his first year as the full-time starter at left tackle. The expectations surrounding Johnson and his draft stock are only growing as the season nears.
With the return of Jones and the rise of Johnson, the Buckeyes have one of the best tackle tandems in the country. Both carry NFL Draft goals and high expectations. Both can be dominant for Ohio State this fall — if they block out the draft noise and focus on playing tackle for one more year.
"Paris and Dawand, all those guys that are coming in the back end their career now, start seeing the stuff," first-year Ohio State offensive line coach Justin Frye said. "But they're locked in. I get videos and calls from Dawand at home right now while he's on his break. 'Coach, I'm doing this set. Is this good?' They're just workers, and they just want to be great. Whatever you guys write and whatever is on the TV, that's out there. You can't say they don't see it. But I just have a good feel with these guys right now. They just want to work and do their best.
"Whatever happens is supposed to happen."
Jones had a chance to get to the NFL after last fall. He was a talented ruin-blocking right tackle for Ohio State during his first year as a starter, while Johnson was inside at guard playing out of position and still impressing.
Now both can become high draft picks if they continue to grow in their spots as the lynchpins of the Buckeyes offensive line. So far, the progress is evident.
"Just understanding the inner-workings of the game," Frye said about his tackles progress. "At the tackle position, Dawand's taken a lot of reps and Paris is moving back out there. Just the understanding of when I have help, when I don't have help. If I am on slide side versus man side, what can I do? Cut my splits, doing some things. So I think that the inner-workings and tools of the game, those guys started to gravitate and grab on to. Like, 'oh, this is the play where I can do this and this will help me so it eliminates trim some of the fat on the plays.'"
Frye knows the talent he is working with. Jones wowed the Buckeyes last year in training camp, forcing them to shuffle the entire offensive line and make room for the 360-pound Jones. Johnson was a five-star, No. 1-ranked tackle in his recruiting class. Frye has worked with plenty of NFL-bound linemen in his career.
Johnson and Jones, though? They seem to have a high ceiling — maybe even a first-round ceiling, which is right where they want to be.
"He's a highly skilled guy," Frye said about Johnson. "He's going to blow the Combine out of the water, he's going to test well, he's going to jump well. He's going to do the interview phase well. He's a high-level player. We're just going to get them there to play that way.
"Ultimately, that's what you got to do when you press 'play.' You have to play like a first-round draft pick."
Ohio State coach Ryan Day also praised the tackles, especially Jones and his willingness to put in one more year of work with the Buckeyes.
"He wanted to come back and be a first- or second-rounder," Day said. "That's his goal. And so he's been challenged with a set of things that he needs to get done if he wants to get there. I don't think there's any question that he has the ability and he has the talent to be one of the better tackles in the country. Now, whether it is or not, there's certain things that he's going to have to get accomplished here in the offseason and then during next season to get to that point. Consistency is going to be one of them. But he's done some good things, and I think he knows what those things are that he needs to get done."
Johnson and Jones are on opposite sides of the line. But both have the same job: blocking on the outside for C.J. Stroud and the Buckeyes backfield.
And despite all the draft noise taking over this offseason, the talented tackles are just working toward the common goal of getting to the NFL, trying to become the first first-round tackles from Ohio State since 2016.
"They're all just trying to maximize themselves," Frye said. "And let those guys who were [at the NFL Draft] this past couple weeks make the big decisions that way."