Rapid Reaction: Buckeyes enter critical next phase of offseason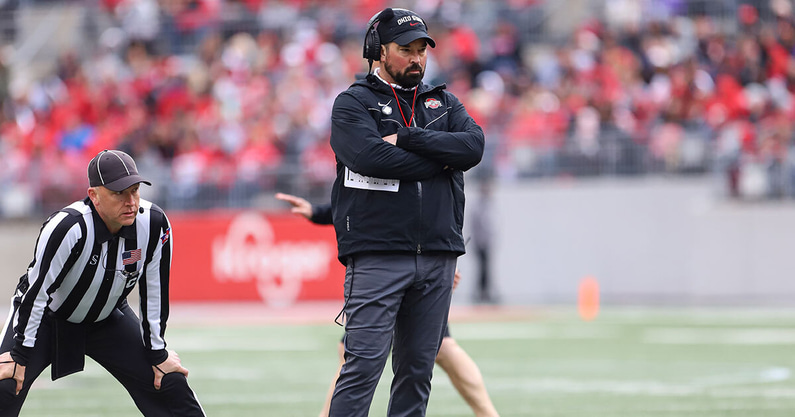 COLUMBUS — The next phase of the offseason is well underway at Ohio State.
Players are back at home. Coaches are in the Woody Hayes Athletic Center and gearing up for a huge recruiting push. And the Buckeyes are ready to get to the next step toward the fall: summer workouts.
The coming months will be vital for the ultra-talented Buckeyes as they try to get back at the top of the Big Ten and into national title contention after a disappointing season. Ryan Day and his coaching staff are eager for the next phase to begin.
"I just think it's going to be fundamentals in all areas," Day said. "I think we need to just continue to grow with leadership. We now have spring cut-ups on defense to watch where guys can watch themselves and watch their fundamentals, watch the schemes and watch the cut-ups and the teach-tapes."
Before any of the next steps can begin, though, the Buckeyes assistant coaches met with the media for a massive question-and-answer session following the completion of spring practice.
Lettermen Row was on-hand for the media session with the Ohio State assistants — and the impromptu conversation with Day — so the crew had to get together for a Rapid Reaction presented by Byers Auto.
Lettermen Row staff writer Spencer Holbrook and Tim May broke down what they heard from the Buckeyes assistant coaches and Ryan Day.
What were the biggest takeaways? Who is standing out to head strength staffer Mickey Marotti? How is the leadership side of the roster coming along?
Those were just some of the questions answered Friday morning in the Woody Hayes Athletic Center. That's the summary of the latest Practice Report presented by Byers Auto, the best place to buy a new or used car in Central Ohio.
Check out the video below or on the Lettermen Row Youtube channel.