Scarlet Sunrise: Five-star receiver includes Buckeyes in trimmed list ahead of visit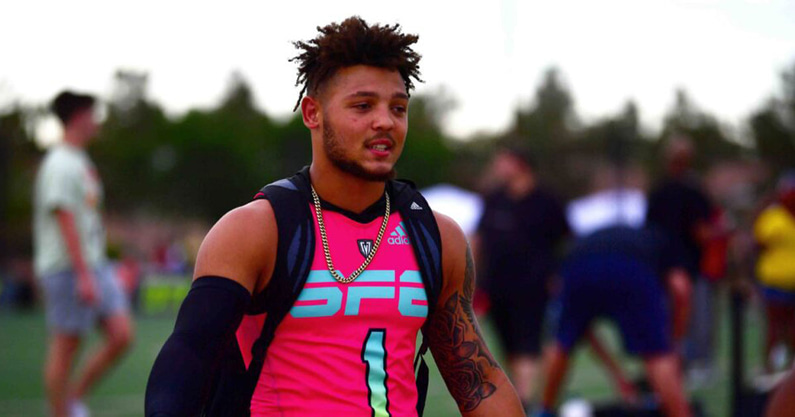 Good morning, Ohio State fans, and welcome to the Scarlet Sunrise. Football will always be our focus, but every day we'll cover news, notes and analysis from across Buckeyes sports. Join us each morning to get caught up on everything you missed in the world of Ohio State football, recruiting, basketball and more in Scarlet Sunrise.
Five-star receiver includes Buckeyes in trimmed list ahead of visit
Ohio State has been trending in the right direction for five-star receiver Brandon Inniss ahead of his official visit this weekend. So it's no surprise to see him cut his list of suitors down — and keep the Buckeyes in the picture.
His latest list includes USC, Miami, Alabama, Ohio State, LSU and Texas A&M. Now down to just six schools, Inniss can lock in on entering decision mode — and the Buckeyes appear to be in the driver's seat for his pledge.
Inniss is currently the No. 4 wide receiver and No. 22 overall player in the country, according to the On3 Consensus rankings. The wide receiver out of American Heritage (Fla.) has not set a commitment date, but Lettermen Row logged a prediction for Ohio State on the On3 Recruiting Prediction Machine earlier this week. The confidence level is also at 70%.
That same On3 Recruiting Prediction Machine currently gives Ohio State a 70-percent chance to earn a pledge from Inniss.
Ohio State hoops finds out conference opponents for next season
Ohio State learned its conference hoops opponents for next winter, and the schedule is shaping up to be a good one. The Buckeyes will play Big Ten heavyweights Illinois, Iowa, Michigan State and Purdue twice, among others.
The Buckeyes will play Michigan and Indiana, two of their rivals, just once. Both of those games will come on the road.
The schedule will look like this for the Buckeyes:
Home: Minnesota, Penn State, Wisconsin
Away: Indiana, Michigan, Nebraska
Home/Away: Illinois, Iowa, Maryland, Michigan State, Northwestern, Purdue, Rutgers
ICYMI: Tim May Podcast episode
This week, Tim dives into one of the most interesting behind-the-scenes happenings in the sport: commitment graphics and how that process works.
To break it all down, Tim is talking to Kevin Pierson, who is better known on social media as ScoopEditz. Pierson made the commitment graphic and video for Buckeyes commit, 2024 five-star quarterback and No. 1 overall player in the country Dylan Raiola, who picked the Buckeyes on May 10.
Raiola is going to be hyped as one of the best quarterback prospects in recent memory. And to make his announcement, he had the choice of any editor in the country. What made him choose ScoopEditz?
Where did the inspiration come from for the commitment video for Buckeyes commit and 2024 five-star quarterback Dylan Raiola? How did he make the decision to hire Kevin to make the video for him to post on Twitter? And just how good can Raiola be at Ohio State? Tim May and Kevin talk about that and plenty more on the latest episode of the show.
Are you subscribed yet?
Are you ready to get all your latest Ohio State news in one place? Become a member of Lettermen Row today. With your Lettermen Row/On3+ membership, you'll not only have access to the everything that's happening with the Buckeyes, but you'll also be able to peruse other fan sites within the network to hear just how rivals are feeling about Ohio State, as well. Make sure to follow along on Twitter, Instagram and on Youtube for all the latest Buckeyes news you need to know.
Already signed up? Don't forget to join us in the Lettermen Lounge to talk about the latest Ohio State sports news.