Scarlet Sunrise: Five-star WR commit coming to Ohio State for Wisconsin clash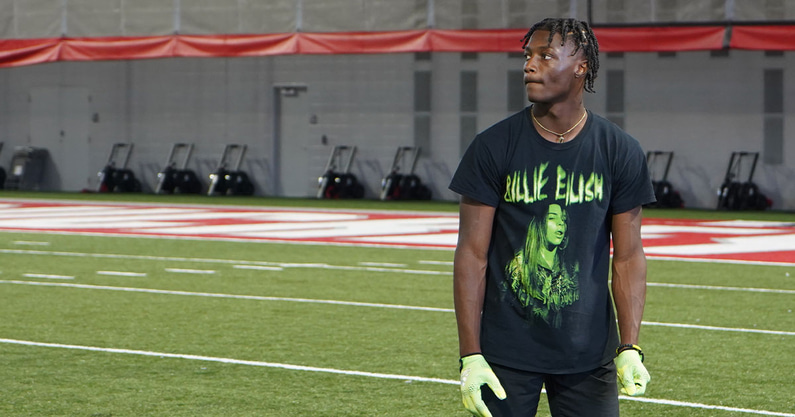 Good morning, Ohio State fans, and welcome to the Scarlet Sunrise. Football will always be our focus, but every day we'll cover news, notes and analysis from across Buckeyes sports. Join us each morning to get caught up on everything you missed in the world of Buckeyes football, recruiting, basketball and more in Scarlet Sunrise.
Carnell Tate will be in Columbus for Ohio State game against Wisconsin
Another highly-ranked Ohio State commit will be on campus when the Buckeyes take on Wisconsin on Saturday night in the Horseshoe.
Five-star wide receiver Carnell Tate will be in Ohio Stadium for the Big Ten clash between the Buckeyes and Badgers, joining fellow receiver commits Brandon Inniss and Bryson Rodgers.
Other commits will be in attendance, as will five-star defensive end target Keon Keeley.
Ohio State is hosting plenty of top targets and commits Saturday against Wisconsin. And Carnell Tate is now confirmed to be among them, making another trip to catch a game in the Horseshoe.
ICYMI: Tim May Podcast edition
Ohio State completely dominated in its win win over Toledo on Saturday. The Buckeyes now turn their full focus to a tough nine-game Big Ten slate.
But not before the Tim May Podcast returns to recap everything that happened in the Horseshoe over the weekend! Tim is back with a special guest and a breakdown of the matchup inside the Horseshoe last Saturday.
Tim welcomes former Ohio State linebacker and national champion Joshua Perry to the show to talk about the Buckeyes program, how the defense looks through three weeks, what the Big Ten looks like at the quarter-mark of the season and some national college football talk. Tim and Joshua, who is now an analyst on Big Ten Network and Bally's Sports, have plenty to chat about — especially as the first month of college football season winds down.
Pair of Buckeyes freshmen shed black stripe
Two Buckeyes freshmen shed their black stripe for Ohio State on Wednesday night after practice.
Defensive lineman Hero Kanu, a former four-star prospect from Santa Margarita Catholic (Rancho Santa Margarita, California) High, shed his black stripe for the Buckeyes this week at practice, a mark that signifies that he is officially a member of the football program.
Turner, a former three-star prospect from Chaminade-Madonna Prep (Hollywood, Florida) also shed his black stripe for the Buckeyes this week at practice.
Defensive back Ryan Turner, wide receiver Kojo Antwi, wide receiver Kaleb Brown, defensive end Kenyatta Jackson, cornerback Jyaire Brown, linebacker C.J. Hicks, tailback Dallan Hayden and wide receiver Kyion Grayes were all freshmen who shed their stripe during camp. Freshman safety Sonny Styles, who reclassified from the class of 2023 into the class of 2022, shed his black stripe just before the season began.
Defensive end Caden Curry and safety Kye Stokes lost their black stripes during spring practice.
Counting down
Ohio State vs. Wisconsin: 1 day away
Buckeyes vs. Michigan: 64 days away
Are you subscribed yet?
Are you ready to get all your latest Ohio State news in one place? Become a member of Lettermen Row today. With your Lettermen Row/On3+ membership, you'll not only have access to the everything that's happening with the Buckeyes, but you'll also be able to peruse other fan sites within the network to hear just how rivals are feeling about Ohio State, as well. Make sure to follow along on Twitter, Instagram and on Youtube for all the latest Buckeyes news you need to know.
Already signed up? Don't forget to join us in the Lettermen Lounge to talk about the latest Ohio State sports news.