Buckeyes keeping same game-week routine amid busy bowl experience schedule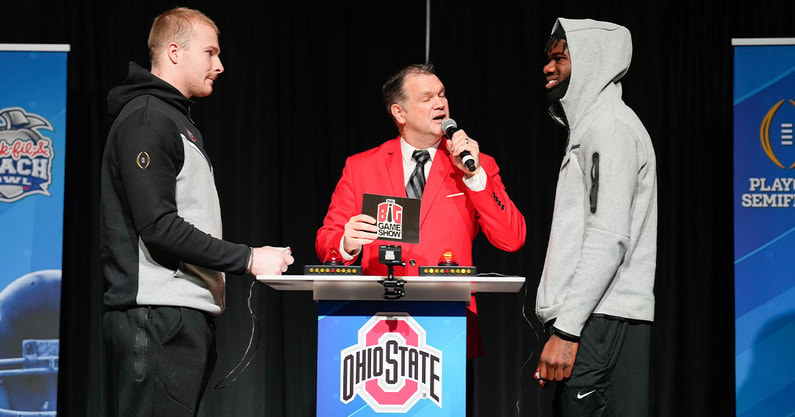 ATLANTA — Ohio State is already 1-1 against Georgia this week.
The Buckeyes lost the first 'Battle for Bowl Week' competition to the Bulldogs in a game of Family Feud. But they rebounded to take down Georgia in the Drop It Like It's Hot showdown.
The 'Bowl Experience' includes an entire week in Atlanta in the buildup for the Peach Bowl semifinal. Ohio State and Georgia will take on each other in fun competitions designed to be a nice pause from the pressure that comes with preparations for the College Football Playoff.
But make no mistake: Ohio State isn't in the Peach State to win a dance contest or rounds of trivia. And while the bowl activities are a nice break from the task at hand, coach Ryan Day and the Buckeyes are trying to keep a game-week routine as similar to normal as possible.
"I think that's why you have to keep as many things routine as possible because it is a little bit different," Day said Monday. "There are some things that are not normal, like you said. So how many things can we possibly just keep the routine so that when guys are here at the hotel or over at the stadium, they can kind of visualize where things are and keep the routine the routine so they don't have to really process too much there.
"And they can focus on getting on the field and doing a great job in their preparation and practicing."
The Peach Bowl staff has plenty of fun set up for both Ohio State and Georgia. They took a tour of the College Football Hall of Fame on Monday. They'll do battle in a basketball challenge Tuesday night after taking a tour of the Martin Luther King historical sites. They're both set for a go-kart session on Wednesday and will have other activities sprinkled in throughout the week.
But they ultimately are keeping their full focus on Saturday night at 8 p.m. — and trying to win a national title.
"Coach Day was telling us we're in a bowl and things like that, but we're down here to play a game and beat Georgia," Buckeyes linebacker and team captain Tommy Eichenberg said. "I think we've got to do all these events and stuff, but we've got one goal, and it's to beat Georgia."
Ohio State is certainly excited to go through everything the bowl experience brings this week. There's time to relax between all the practice sessions inside Mercedes-Benz Stadium, meetings and film studies.
But this isn't a leisure trip. It's a business trip.
"The Peach Bowl and everybody at Chick-Fil-A Peach Bowl does a great job of setting up these events and organizing things, that the guys have things to do," Day said. "But I think our guys are going to do a good job of staying focused on what's really important here and that's playing the game at 8:00 on Saturday."