Scarlet Sunrise: Buckeyes name players of game from win over Toledo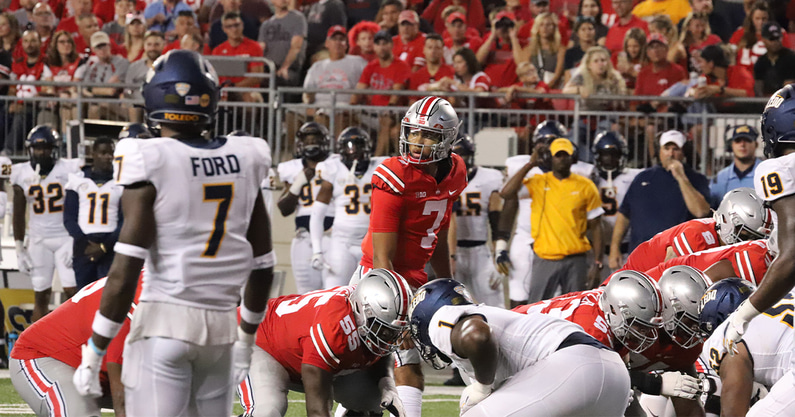 Good morning, Ohio State fans, and welcome to the Scarlet Sunrise. Football will always be our focus, but every day we'll cover news, notes and analysis from across Buckeyes sports. Join us each morning to get caught up on everything you missed in the world of Buckeyes football, recruiting, basketball and more in Scarlet Sunrise.
Buckeyes name players of game from win over Toledo
Ohio State demolished Toledo on Saturday night behind an incredible offensive performance.
Quarterback C.J. Stroud had five touchdown passes — and just five incompletions. For that performance, Stroud was named the Buckeyes offensive player of the game.
The program didn't name a defensive player of the game yet from the win, but it did announce place kicker Jayden Fielding, a freshman walk-on who has become the Ohio State place kicker this fall, was named the special teams player of the game for his effort in putting kicks in the end zone for touchbacks.
After romping Toledo, now the Buckeyes can focus on entering Big Ten play as they prepare to face Wisconsin this Saturday night.
Buckeyes hold steady in latest polls after blowout win over Toledo
After romping Toledo to finish the out-of-conference portion of the schedule, the Buckeyes can now shift their focus to beating Wisconsin to open a new season of league play — with Ohio State not as the reigning Big Ten champ for the first time since 2017.
Ohio State will open Big Ten play with the No. 3 slot in the AP Poll for the third straight week, trailing only defending national runners-up Alabama and national champion Georgia. Michigan and Clemson rounded out the top five yet again.
Ohio State received one first-place vote after the win over Toledo, showing that there is still one pollster who thinks the Buckeyes could take down every other team in the country if they played right now.
Week 4 AP Poll (Sept. 18)
1. Georgia
2. Alabama
3. Ohio State
4. Michigan
5. Clemson
Ohio State heavily favored to beat Wisconsin
The Buckeyes are hosting Wisconsin for a black-out game in the Horseshoe. They're playing in the primetime slot on ABC. And they're a heavy favorite to stay perfect on the season and keep pace in the race for the College Football Playoff to close out September.
Ohio State opened as a 18.5-point favorite over Wisconsin for its Saturday night showdown in Ohio Stadium. The Buckeyes (3-0) have been a double-digit favorite for all their games this season. The Badgers (2-1) are the underdog for the first time this season.
The total is set at 62.5 points, signaling the folks in the desert can see the Buckeyes racking up points with their potent offense.
Coming off a dominant performance against Toledo, Ohio State has plenty of momentum to carry into next week.
Counting down
Buckeyes vs. Wisconsin: 5 days away
Buckeyes vs. Michigan: 68 days away
Are you subscribed yet?
Are you ready to get all your latest Ohio State news in one place? Become a member of Lettermen Row today. With your Lettermen Row/On3+ membership, you'll not only have access to the everything that's happening with the Buckeyes, but you'll also be able to peruse other fan sites within the network to hear just how rivals are feeling about Ohio State, as well. Make sure to follow along on Twitter, Instagram and on Youtube for all the latest Buckeyes news you need to know.
Already signed up? Don't forget to join us in the Lettermen Lounge to talk about the latest Ohio State sports news.