Scarlet Sunrise: Buckeyes open training camp, begin title pursuit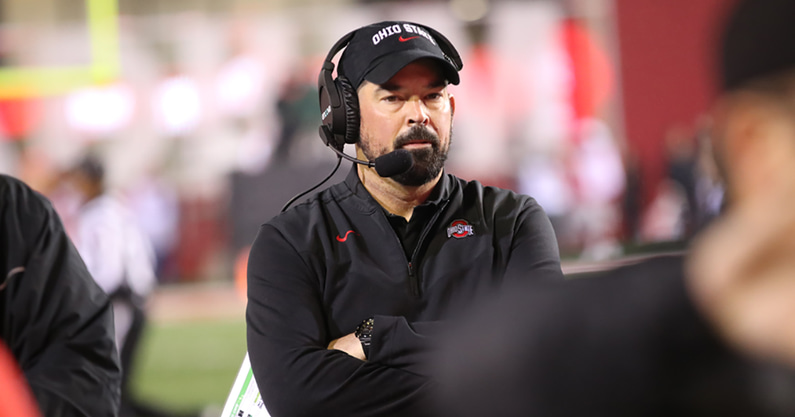 Good morning, Ohio State fans, and welcome to the Scarlet Sunrise. Football will always be our focus, but every day we'll cover news, notes and analysis from across Buckeyes sports. Join us each morning to get caught up on everything you missed in the world of Ohio State football, recruiting, basketball and more in Scarlet Sunrise.
Buckeyes open training camp, begin title pursuit
Enough speculation, hype and buildup for Ohio State.
Talking season is over. It's officially football season.
The Buckeyes will hit the practice field for their first of 25 practices this month for training camp, leading all the way into the season-opening game against Notre Dame on Sept. 3.
Practice will begin at 9:30 a.m. Thursday morning, and Lettermen Row will have practice observations from the open session. Ohio State coach Ryan Day will speak to the media for the first time this training camp after practice. The press conference is expected to begin around 11:30 a.m. and can be found live at Lettermen Row or on the Lettermen Row Youtube channel.
As the Buckeyes take the field for the first time since spring practice, there's plenty of intrigue, plenty of anticipation and plenty of expectations. All of it goes to the side Thursday, though. Now, the Buckeyes can finally play football again.
Four-star forward Devin Royal commits to Ohio State
The 2023 recruiting class is starting to take shape for Chris Holtmann and Ohio State. The Buckeyes landed a potential cornerstone piece Wednesday: Devin Royal has committed to the Buckeyes
The four-star Pickerington Central (Ohio) forward chose Ohio State over Michigan State, Alabama and others. Royal is the first power forward committed to the 2023 class for coach Chris Holtmann and is a major addition to the now three-man class.
Devin Royal is the No. 26 rated prospect in the country and the No. 1 player in Ohio according to On3.
Royal joins George Washington III and Austin Parks in the Buckeyes 2023 class, which ranks twenty-fifth nationally and fifth in the Big Ten. Royal is the first power forward to commit to Ohio State since Kalen Etzler in the 2021 class.
The 6-foot-6, 205-pound prospect capped off an incredible junior season at Pickerington Central, a Columbus suburban school, with a 20-point performance in the Division I state championship, leading the Tigers won the title. Royal averaged 19.6 points per game and 8.4 rebounds per game as a junior, leaving plenty of room for more in his final year.
READ: Four-star in-state forward Devin Royal commits to Ohio State
Day family donates $1 million to mental health research
Ohio State coach Ryan Day and his wife Nina have been advocates for mental health awareness for years.
They continue to back up what they say with real help. The Day family donated $1 million to the Ryan and Nina Day Resilience Fund at the Ohio State University Medical Center. They made the announcement at a press conference at the medical center Wednesday.
Speaking with Day were President Kristina M. Johnson, Wexner Medical Center chief clinical officer Dr. Andrew Thomas and Department of Psychiatry and Behavioral Health at Ohio State professor and chair Dr. K. Luan Phan.
Ryan and Christina Day previously helped with On Our Sleeves at Nationwide Children's hospital, but this is different. This fund at Ohio State will aid college-aged people and adults who are struggling with mental health. The Day family is choosing to attack mental health issues at every walk of life.
READ: Ryan, Christina Day help establish fund to aid mental health awareness, efforts
Counting down
Buckeyes training camp opens: TODAY!
Buckeyes season opener vs. Notre Dame: 30 days away
Ohio State vs. Michigan: 114 days away
Are you subscribed yet?
Are you ready to get all your latest Ohio State news in one place? Become a member of Lettermen Row today. With your Lettermen Row/On3+ membership, you'll not only have access to the everything that's happening with the Buckeyes, but you'll also be able to peruse other fan sites within the network to hear just how rivals are feeling about Ohio State, as well. Make sure to follow along on Twitter, Instagram and on Youtube for all the latest Buckeyes news you need to know.
Already signed up? Don't forget to join us in the Lettermen Lounge to talk about the latest Ohio State sports news.