Five Buckeyes who helped their cause in season-opening road win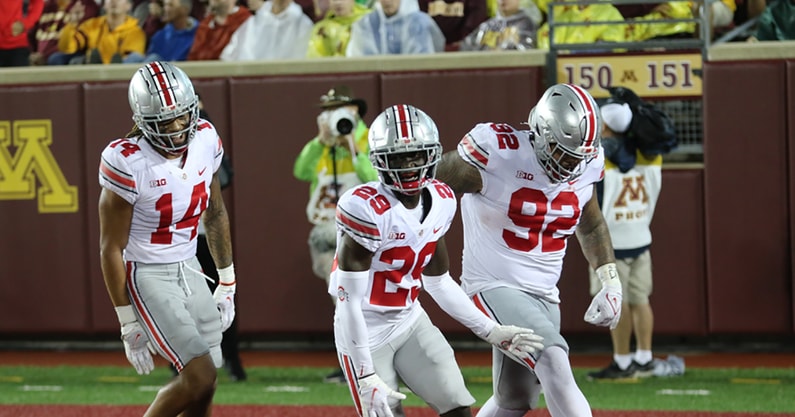 COLUMBUS — Ohio State wanted to play with depth in the season opener.
So, that's exactly what the Buckeyes did.
A total of 58 Buckeyes players saw action in the Thursday night win over Minnesota, according to ProFootball Focus. True freshmen. Second-year players who hadn't been in a game due to the weird season last year. Veterans on both sides.
Ohio State played nearly its entire travel roster. And after pulling out a gritty 45-31 come-from-behind win, the Buckeyes felt good about the distribution of those snaps as they head into preparation for a huge showdown with Oregon this week.
"We played a lot of young guys on the road in a conference game," Ohio State coach Ryan Day said. "First time playing with fans in a long time with a quarterback who hadn't thrown a college pass before. But the way we rallied and played, especially in that second half, we have a lot to build on here. And very excited coming out of that locker room."
Of the 58 players who were in on the action Thursday night, plenty of Buckeyes were impressive enough to earn further playing time. Lettermen Row is breaking down five of them who helped their cause in the season-opening road win.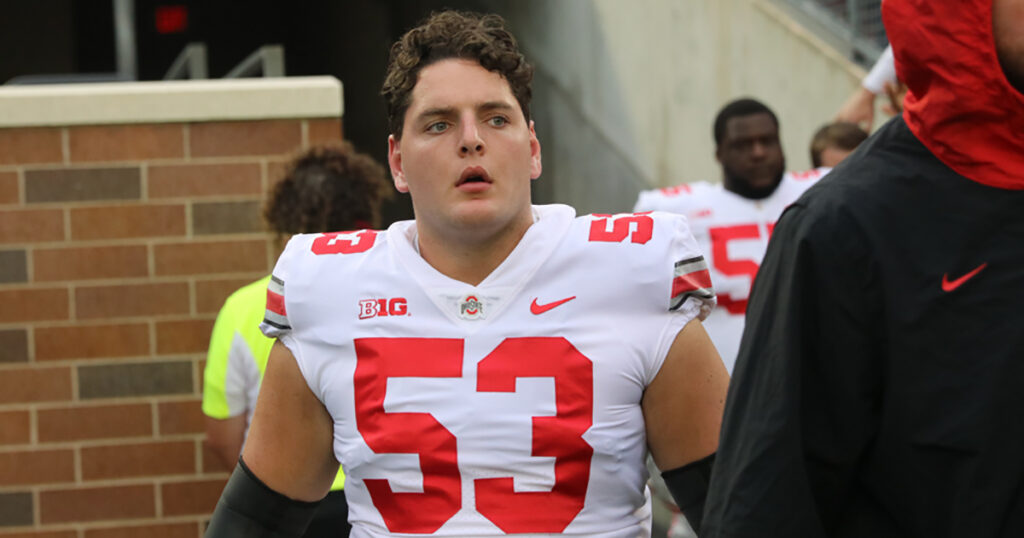 C Luke Wypler
While projected Ohio State center Harry Miller was listed as unavailable, second-year interior offensive lineman Luke Wypler was ready for the starting role. Wypler handled snapping duties in a game that featured driving rain for long stretches, and he was nearly perfect.
If Miller is set to miss any more time, the Buckeyes now know they have a capable center in Wypler. But even if Miller returns to face Oregon this week, Wypler won't just hand the starting job over. Wypler played well enough to force the Ohio State coaching staff to consider who to play as the apex of the offense. One start into his career, Wypler proved he can do it at a high level.
BLT Ronnie Hickman
The Ohio State defense was missing some pieces in the secondary Thursday night, but all three Bullet players were available to play. And it was Ronnie Hickman who emerged as having the best game of the trio of hybrid players. Hickman led the Buckeyes defense with 11 total tackles. He seemed to be in on more plays than that and even pressured Minnesota quarterback Tanner Morgan on occasion. Hickman made his claim to be the starting Bullet moving forward after a solid first performance.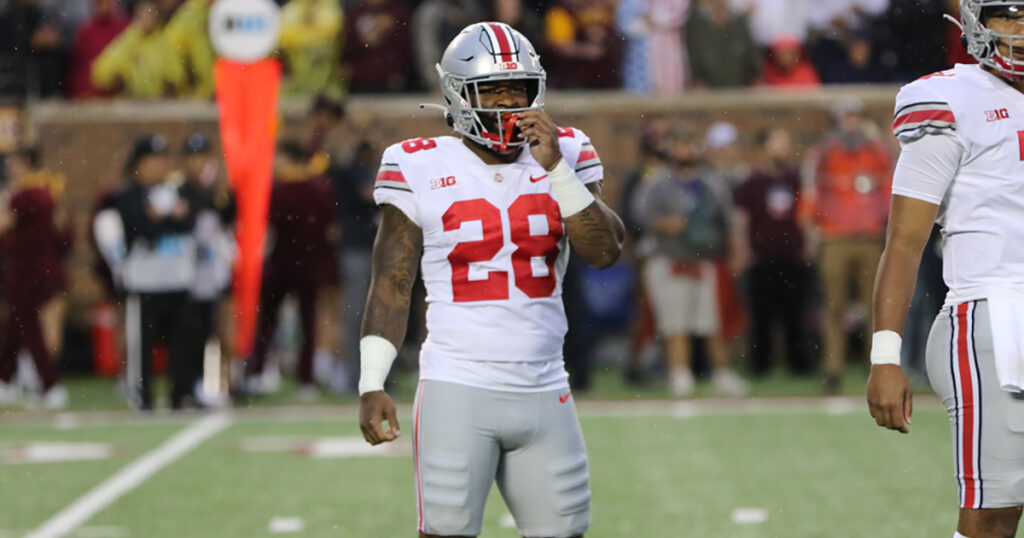 RB Miyan Williams
The running back battle was one of the biggest and most important during camp. Miyan Williams continued to lead the Buckeyes tailbacks through training camp, and it ended with his first-career start Thursday night. He made the most of his first-team carries.
Williams tallied his first touchdown on his first drive as the full-time back, taking a handoff around the right side for a 71-yard score. He showed his shiftiness, ability to accelerate and playmaking early and often, proving he is the right guy to take over in the Buckeyes backfield. He should receive more carries as the season wears on.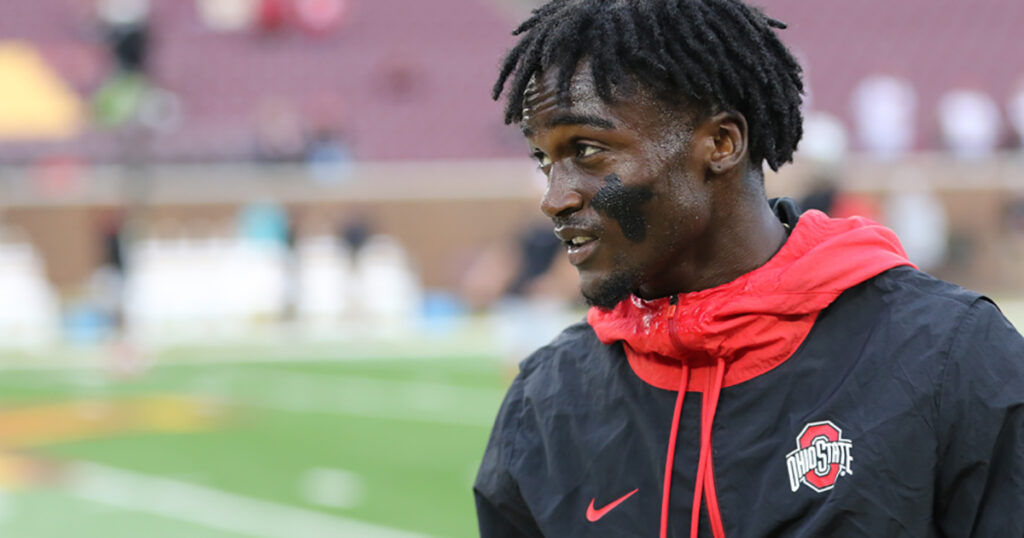 DB Denzel Burke
Ohio State had a loaded class of defensive backs in the recruiting class of 2021. But the four highest-rated members of that class didn't start against Minnesota — and Denzel Burke did.
Burke didn't just start at outside cornerback against the Gophers. He was impressive and made his presence known, logging three pass breakups and showing plenty of promise as a playmaker early in his career. While Sevyn Banks and Cameron Brown are both expected back for the massive showdown with the Ducks this weekend, Burke certainly played himself into the mix at cornerback for the rest of the season.
RB TreVeyon Henderson
The highly-anticipated collegiate debut of TreVeyon Henderson didn't disappoint. After Miyan Williams started the game and put Ohio State on the board with a 71-yard touchdown run, the Buckeyes began rotating running backs in the first half with each series. Master Teague received carries. Marcus Crowley got the ball.
Then it was time for TreVeyon Henderson, who finished with a modest 15 rushing yards on just two carries. Henderson wasn't overly impressive in the first half with his two touches, but the run game wasn't where he flashed his five-star status. Henderson burst through the Minnesota defense on a screen pass for a 70-yard touchdown run, giving the Buckeyes a small glimpse of what his future holds — and showed he should be given consideration for more playing time.