C.J. Stroud named Big Ten Offensive Player of Week after near-perfect night against Toledo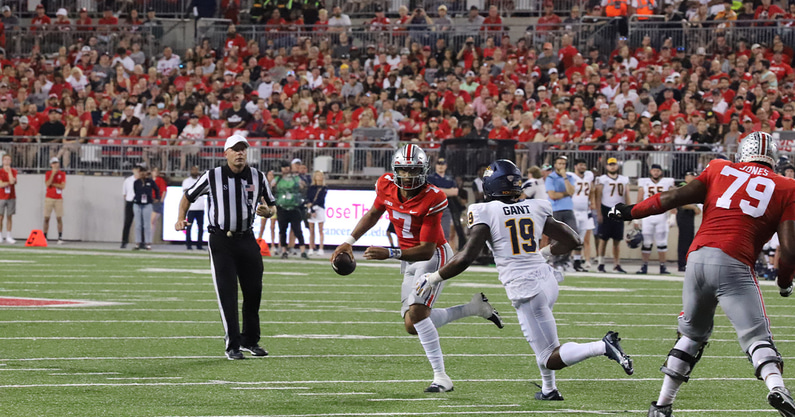 COLUMBUS — C.J. Stroud was nearly perfect for Ohio State on Saturday night.
The second-year starting quarterback only had five incompletions to match his five touchdowns in the Buckeyes 77-21 rout over Toledo. His performance alone would've held off the Rockets, and as such he was named the Big Ten offensive player of the week.
Stroud's final stat line is video game like: 22 of 27, 367 passing yards and those previously mentioned five touchdowns.
Ohio State coach Ryan Day spoke about the preparation from Stroud throughout the week of practice and that's why he played the way he did.
"I thought C.J. had a good week of practice," Day said postgame Saturday. "Thought his attitude was excellent, I thought his work ethic was excellent, I thought the time he put it on his own was excellent."
Stroud started his night off in a groove with four straight completions that led to a TreVeyon Henderson rushing touchdown. Over the next few Ohio State drives, Stroud threw touchdown passes to Marvin Harrison Jr., Julian Fleming and Emeka Egbuka.
Stroud even ran the ball on a few quarterback-designed runs.
"I always kind of just try to keep my head down and work," Stroud said. "I definitely think just me being a leader and a captain on the team is when they see I'm confident, I think offense and our whole team is confident. Which I think that's a great thing for the Buckeyes."
C.J. Stroud is putting the preseason hype around his name into execution so far this season. He's been touted as a Heisman candidate throughout the offseason and his performance Saturday showcased the claim.
Through three games, Stroud is 62-85 with 941 passing yards, 11 touchdowns and zero interceptions. Those are numbers that will continue to rise, minus the interceptions, with any luck.
But there won't be a long celebration for the Stroud. No. 3 Ohio State (3-0) begins its Big Ten schedule this week with the conference opener against Wisconsin (2-1) on Saturday.