Horseshoe experience gets mixed emotions in electric, disappointed atmosphere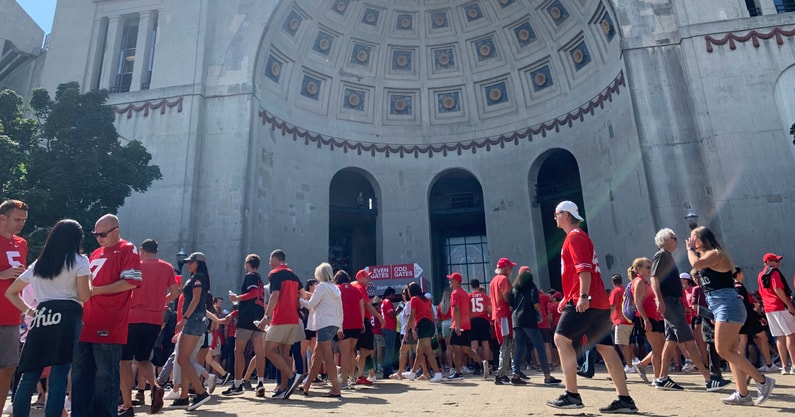 COLUMBUS – They roared. Good Lord, they roared.
It had been 657 days (that's 94 Saturdays) since The Horseshoe had truly been The Horseshoe – the last time it actually felt like a Buckeyes game was being played at Ohio Stadium.
Saturday afternoon around 3:30 provided the culmination of almost two full years since Ohio State had hosted Penn State on Nov. 23, 2019, the last time a full stadium had been allowed to watch the Buckeyes. All the pent-up anticipation crescendoed to a moment like this.
Third-and-seven. Oregon 35, Ohio State 28 with 7 minutes, 20 seconds left.
The Buckeyes defense got gashed all game, their offense largely out of rhythm. That was until C.J. Stroud linked up with Jaxon Smith-Njigba for a 15-yard touchdown pass on fourth down to cut it to seven.
The crowd wasn't intense all game, but this is when The 'Shoe hit peak intensity.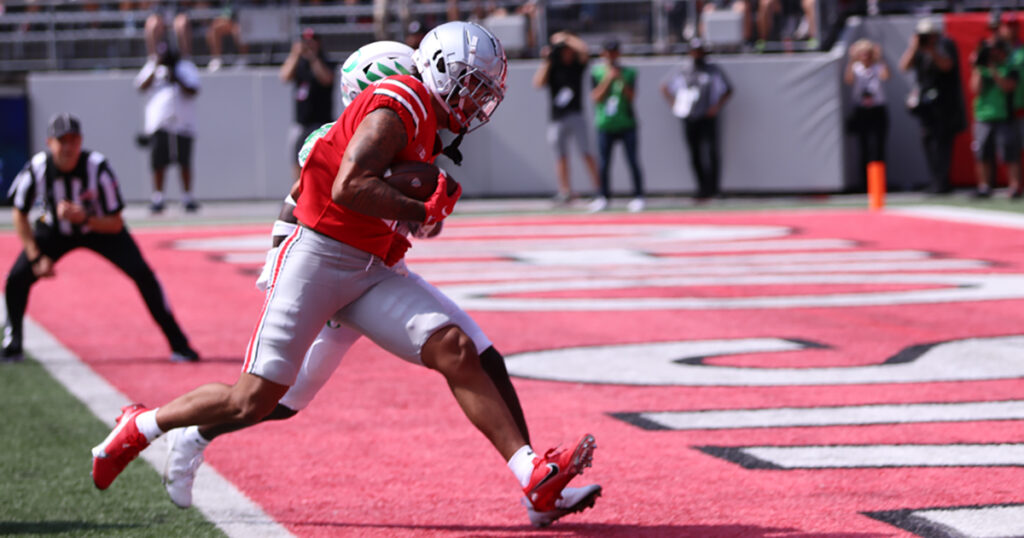 The ensuing kickoff to Oregon was met with a crowd that leapt up and down in unison to the "Ohh-Oh-Oh-Oh-Ohh-Ohhhh" chants from The White Stripes' Seven Nation Army song that is a staple on Ohio State kickoffs. Two plays later, the crowd truly came alive.
After some had filed for the exits when the Buckeyes went down to scores, there were still more than 95,000 of the announced 100,482 in attendance still rocking. Red-faced, spittle flying and veins popping, the place exploded to the tune of 105 decibels, and eventually 107 decibels, which led to an Oregon false start, then an Oregon timeout, then a punt.
It was inevitable that Ohio State was going to win this game. It's hard to describe, but that was the feeling. It was real and tangible. It was the loudest it had been in this stadium for years, right up there with recent moments like the Curtis Samuel game-winning touchdown over Michigan in 2016, the 2017 comeback against Penn State and the Chris Olave blocked punt versus the Wolverines in 2018.
But those were bursts. This was sustained, steady noise for more than two minutes.
And in an instant, none of that mattered.
Moments later, the crowd couldn't help Thayer Munford's holding penalty that killed a potential game-tying drive. The fans couldn't prevent Stroud from throwing essentially a game-sealing interception. Oregon put the game away, and the Buckeyes were sent home with a loss.
It's fitting that the final song played in the stadium was Mr. Brightside, one that mixes an optimistic beat with pessimistic lyrics. That's certainly what this Saturday was filled with – optimism and pessimism – and those were the differing feelings among fans in regards to where Ohio State's season can go from here.
Biggest party in Columbus is back
The emotions of that ending were 180 degrees different than the ones felt at 9 a.m.
Walking through the parking lots outside The Shoe, driving down Lane Avenue or looking down Woody Hayes Drive last fall was a depressing, barren setting. A raucous scene that gave Columbus life on Saturday morning home games was reduced to a cement wasteland with tailgates banned and fans not allowed in the stadium.
It's just one of those things that's easy to take for granted after decades of having it available.
On Saturday, the vibe was back. Behind thousands of fans crawling from spot to spot – from the O-zone tailgate with Columbus-born country band North to Nashville rocking outside the Riverwatch Tower to the vibrance at the Varsity Club and the jam-packed sidewalks and bars on High Street – this place once again had a heartbeat.
"I've been coming to games and tailgates here for at least 30 years," said Dewayne Davis, who was a kid at his first game in the 1980s. "It's great to be back down here, being able to socialize and feel the energy. It felt like fall wasn't right [last year], not getting the energy, not hearing the crowd when big plays happen to get that enthusiasm. Watching at home just wasn't the same."
Davis is one of the more than two dozen people Lettermen Row spoke with while taking a tour of one of college football's better tailgating atmospheres. Davis was joined by his younger brother, Mike, and Mike's two sons, Mike Jr. and Marshal, who played nose tackle at Ohio and Akron, respectively. They went to their first Ohio State game in the mid-2000s during the team's runs to national championship games with their dad.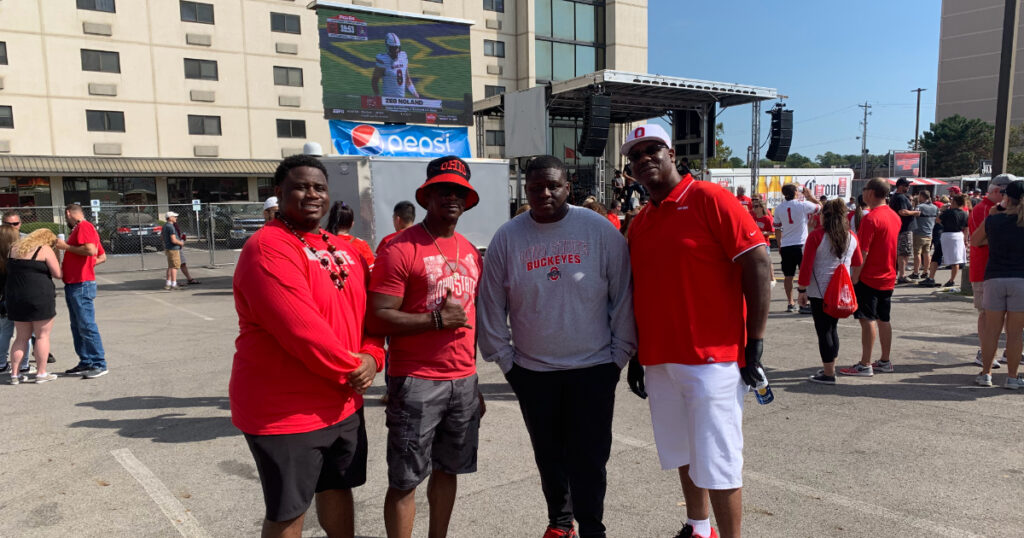 There were thousands of people out there, and hundreds more have similar stories.
There's Brian Paxton, his brother Adam and their friend Sean Mastin who were joined by Brian's young daughter, Addie, who was set to head into just her second-ever Buckeyes game. The first was the 2019 win over Miami (Ohio).
"That one wasn't as busy," Addie said. "Or as exciting."
The three men were each born and raised in Ohio, graduated from Ohio State and have friends and family who all either go to Ohio State or graduated as Buckeyes. That includes Brian's oldest daughter, a sophomore at Ohio State, and it could very well include Addie one day.
There's also Shannon Keller and Spencer Kocher, friends who met as teachers who are opposite from the born-and-bred Buckeye fans. Shannon moved from Cincinnati to Columbus in 1998, knew the Buckeyes were a big deal but had no clue just how big until going to her first tailgate in 2002.
She was with friends and brought her daughter, a then-18-month-old Mackenzie, as they walked down Lane Avenue and got tickets at a bargain-bin price of $10. That was that. She's been coming to games and tailgates every year since.
Spencer was similar in that he wasn't a huge football guy or a Buckeyes fan. But after coming to his first tailgate experience a couple years ago he was set on coming back. Even if you're not a fan, it's hard to not want to converge on the biggest party environment in town on Ohio fall weekends.
Ohio State, Oregon parallel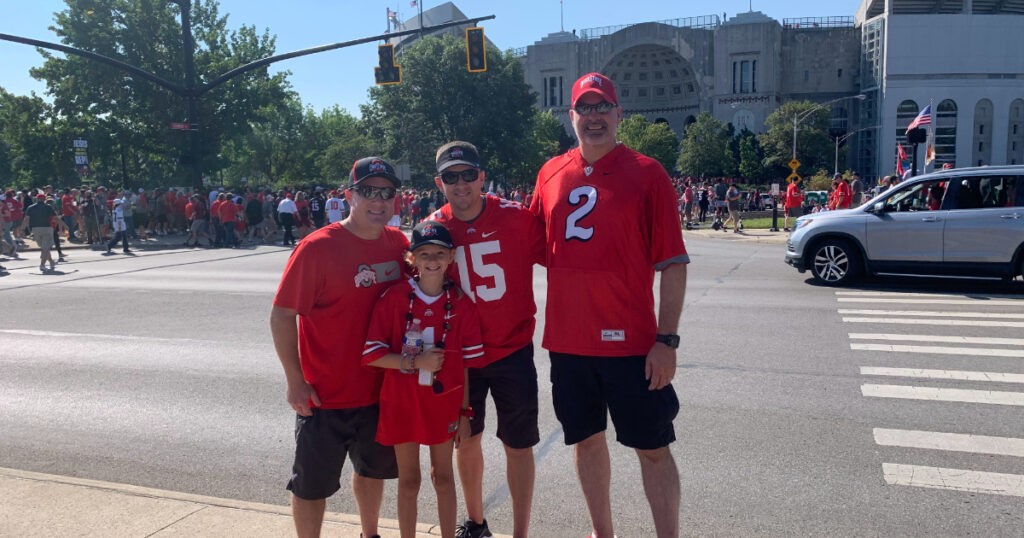 The Buckeyes and Ducks being the two opponents made for a perfect parallel. 
Ducks fans Micah Potts and John Burns – two who were born and raised near Portland, graduated from Oregon and flew out to cross off a bucket-list item of going to The Shoe – brought up a great point while standing in line outside of the ticket gate.
Falls in Columbus are entirely energized by Ohio State football. Falls in Eugene are the exact same. Oregon fans are just as excited – maybe even a bit relieved – to have these types of environments back.
After buying the cheapest possible ticket on the night before the game in Section C, finding the seat and looking around brought with it an Ahh, Damn moment. Didn't realize the ticket was located in Oregon's section.
It turned out to be a perfect accident. It provided an opportunity to get to know some more Oregon fans such as Edgar, a resident of Oregon since he was 7 years old after moving there from Mexico City, and Enrique, a self-described "lifer" in the Beaver State. They are season-ticket holders who also flew out to experience what would eventually be one of the biggest non-conference, regular-season wins in their team's history in the past 10 years.
Edgar and Enrique had similar positive experiences with Buckeyes fans as Micah and John did. Ohio State "does it right," another nearby Ducks fan said about the tailgating scene – especially when it comes to live music – and the atmosphere is similar to a game in Eugene. They believe Autzen Stadium is louder, though, because of the way it is constructed with the noise raining down onto the field instead of being spread out in the oval structure of The Horseshoe.
But when the place erupted in the fourth quarter? That was something different.
Time to go home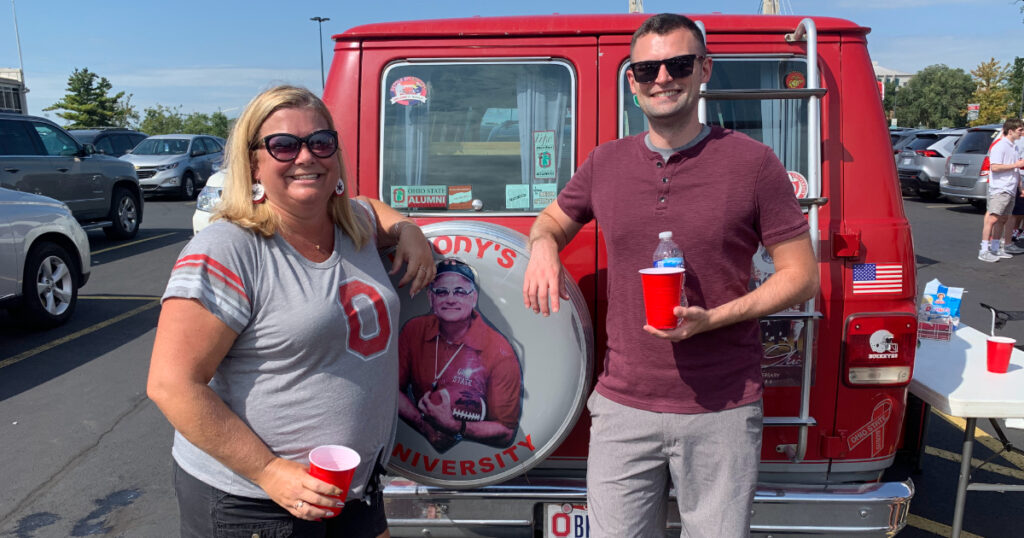 In the end, there wasn't enough crowd noise to fix Ohio State's issues on Saturday.
The scene after the upset loss was as polar opposite from the pregame feelings as you imagine it would. Leftover Michelob Ultra, Corona Extra cans and Panera Bread kettle-cooked chip bags flew down through the empty seats, pushed by a breeze that felt beautiful for all Buckeyes fans earlier in the day but felt like a smack to the face in the aftermath.
A select few fans, young and old, remained tethered to their seats at all three of the stadium's levels. Tattered faces searched for answers as to what the hell happened. Nobody wants to talk. Not sure if there's a ton to say so shortly after such a revealing loss crushed all the optimism felt throughout the week and the morning.
If you're looking for a bright side, at least there will be plenty more chances to let those roars out again.
Football truly feels back in Columbus.