Evaluating signs of progress, concern as Buckeyes try to right ship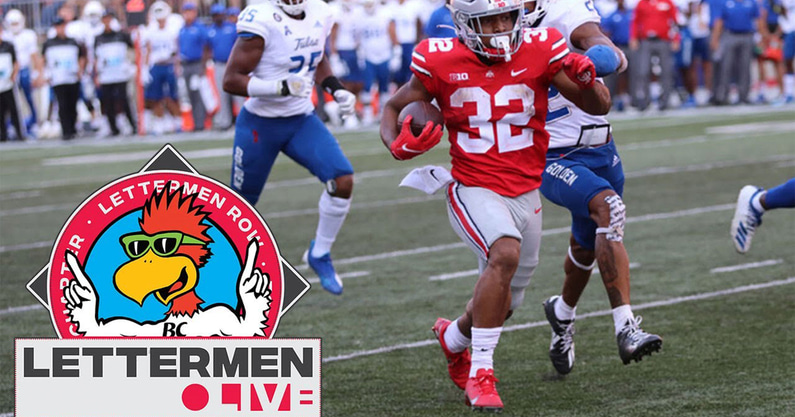 COLUMBUS — It's Akron Week for Ohio State as the Buckeyes are set to kick off against the Zips at 7:30 p.m. at The Horseshoe on Saturday.
Ohio State has not looked like the national championship contender that it appeared it would be heading into the season. The Buckeyes have plenty of issues on both sides of the ball, and they will look to find some more answers as a 53-point favorite against the in-state foe.
Lettermen Live is back at Roosters to break it all down as Lettermen Row senior writer Austin Ward leads a crew of former Buckeyes linebacker Bobby Carpenter, former Ohio State quarterback Justin Zwick, Nicole Cox from Roosters and Lettermen Row beat writer Spencer Holbrook.
What did the Buckeyes narrow win over Tulsa tell us? How special was TreVeyon Henderson's record-breaking performance and should we expect more of that in the coming weeks? Was Cam Martinez's pick six a preview of more to come in the defensive back's future? Can Ohio State's defense fix the issues that have plagued it over the first three weeks?
The crew answers all those questions and more, including handing out some Buckeye Leaves, as Ohio State looks to regroup and show marked improvement against an overmatched non-conference opponent.
You won't want to miss all that and more Buckeyes news that is featured in the latest episode of Lettermen Live hosted by Roosters. Don't forget to grab the $2 appetizers every Tuesday at all Roosters locations. This week's appetizer is mozzarella sticks.
As always, Lettermen Live is hosted by Roosters on Olentangy River Road in Columbus.
Check it out in the link below and find more episodes all Ohio State on Lettermen Row video content on our YouTube channel.
Lettermen Live is also available on Apple, Spotify, Stitcher and Google Play. Please rate, review and subscribe to all Lettermen Row podcasts.