Buckeyes 2024 quarterback pursuit and names to know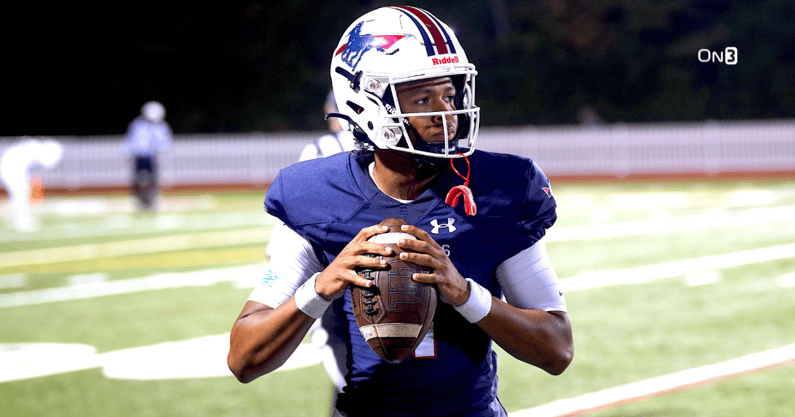 COLUMBUS — There is no position more important and more valued than quarterback, and that's especially true at Ohio State.
Head coach Ryan Day has created and cultivated one of the best quarterback rooms in the country. Year in and year out, the starting quarterback of the Buckeyes finds himself in New York City for the Heisman Trophy ceremony.
That has to start somewhere and where that is, is the recruiting trail.
In the last four recruiting classes, Ohio State has signed a highly-ranked quarterback prospect. CJ Stroud was a five-star prospect, Kyle McCord and Devin Brown were too. Lincoln Kienholz, the Buckeyes' 2023 signee, is the No. 119 overall prospect per On3.
Pretty good, right?
Things looked on track in 2024 as well with five-star Chandler (Ariz) quarterback Dylan Raiola committed, but the nation's top-rated prospect decommitted in December. Now the Buckeyes are looking for their next great signal-caller with some ground to make up as well.
What's the board? Who's a priority? Where should Ohio State look and have it make sense? Lettermen Row answers that and more.
From the Top
Ohio State has offered six quarterback prospects in the 2024 cycle.
One of which of course is Raiola, who is unlikely to rejoin the 2024 class at this time.
Two names with serious intrigue are four-star Charlotte (N.C.) Providence talent Jadyn Davis and four-star Carlsbad (Calif.) prospect Julian Sayin.
Ohio State's three-headed offensive coach monster in Day, offensive coordinator Brian Hartline and quarterback coach Corey Dennis, went down to Charlotte last week to visit Davis. Last spring the Buckeyes heavily weighed their options between Raiola and Davis, ultimately going with Raiola.
That choice is going to leave an impact on a prospect, let alone a quarterback. In true fashion, once Ohio State parted ways last May, Michigan and Davis were closely linked. The Wolverines hold a commanding favorite in the On3 Recruiting Prediction Machine with five predictions from On3 staffers placed on the maize and blue.
Last week's visit was critical, however, in potentially reopening the relationship. And with changes in offensive ideology in Ann Arbor and reaffirmed stability in Columbus, the Buckeyes are on to something.
Julian Sayin didn't hold an Ohio State offer until Jan. 17. But it doesn't matter how long he didn't have one, it's what happens now that he does.
Sayin, who committed to Alabama on Nov. 2, has remained steadfast in his commitment to the Crimson Tide, however.
"It's an honor to receive an offer from such an elite program especially because of how much they have won," Sayin told BamaInsider's Andrew Bone. "I am thankful for the offer, but I don't plan on taking a visit there. I don't plan on taking any visits besides going back to Alabama."
That's for now. A verbal commitment is worth its weight in feathers anymore and until the fax has cleared on signing day, every team has a shot — let alone the quarterback factory in Columbus.
Offerless Prospects to know
There are two that come to mind who fit in this category.
Elijah Brown and Air Noland.
First, a look at Brown. The four-star Santa Ana (Calif) Mater Dei quarterback holds offers from nearly two dozen schools, but Ohio State isn't one of them. The Buckeyes notably like to take their time evaluating quarterbacks and that's often the last piece to a recruiting class puzzle they get.
But make no mistake, Brown can — and does — spin it. He completed over 65 percent of his passes last fall for 2,785 yards and 31 touchdowns to four interceptions. His program is one that Ohio State is familiar with as several of his teammates hold offers from the Buckeyes as well.
It's only a matter of time before Brown himself announces one.
The situation for Noland, however, is a little different. Day and Dennis have been in contact with the four-star Fairburn (Ga) Langston Hughes quarterback. They've seen him play as he was the quarterback for now-Buckeye tight end and 2023 signee, Jelani Thurman.
Noland recently spoke with Lettermen Row and had high praise about Ohio State, and he would do what's asked of him to earn that offer — even if it means camping as a rising senior.