Ohio State 2024 running back board a two-prospect picture at the top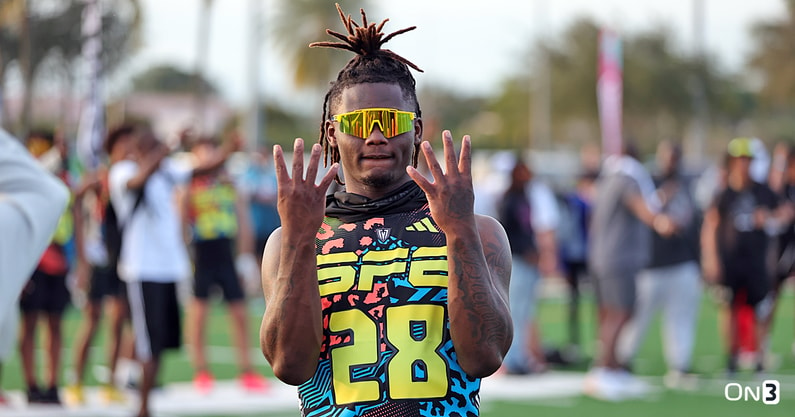 COLUMBUS — Ohio State without any stumbles has to excel in landing at the very least one running back in the 2024 cycle.
The Buckeyes missed out on a scholarship running back in the 2023 class as Fort Lauderdale (Fla) American Heritage prospect Mark Fletcher flipped from Ohio State to Miami and signed with the Hurricanes.
That puts the pressure on for Ohio State running backs coach Tony Alford to find again, at least one, future Buckeye running back.
There are two names that we will get to momentarily, but Lettermen Row lays out the running back board, names to know and some names to get to know.
Let's dive in.
From the Top
There are absolutely two 1A options for Ohio State at the top of the board right now.
Stacy Gage and Jordan Marshall.
The duo checks in as the No. 7 and No. 8 running backs in the country, respectively, per the On3 Consensus.
Both have been high on Ohio State's board ever since they camped in Columbus in the summer of 2022. Gage went through a private workout with Alford once the June camp concluded. That one-on-one session gave the four-star Tampa (Fla) St. Thomas Aquinas running back a glimpse into the life of an Ohio State running back.
And that was something he could see himself doing.
"It felt great," Gage said about working with Alford. "Just being coached by one of my coaches that I've been talking to since my 8th-grade summer. Just putting that work in made me feel good. Felt like a Buckeye."
"I really do love his coaching style," Gage said. "It's not even just me getting this relationship. It's just the things that everybody else says about him. They say he's a great guy, great person, great father and everything. Just being coached by him and hearing everybody talk about him made me feel good."
Jordan Marshall camped at Ohio State a week before Gage did, but the four-star Cincinnati (Ohio) Archbishop Moeller standout received the same kind of attention. Before he could even walk off the field, Alford offered Marshall and the two have been in constant communication ever since.
That communication even features game tape review, another glimpse into life as a Buckeye.
"[Alford] is very hard on me," Marshall said. "We talk after almost every single game. He gives me a lot of feedback and he really teaches me how to be a man."
Ohio State's two priority backs combined for 2,665 rushing yards — Marshall contributed 1,961 of them — and 44 touchdowns.
That kind of trade-off is exactly how the Buckeyes like to utilize running backs, and it makes sense to have Gage and Marshall at the top of the board.
Names to know
The Buckeyes have offered 12 running backs in the 2024 cycle — three more than the 2024 class, and it's only January.
One name that immediately stands out isn't one of the top-tier national prospects, but an in-state prospect who recently earned his offer.
Four-star Millersburg (Ohio) West Holmes running back Sam Williams-Dixon has been an Ohio State favorite in the shadows but finally earned his offer. His game has shades of Curtis Samuel to it. Williams-Dixon is much more of a traditional running back, but when he lines up in space or leaves the backfield for a route, he's as much a threat as any receiver on his team.
Another in-state prospect who is quietly picking up steam on the trail is Galena (Ohio) Big Walnut running back Nate Severs. The 5-foot-11, 198-pound prospect is teammates with Buckeyes' linebacker commit Garrett Stover.
Severs had 2,711 all-purpose yards and 37 total touchdowns. He's a downfield runner, who truly only runs toward the endzone and anyone who gets in the way earns a new bruise. Severs is starting to get attention from Mid-American Conference schools, but has camped at Ohio State and knows the staff.