Talking Stuff: Tracking Buckeyes next linebacker, defensive line moves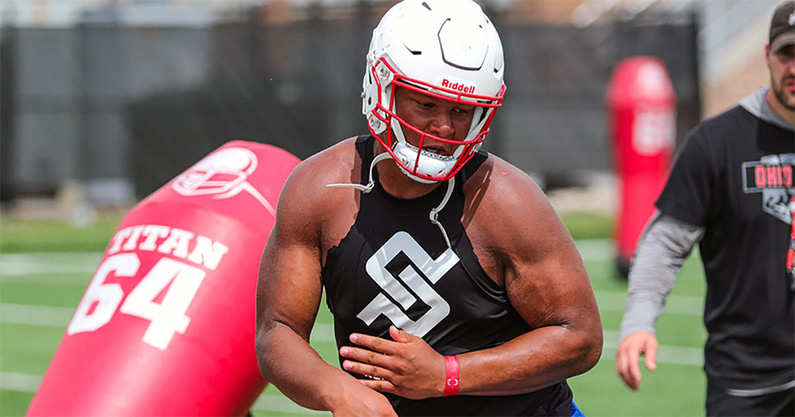 COLUMBUS – Ohio State has some major lingering questions on its plate in the Class of 2022.
The Buckeyes got into the game a little late on potentially adding a third linebacker to their class, and the top-two options have come off the board. Utah's Carson Tabaracci has canceled his visit to Ohio State this weekend. And Chicago's Jimmy Rolder committed to Michigan on Tuesday night.
At defensive line, Ohio State has just one player in the fold with Florida defensive end Kenyatta Jackson Jr. on board. We are just one month from the early signing period. The clock is ticking for the Buckeyes to close out with at least three more defensive linemen.
Lettermen Row's Jeremy Birmingham and Zack Carpenter take a dive into what the Buckeyes next moves are at linebacker in the cycle and where they stand with those top defensive line targets – largely the same trio that Ohio State has been prioritizing for several months – on the latest episode of Talking Stuff: The Ohio State Recruiting Podcast presented by Byers Auto.
In their first discussion since Saturday's huge recruiting news, the guys also take a look at the commitment of five-star Sonny Styles and how the Pickerington Central (Ohio) athlete has the potential to become the perfect kickstart to the Buckeyes 2023 class.
The Lettermen Row duo breaks down all of that, plus a look at the next potential 2023 commitment and a preview of the Buckeyes game against Michigan State that will be the backdrop for a smaller recruiting weekend with a few key visitors. That is highlighted by USC quarterback commit Devin Brown, as Ohio State appears to be one of three main teams in the running to flip the Utah-based signal caller.
You won't want to miss out on the analysis and discussions in a loaded episode of Talking Stuff, presented by Byers Auto, in the video below.