Is Jordan Marshall top 2024 running back for Buckeyes?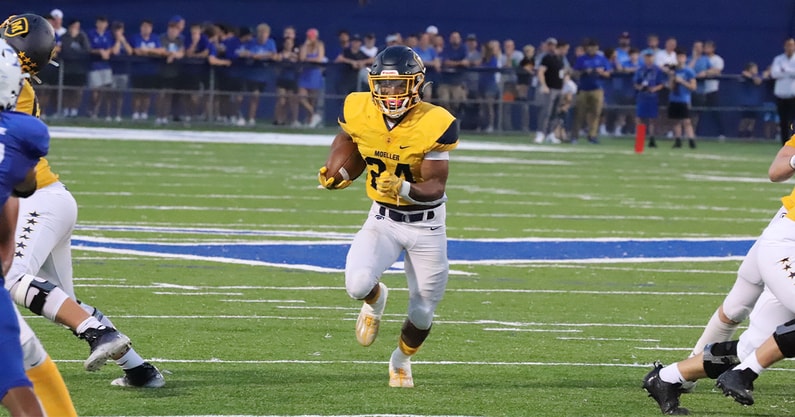 COLUMBUS — Jordan Marshall arguably was Ohio's best high school running back this past fall.
The four-star Cincinnati (Ohio) Archbishop Moeller standout had one of the best seasons of any Ohio State target and the accolades showed. He was a finalist for Mr. Ohio Football, the state's defacto Heisman. Marshall earned the co-offensive player of the year award in Division I along with half a dozen first-team honors.
The No. 4 2024 running back is stacking up awards and honors like he is offers — 29 and counting — but he's looking to trim things down.
"Next month I will be releasing either a top three or top five," Marshall told Zach Libby of The Wolverine. "It'll be somewhere between that range, I just want to make sure that the ones I really want are in there and nobody extra."
Once that list is cut Marshall plans on taking his officials to those schools with a commitment around July 4.
Two schools anticipated and expected to be on that list are Ohio State and Michigan.
The Buckeyes and Wolverines are neck-and-neck for Marshall's pledge. The almost 5-foot-11, 190-pound tailback has close relationships with Tony Alford and Mike Hart.
Marshall has visited each campus multiple times. He knows how each offense would utilize him and he can see himself in both jerseys.
"It's cool to have Michigan and Ohio State battling it out for me," Marshall said. "Just to see when I go up [to Columbus] they give me so much love.
"It's definitely going to be a hard decision between those two."
Marshall visited Ohio State twice during the Buckeyes' bowl practices in Columbus, and he was in attendance for The Game in November.
Though the final Saturday in November didn't go their way, the Buckeyes have clearly made a lasting impression on their top-priority running back target.
"It was actually crazy," he said. "All of the fans, all of the people, there's just so much hate [between programs] but so much love.
"I want to play for a team that's going to show love and always be at the game."
Marshall said he and Alford are 'tight' which has been the foundation of the recruitment.
"Getting coached by him was really good just to see seeing what he was like and how he can push me and better myself," he said. "He's just a good dude and always tells me straight up what it is — he keeps it straight with me all the time."
Ohio State has reemphasized in-state recruiting, and the 2024 cycle will be an even bigger test than 2023 was.
Jordan Marshall is arguably the most talented running back in Ohio. He has the awards, the on-field talent and the opportunities.
But will he be a Buckeye?