Photos: Ohio State recruits visit Buckeyes showdown against Oregon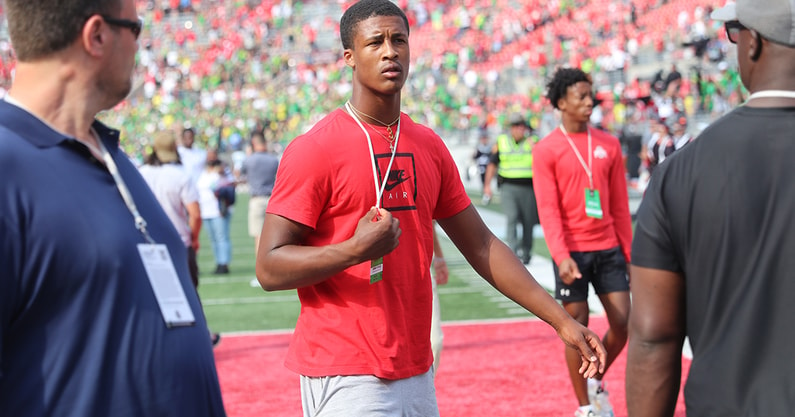 COLUMBUS – This was the biggest matchup of the season for Ohio State, but the Buckeyes couldn't get it done against Oregon.
It was a 35-28 loss that revealed some major flaws for Ohio State, and the Buckeyes are now at a crossroads moving forward for the rest of their 2021 season.
Despite the outcome for Ohio State, the game still served up a terrific atmosphere in the first game with a packed crowd at The Horseshoe since November 23, 2019 against Penn State. That was the last regular-season game that featured a backdrop for dozens of top Buckeyes recruits to flock to Columbus to experience.
Saturday provided an even bigger and better atmosphere for the Buckeyes biggest recruiting weekend of the year thus far. It gave top recruits from the 2022, 2023 and 2024 classes a glimpse into just how intense the environment at The Shoe can be.
Lettermen Row will have reactions and analysis from those who visited throughout the week. In the meantime, take a look at the photo gallery below for some of the names and faces of a loaded group that walked through the tunnel and saw – for most of them – their first Ohio State game up close.
The field of recruits featured players such as priority defensive line target Caden Curry, plus other top targets such as Christen Miller and Aamil Wagner in the 2022 class, Sonny Styles and Luke Montgomery in the class of 2023, top-ranked quarterback Jadyn Davis in the 2024 cycle and a host of Ohio State commits.
That group included five-star linebacker C.J. Hicks, four-star receiver Kyion Grayes, four-star offensive lineman Tegra Tshabola and four-star tight end Ty Lockwood, who made his first-ever appearance at Ohio Stadium.
When the gallery loads, hover over the first item and then use your left-right arrows to scroll through photos