Scarlet Sunrise: Four-star receiver schedules Buckeyes official visit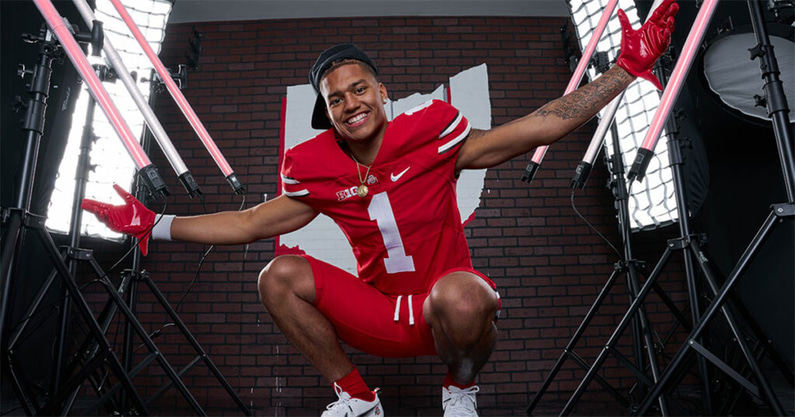 Good morning, Ohio State fans, and welcome to the Scarlet Sunrise. Football will always be our focus, but every day we'll cover news, notes and analysis from across Buckeyes sports. Join us each morning to get caught up on everything you missed in the world of Ohio State football, recruiting, basketball and more in Scarlet Sunrise.
Four-star receiver schedules Buckeyes official visit
The biggest recruiting weekend of the year for Ohio State got even bigger Wednesday night.
Folson (Calif.) four-star wide receiver Rico Flores locked in his official visit with the Buckeyes, which will take place June 24-26.
Flores is the No. 172 prospect in the 2023 class, according to the On3 Consensus. He is currently the No. 28 wide receiver in America and the No. 12 player in the state of California. His visit will be the same weekend as 15 other top Buckeyes targets, who will all also be on official visits. He is the only wide receiver expected to take a visit to Ohio State that weekend.
Top wide receiver prospects Brandon Inniss, Noah Rogers and Buckeyes commit Bryson Rodgers will all be on campus for official visits the weekend before. But Flores will see Ohio State on the last week of June.
New Tim May Podcast
This week, Tim dives into one of the most pressing issue facing college football right now: name, image and likeness.
To break it all down, Tim welcomes on sports attorney Luke Fedlam to analyze just how NIL has impacted college football, Ohio State and the future of the sport. Fedlam works with athletes and studies NIL, and he has previously been on the Tim May Podcast to talk about the hot-button topic since it was deemed legal by the Ohio legislature last summer.
How did Ohio State football make its way into the wild world of name, image and likeness? How are the Buckeyes maintaining their edge in that space? What's next in the future of college football, considering all the changes coming to the sport? And just how good can Ohio State with the full force of NIL in the athletic department? Luke and Tim talk about that and plenty more on the latest episode of the show.
You will not want to miss that and plenty more news and analysis and in another edition of the Tim May Podcast. It dives into one of the biggest issues in college sports — and for Ryan Day and the Buckeyes as they try to keep up with it all.
ICYMI: Buckeyes offer fast-rising 2025 wide receiver
Winston Watkins Jr. is one of the nation's most talented receivers in the class of 2025.
His new offer from Brian Hartline and Ohio State is testament to that.
Watkins, a 5-foot-10, 172-pound playmaker out of Fort Myers (Fla.) IMG Academy, worked out at the Buckeyes' one-day camp Tuesday and by the end of the day, an offer was all but certain.
Committed to Texas A&M since December, Watkins has still been visiting schools around the country with a long road to go in his recruiting process. Watkins, the cousin of former Clemson standout Sammy Watkins, camped with the Tigers just last week.
He already visited the Buckeyes back in April and Power 5 offers have been piling on over the last couple of months. Offers include Texas A&M, Florida State, Florida, Georgia Tech, South Carolina, Tennessee, Georgia and Texas in addition to Ohio State.
READ: Star 2025 wide receiver Winston Watkins Jr. adds Ohio State offer
Are you subscribed yet?
Are you ready to get all your latest Ohio State news in one place? Become a member of Lettermen Row today. With your Lettermen Row/On3+ membership, you'll not only have access to the everything that's happening with the Buckeyes, but you'll also be able to peruse other fan sites within the network to hear just how rivals are feeling about Ohio State, as well. Make sure to follow along on Twitter, Instagram and on Youtube for all the latest Buckeyes news you need to know.
Already signed up? Don't forget to join us in the Lettermen Lounge to talk about the latest Ohio State sports news.