Talking Stuff: Latest on key Buckeyes targets Xavier Nwankpa, Caden Curry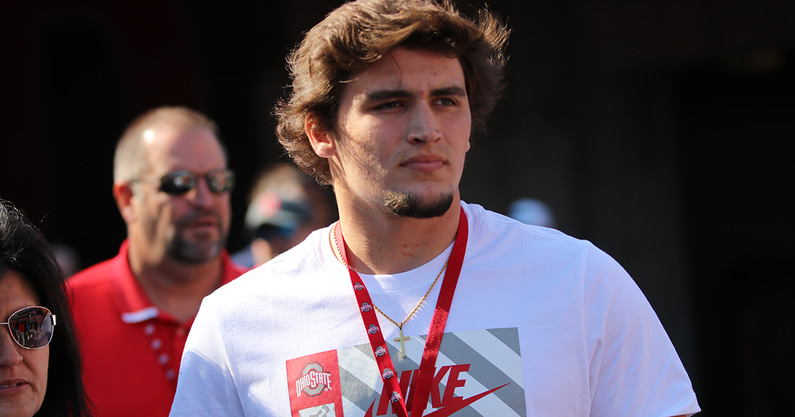 COLUMBUS – Xavier Nwankpa or Caden Curry? Caden Curry or Xavier Nwankpa? No matter where you rank them, those are the two top-of-the-board targets remaining in the 2022 class for Ohio State.
Each blue-chip defensive prospect is in a fairly similar position in their recruitment as we inch closer to October.
Nwankpa is set to cut his list down to three schools this weekend. And it's becoming clear which ones will remain at play for the nation's third-ranked safety out of Southeast Polk (Iowa) High School.
Curry is already down to a top-five list. But it appears there are really only three programs that are viable options at this late stage in the Center Grove (Indiana) prospect's recruitment.
Ohio State looks to close on Xavier Nwankpa
For Nwankpa, Ohio State, Notre Dame and Iowa are the likely programs to find themselves on that list. Each one is set to host Nwankpa in October, and each is selling him on a very similar vision for how he would fit into their defense.
Curry, on the other hand, is getting closer to locking in an official visit with Alabama. Are the Crimson Tide a real threat against Ohio State and Curry's home state Indiana Hoosiers?
Ohio State is looking to continue stacking classes and adding young, energetic talents to a retooled defense. It's imperative that the Buckeyes close out both stars.
And speaking of the defense, Dallas Gant recently entered the transfer portal and K'Vaughan Pope was dismissed from the program on Sunday. Do those departures put extra emphasis on the Buckeyes to try and sign a third linebacker in 2022? Would there be a viable option this late in the cycle?
Find out those answers and more – including why you never want to go on a first date while your fantasy football draft is ongoing – below as Jeremy Birmingham, Zack Carpenter and Andrew Ellis break it all down on the latest episode of Talking Stuff: The Ohio State Recruiting Podcast from Lettermen Row.