What We Learned as Ryan Day evaluated first day of training camp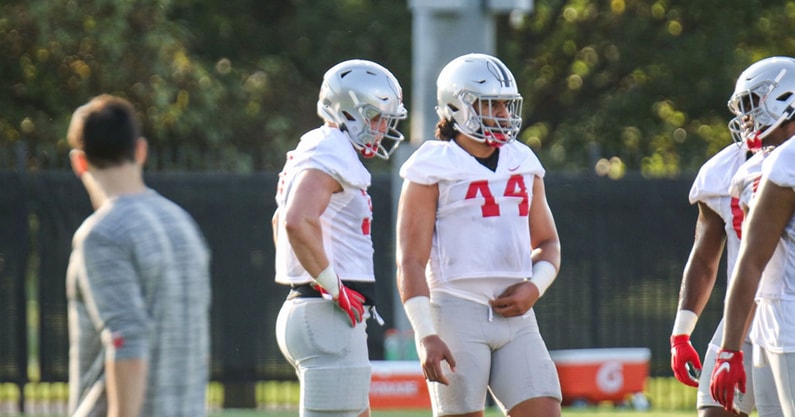 COLUMBUS — Ohio State is returning to a sense of normalcy.
After a training camp full of stops and starts last August, the Buckeyes opened training camp this season with a level of certainty that football won't be delayed, canceled or postponed.
But even with the kind of comfort last season couldn't promise, the Buckeyes have plenty of questions as they begin preparing for a road trip to Minnesota in just four weeks. After just one practice, coach Ryan Day is just getting a feel for what Ohio State will put on the field this fall.
"I think coming off of the summer, talking about how many guys made gold and how many Iron Buckeyes we had, that's a great projection into what's gonna happen in the fall," Day said during his first press conference of camp. "So if we can stay healthy and continue to work the way we're working, we're gonna have a good season."
The good news for the Buckeyes? They still have four weeks to figure it all out before heading to Minneapolis. Lettermen Row is breaking it all down with What We Learned as Ryan Day and the Buckeyes wrapped up their first day of training camp on the practice field.
Ohio State five-star defensive ends will be utilized
Ryan Day announced during his press conference that Tyler Friday is out indefinitely with an undisclosed injury, and he could be out for the season.
In a defensive line room loaded with talent, Friday was set to be one of the most veteran returners. Now that void must be filled by Tyreke Smith, Zach Harrison and Javontae Jean-Baptiste. Oh, and the two true freshman defensive ends — five stars Jack Sawyer and J.T. Tuimoloau — will need to be ready to contribute immediately.
"There's some other guys out there that are in the same boat — but they're going have to get on the field a little bit sooner than maybe we thought before," Day said. "And that's really that whole defensive end room now, because you lose a guy."
Both freshman superstars were likely to earn reps early anyway. Now the need for them to do so is heightened.
Ohio State needs vocal leadership on offensive line
As the Buckeyes begin to sort out who may start on the offensive line, they also need to figure out the leadership structure of the unit. Fourth-year starting left tackle Thayer Munford is the alpha of the group overall, but he doesn't identify as a vocal type of leader.
When Josh Myers and Wyatt Davis left for the NFL, they took their loud leadership style with them. Day and the Buckeyes need to find a capable lineman to provide that vocal presence in the locker room and on the field.
"You always have to have a vocal leader in that group," Day said. "You've got to be strong. There are different styles of leadership. But one of the styles, one of the clubs in your bag has to be to be authoritative. You have to be strong in certain settings, because when you're on the field, you can't just put your arm around them. We don't have time for that.
"The clock's ticking, we've got to go now. And so there has to be vocal leadership there. I'm not going to really get into who and how and everything. Certainly, Thayer's been a big part of that. He's been strong. But there's been other guys in that that group that have actually stepped up in front of the team this summer and some of [Mickey Marotti's] workouts, who have had really, really strong powerful messages for the team and for their unit. And so I think that there is a vocal group there, there has to be a vocal presence in that room. And so I think we have some really good young leaders in that group."
Buckeyes toying with versatile Bullet position
Ohio State has talked about the Bullet position for years. But it appears the Buckeyes are finally ready to deploy the versatile spot in their revamped defense.
They certainly have plenty of capable players to do so. Ronnie Hickman and Craig Young are freaky athletes who can run well and make plays from anywhere on the field. Kourt Williams could step in and make an impact, as well. Ohio State seems to be getting more versatile in its defensive backfield — and it could be huge for the unit.
"We've always kind of had the Bullet idea," Day said. "And we want to put the best guys on the field. And that's a package for us that we can go to if we need it. But they've done a good job, Ronnie and Craig both had good summers. Kourt's coming along. And then you have Lathan [Ransom] and Marcus Williamson. So you start to add some of those guys with the depth that we have there, we have a little more experience, and it gives us a few more options there, for sure."
Ohio State needs to improve its defense from last year. The Bullet position gives the Buckeyes versatility to do so.
Freshman wide receivers making push after impressive offseason
Brian Hartline once again proved himself to be the best-recruiting wide receivers coach in the country in the class of 2021. And his three freshman pass-catchers are already making a push for playing time.
"I think all three of the guys are very, very impressive," Day said. "Marvin [Harrison] had a really good spring and a really good summer. So you see him, he looks great. But Emeka Egbuka: Unbelievable. He had a really, really good spring. He had a really good summer — I mean, an excellent summer. And so is Jayden Ballard. I think all of them are different. They're all different body types and styles.
So, you know, in a really talented group, in a room of the receivers, I'm excited to see what they look like the next couple of weeks, because I've been very, very impressed and think that they can have an impact early on."
The Buckeyes wide receiver room is stacked with talent. Harrison, Egbuka and Ballard are all showcasing their skills early on in camp.