What We Learned from Buckeyes restocked linebacker room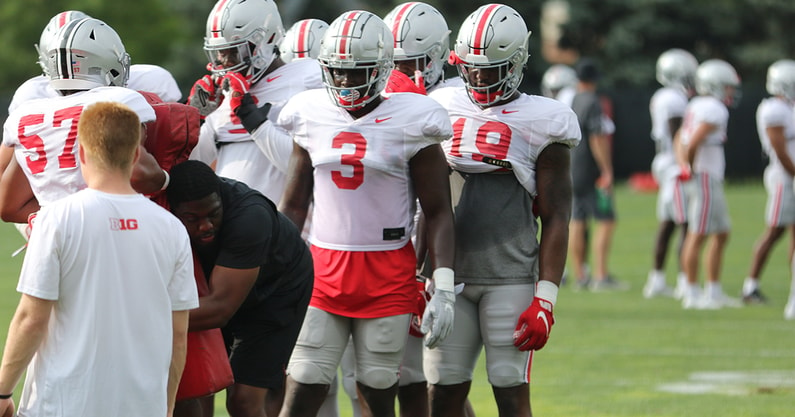 COLUMBUS — Ohio State has a standard to meet in its linebacker room.
The Buckeyes have historically had elite linebacker play for decades. And just because they lost four linebackers from last year's national runner-up team to the NFL, that standard doesn't change.
The players on the roster wouldn't want it to, either.
"At Ohio State, we reload," senior linebacker Teradja Mitchell said. "You know, it's next man up. So everybody has that mindset to come in every day and go get a starting job. It's not just me. It's not just [second-year linebacker] Cody [Simon]. It is everyone. Everyone has that mindset coming every day."
Tuf Borland, Pete Werner, Baron Browning and Justin Hilliard were at the top of the depth chart for the last three seasons. They're all on NFL rosters now, and the opportunities to replace them have finally come.
Before they left the program, though, they provided the players still with the Buckeyes a path to follow.
"Those guys set out a blueprint," Mitchell said. "And we just keep it the same. Tuf, Justin Hilliard, Baron, Pete, those guys set out a blueprint. And we're just following it. Understand that we're linebackers, we need to bring it. You gotta bring it."
Al Washington and his linebackers unit are working to bring it every day, and Lettermen Row has What We Learned as they spoke to the media three weeks before the revamped unit takes the field for the season-opener.
Veterans will lead way for Buckeyes
The four lost linebackers from a season ago means lost leadership. Now Ohio State will need to replace that leadership off the field.
The unit still brings back plenty of talent, littered with players who have patiently waited their turn to be playmakers in the Buckeyes defense. Now it's time for those players to become leaders, as well.
"I think all of them [do it], starting with Teradja," Washington said. "I think he's done a great job stepping into a leadership role off the field, taking it upon himself to organize things — and just having more of a voice, which is great to see. K'Vaughan Pope is a part of that group, and he has really had a strong push this camp. He has done a really good job and is really bought in and matured. I'm really proud of him. Tommy Eichenberg, unbelievable. Just a tough kid, accountable kid. Just a person that is just showing up. Dallas Gant is another one. Obviously Dallas has been here. And he's done a really good job of having a great presence for us.
"I don't want to forget anybody, but there's been a number of those guys stepping up."
After losing all the leadership from a season ago, it seems the Buckeyes are beginning to find out where it will come from this fall.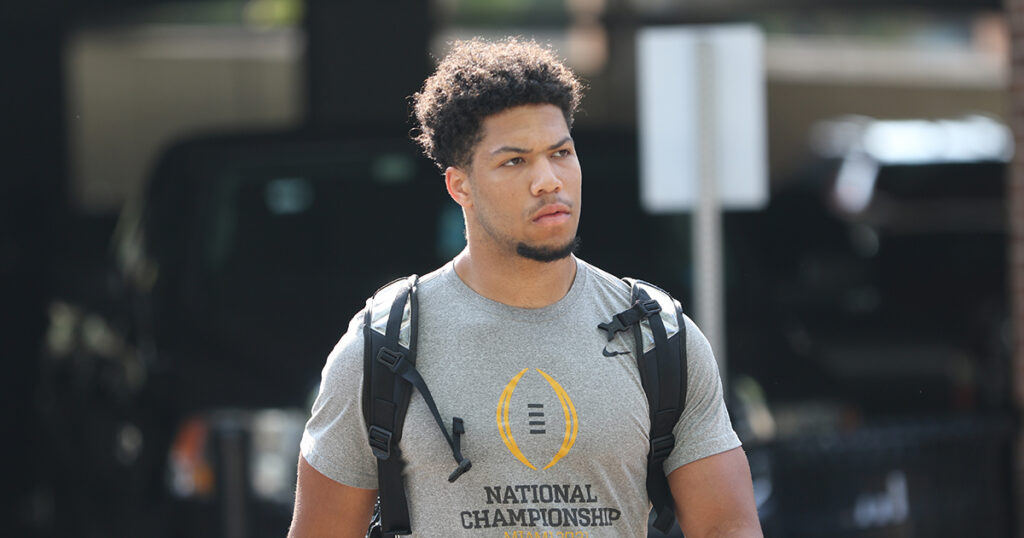 Cody Simon still learning, becoming factor for Ohio State
Cody Simon was one of the many freshmen from a season ago who struggled to grow and make an impact due to the pandemic-impacted season. It delayed his development in the program, progress that he has since made up for.
He's anxious to be on the field this fall, where he has a chance to become one of the Buckeyes biggest playmakers early in his career.
"I'm super hungry," Simon said. "I've always wanted to play out there on the biggest stage. The biggest games are my favorite. So right now, it's just working hard and getting ready for that moment. You never know when it's going to come, but you always have to be ready for when it comes. I'm just I'm trying to get ready right now."
His moment could be coming soon.
Tommy Eichenberg quietly creeping toward big role
Tommy Eichenberg doesn't ever have much to say. He would much rather just play football than speak to the media.
The redshirt-sophomore linebacker is making the most of camp, and he continues to turn heads and get better with every day of camp.
"I think at some points, you think you're good and then you realize you're not," Eichenberg said. "It's like a never-ending chase. You just have to keep on getting better every single day, every single aspect. You can never be satisfied, no matter what. I think it's [important to] just come out with every day with that new mentality: I gotta get better no matter what."
Eichenberg is only getting better. He seems to now be pushing his way into the rotation at linebacker for the Buckeyes.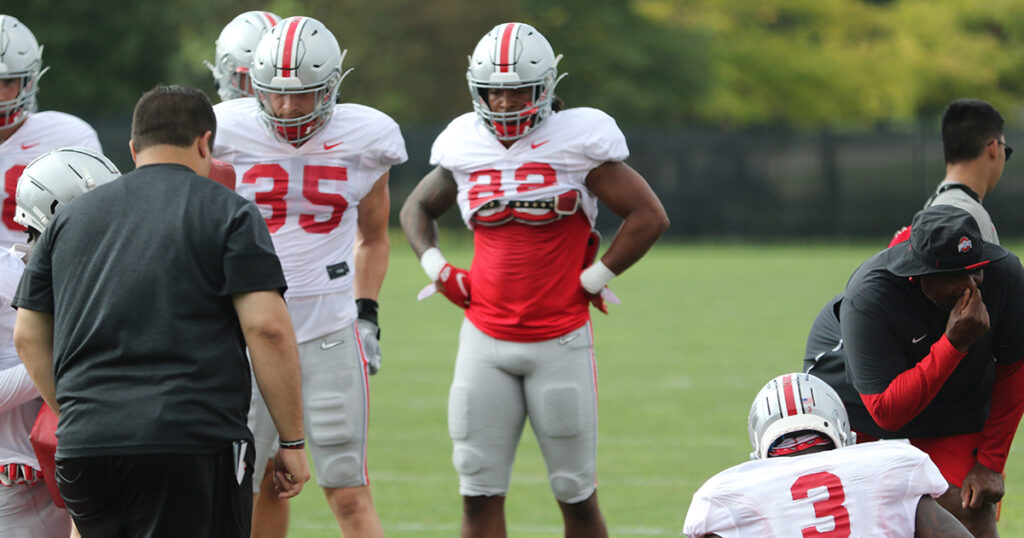 Steele Chambers faces uphill climb at linebacker for Buckeyes
Steele Chambers spent years trying to climb the Ohio State running back depth chart to earn carries. Now he's on the other side of the ball trying to do the same at linebacker. The transition seemed to be a natural one for Chambers, who officially converted after the spring game.
But it's been tough.
"It's hard," Chambers said. "I have a little experience from high school, but college defense is just a whole new ballgame. But I'm getting it.
"High school, I was just kind of bigger and faster than everyone. I was able to just go off athleticism, didn't really need to know much technique even though my coaches taught it to me. Now I have to be sound on my technique, because our running backs, they're big, strong, fast. So you have to have just every tool in the toolbox to get the job done."
Chambers faces an uphill climb as he learns to play linebacker at an Ohio State level. But he still can have an impact for the unit as he progresses and grows.
Buckeyes not worried about Bullet taking snaps from linebackers
Ohio State will potentially unveil new wrinkles in its defense this season, most notably the Bullet role that features a hybrid player in a variety of roles. It could take one of the three typical linebackers off the field and replace him with a more versatile athlete.
Even if that happens, the linebackers aren't worried about whether they are competing for two or three spots on the field.
"At Ohio State, competition is going to be what it is," Mitchell said. "Regardless of whether it's two or three spots. Every day we go out there. We have to work. You have to bring your 'A game' every day. It's Ohio State — we're playing at the highest level of college football. So I wouldn't even say the competition is amped up. I would say, this is what it is.
"It's always been what it is."