What loss of J.K. Dobbins means for Buckeyes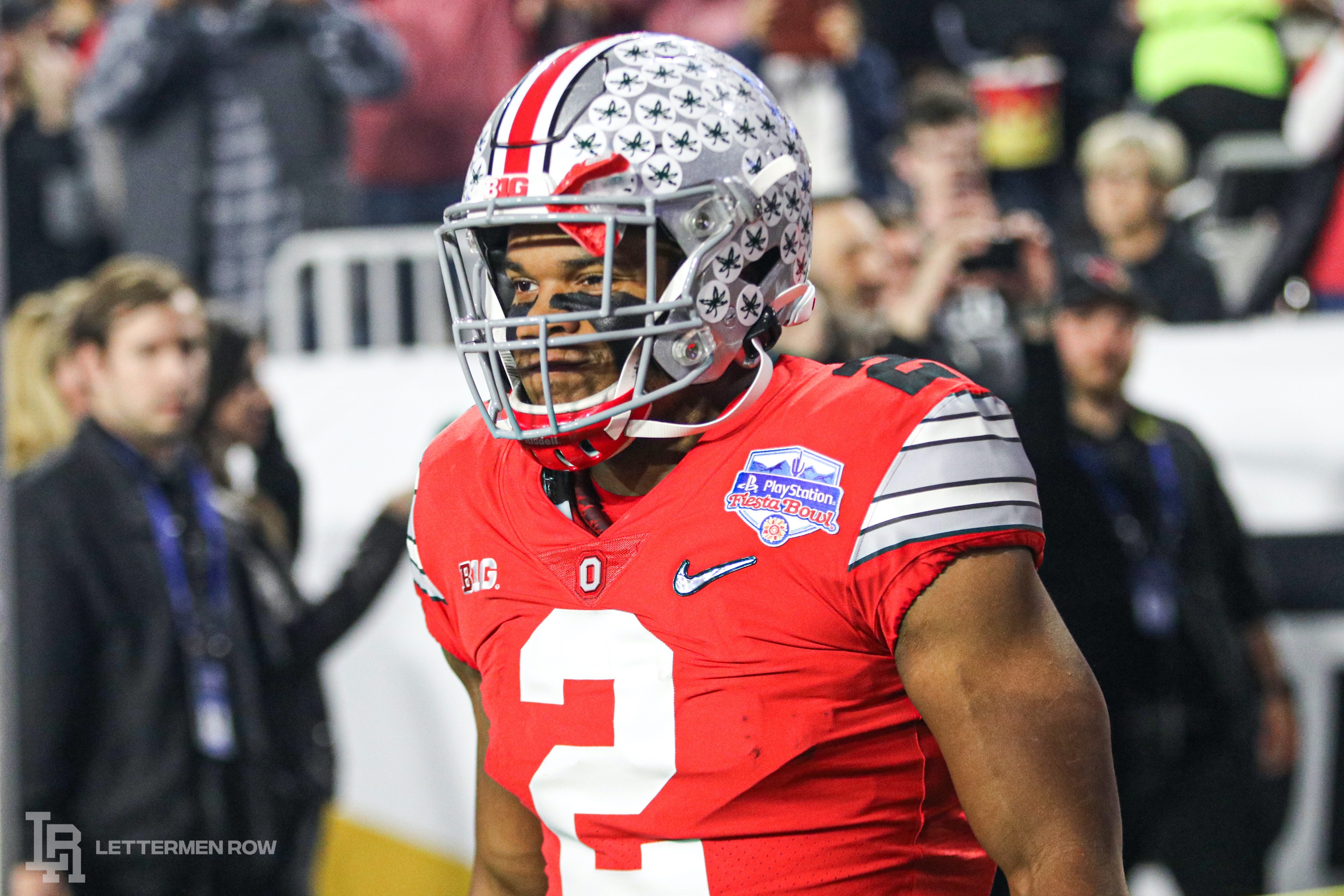 J.K. Dobbins, Ohio State's newly-minted single-season rushing leader, ran all over opponents in 2019.
Now he's running off to the NFL.
"Buckeye Nation," Dobbins wrote. "Thank you for all the incredible memories. I love you guys more than you will ever know."
Dobbins announced his decision on social media on Monday night, putting to bed any possibility of a return for his senior season and leaving a major hole in the backfield for the Buckeyes. After breaking Eddie George's single-season record for rushing yards at Ohio State, Dobbins departure was predictable but not easy.
"The state of Ohio and the city of Columbus will always have a special place in my heart," he continued. "After a tough decision, I'll be forgoing my senior season and will enter the 2020 NFL Draft."
What does the departure of Dobbins mean for the Buckeyes?
J.K. Dobbins leaves big Ohio State legacy
Dobbins committed to Ohio State without ever stepping foot on the Buckeyes campus but from the first game he played as a freshman and rushed for 181 yards on 19 carries at Indiana, it became clear he was going to be a star in Scarlet and Gray.
The first player in Buckeyes history to rush for 1,000 yards or more as a freshman, sophomore and junior, Dobbins became the heart-and-soul of the Ohio State offense in 2019, breaking the 2,000-yard mark on the ground — another Buckeye first — and earning second-team All-American honors. A three-time Big Ten champion, a Doak Walker finalist and the second leading rusher in school history, Dobbins will be hard to replace for Ohio State and Ryan Day.
How will Buckeyes manage losing J.K. Dobbins
The first glimpse of who will replace Dobbins seems obvious.
Master Teague, who rushed for 789 yards on 135 carries as a redshirt freshman, looks to be the leader to assume the starting role at tailback. Teague's physical running style is considerably different than Dobbins first-step, jump-cut, make-you-miss approach but it's hard to argue his success. Can he match Dobbins success against top-tier opponents though? Teague rushed for less than four yards a carry against Penn State, Michigan and Clemson and didn't play in the Buckeyes Big Ten title win over Wisconsin.
Buckeyes freshman Marcus Crowley got some early looks during his first year on campus but a knee injury suffered at the end of a 73-14 win over Maryland sidelined him the rest of the season. The severity of the injury for Crowley remains unknown, and therefore his rehab schedule is unknown. If he's healthy, he will be counted on to make a step for the Buckeyes this spring.
The same can — and will — be said for Steele Chambers. Chambers carried the ball for nine carries and 56 yards against Rutgers but didn't get much of a chance otherwise to show his talents.
Expect a big-time competition this upcoming offseason between that young but talented trio.
In June, Ohio State will also welcome in running back Miyan Williams. Williams is a 3-star running back prospect from Cincinnati and the Buckeyes love his physical approach. He's an angry runner and incredibly productive in high school, so don't be surprised if he enters the fray for real playing early in his freshman year the same way Dobbins did.
Would Ohio State look to transfer portal for depth help?
There are a number of talented football players available at running back in the transfer portal including the recent addition of former 5-star prospect Lorenzo Lingard.
Lingard, who announced on Monday his departure from Miami, was a top target for Tony Alford and the Buckeyes in the Class of 2018. At this time, there's not any expectation that the transfer portal will be used by Ohio State but as more big names make school shifts, it's nothing to completely rule out.
Ryan Day and his program prefer to build from the prep ranks and don't want to get caught up chasing scholarship numbers in the transfer game if they can help it. It's unlikely they'll use the transfer portal to find another running back to try and replace Dobbins.