Brice Sensabaugh tabbed Big Ten Freshman of the Week for fourth time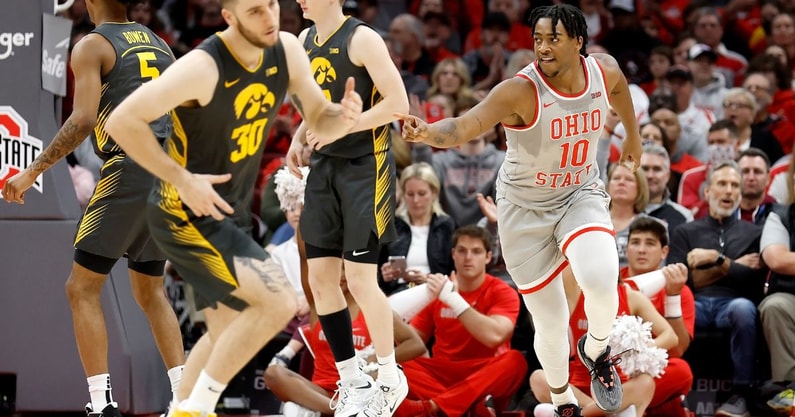 COLUMBUS — Coming off his most efficient game of the season, Ohio State star freshman forward Brice Sensabaugh was named Big Ten Freshman of the Week Monday. Sensabaugh scored a personal-best 27 points on just 12 shots in a 93-77 win over Iowa.
Sensabaugh has now been tabbed the Big Ten Freshman of the Week four times this season. He's the first Buckeyes player to accomplish that feat since D'Angelo Russell earned the weekly honor seven times in 2014-15, en route to being the No. 2 overall pick in the 2015 NBA Draft. Jared Sullinger won Big Ten Freshman of the Week 12 times in 2010-11, the first year of the award's existence. Sullinger played two seasons at Ohio State before being selected as the No. 21 overall pick in the 2012 NBA Draft.
Sensabaugh has emerged as a potential first rounder himself and currently ranks second among all freshmen nationally in scoring with 17.5 points per game. The only first-year player ahead of him in that category is Alabama forward Brandon Miller, who is averaging 19.8 points per game.
Sensabaugh was 10-of-12 from the field, including 4-of-5 from 3-point land, against Iowa. He was a perfect 6-of-6 in the second half, helping the Buckeyes maintain a double-digit lead over the Hawkeyes. Sensabaugh did commit a season-high five turnovers, but three of those came in the game's opening 81 seconds, after which he bounced back.
The Orlando native also rebounded from a slow start in a 63-60 defeat at Nebraska earlier in the week. He began the game 0-of-8 from the floor before finishing the night 6-of-8 and registering his third consecutive double-double with 18 points and 10 rebounds.
Sensabaugh is the first freshman to lead the Buckeyes in scoring for 10 straight games.
He was named Big Ten Freshman of the Week three weeks in a row from Dec. 19 to Jan. 2.