Ohio State plagued by shooting woes in setback at Illinois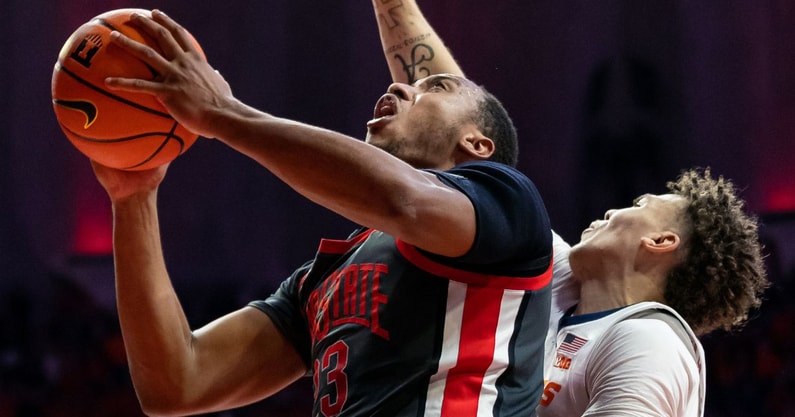 It's back to Earth for Ohio State — or whatever planet the Buckeyes' offense has been on in a mostly miserable January. Just three days removed from posting their fifth 90-point game of the season, Ohio State, an uber-efficient offensive team the first 14 games of the season, slid back into its head scratching shooting slump at Illinois.
The Buckeyes were a meager 36.7% from the floor Tuesday night, their third-worst field goal percentage this season. Plus, they missed eight free throws for the second time in three games.
What's more, other than fouling, Ohio State didn't have much of an answer for an Illinois offense that likes to run in transition and had 16 fastbreak points to show for it. The Fighting Illini used a 10-0 run in the second half to turn a seven-point game into the makings of a blowout.
Ohio State piled up points down the stretch to make the final score 69-60, but it wasn't that close. Illinois (14-6, 5-4 Big Ten) dominated the final frame and recorded its first win over the Buckeyes (11-9, 3-6) in the State Farm Center in six years.
The Buckeyes had junior center Zed Key in the fold, despite his injury scare over the weekend when he had to be helped off the court after hurting his left knee on a dunk dismount. But Key, who got the start, didn't look like himself. He didn't score for the first 27-plus minutes of game action, and he fouled out with about five minutes remaining.
Key — Ohio State's leading rebounder this season — wasn't blocking out well, as evidenced by his three boards in 23 minutes. Neither was freshman center Felix Okpara. Both looked a step, or maybe even two, slower than Illinois' frontcourt playmakers.
The Fighting Illini finished with a 14-rebound advantage and led for more than 34 minutes. As bad as it got for the Buckeyes, their wheels didn't fall off until the second half.
And, for a while, Ohio State seemed OK offensively.
Sean McNeil scored the Buckeyes' first five points: First the West Virginia grad transfer sunk a floater off the dribble handoff, then he knocked down a 3-pointer in transition.
Soon after that, Brice Sensabaugh posted back-to-back field goals, the second of which was made possible by Sensabaugh himself, as he picked the pocket of Illinois guard Jayden Epps. Isaac Likekele corralled the loose ball and jumpstarted Ohio State's transition offense, leading to Sensabaugh's bucket, which gave the Buckeyes an early 9-5 lead.
Likekele picked up where he left off against Iowa — well, not in production (he was nowhere near triple-double watch) but in offensive aggression. Likekele matched Sensabaugh's seven field goal attempts in the first half. Except, only one of them fell. As was the case before Likekele's breakout performance versus the Hawkeyes, the Oklahoma State grad transfer guard struggled at the rim.
He also was 1-of-4 at the free throw line, contributing to a mess of a night at the charity stripe for the Buckeyes.
An off-the-mark Likekele jumper was part of eight straight Ohio State misses during a nearly-six-minute stretch where head coach Chris Holtmann's squad didn't net a field goal.
Meanwhile, courtesy of four free throws and a mid-range make from Texas Tech transfer and Illini leading scorer Terrence Shannon Jr., Illinois staked itself to a 16-12 lead.
Shannon and Baylor grad transfer Matthew Mayer accounted for 20 of the Illini's 34 first-half points. Shannon finished with a game-high 17 points, boosted by a perfect 9-of-9 clip at the free throw line, not to mention his seven rebounds.
Even so, the Buckeyes hung around in the opening frame. Point guard Bruce Thornton stepped into a transition 3-pointer. Sensabaugh lofted a floater over dynamic Illinois big man Coleman Hawkins. And Justice Sueing — who was once again fairly effective off the bench, this time with 13 points — drilled a turnaround jumper to keep Ohio State within one possession of the home team.
Sueing's problem? Foul trouble. He was subbed out after picking up his third personal with more than five minutes left in the first half. That third foul was a bad one, too. It came on a Mayer 3-point attempt, rewarding the veteran free throws amid what became an 11-2 Illini surge.
He wasn't the only captain making rookie mistakes. The very next possession, Likekele committed a bad pass turnover that was intercepted and transformed into a breakaway dunk by Shannon.
An actual Mayer 3-pointer put Illinois up, 32-21, with 2:28 to go in the period. Buckeyes freshman guard Roddy Gayle Jr. stopped the bleeding with a triple of his own, but Illinois entered the half with a 34-26 advantage.
Illinois blew the game open with its 10-point flurry in the second period. The Illini have Dain Dainja to thank. The 6-foot-9, 270-pound forward was the source of seven Illinois points in that spurt.
After Shannon split Likekele and Key and kicked the ball out to Epps for a 3-pointer, Dainja logged back-to-back field goals. He overpowered Okpara in the post on the first one. Then he corralled a loose ball in the paint and slammed home a dunk on the second one. Perhaps most notably, however, Dainja swiped the ball out of Sensabaugh's hands and started the break for the Illini, who cashed in with another Epps 3-pointer that put them ahead, 48-31.
Hawkins assisted Epps on the highlight-reel play. The 6-foot-10 Hawkins can play the four or the five, and he flashed his point forward skill set Tuesday. In addition to 11 points and nine rebounds, the junior stashed six dimes.
Later in the second half, Hawkins returned the favor to Ty Rogers after Rogers slipped him a feed inside for a two-handed dunk. The next possession, Hawkins dialed up an extra pass to set the stage for a Rogers slam.
That sequence was part of another Illinois run in the latter portion of the final frame, a run that also featured a heads-up play by Epps. He bounced an inbound pass off the back of Gayle, caught it and scored an easy, uncontested layup.
Illinois' final field goal, a Shannon and-one — on which Key fouled out — occurred with 5:05 left. But the Illini didn't need any more offense. They were up 17 points.
Ohio State cut that lead to nine before the horn, avoiding its first double-digit defeat to Illinois in 10 years.
What the Buckeyes can't avoid, though, is how their well-oiled offense from the weekend looked as discombobulated as it did during the team's season-altering, five-game skid.