Scarlet Sunrise: Ohio State no longer top 10 in KenPom adjusted offensive efficiency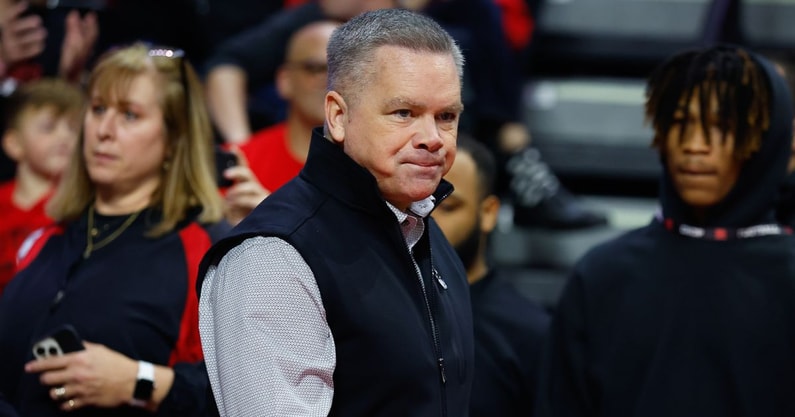 Good morning, Ohio State fans, and welcome to the Scarlet Sunrise. Football will always be our focus, but every day we'll cover news, notes and analysis from across Buckeyes sports. Join us each morning to get caught up on everything you missed in the world of Buckeyes football, recruiting, basketball and more in Scarlet Sunrise.
Ohio State no longer top 10 in KenPom adjusted offensive efficiency
Ohio State was still No. 1 in the country in KenPom adjusted offensive efficiency as recent as last week. The Buckeyes remained in the top 10 through the first four games of their now-five-game skid. But they fell to No. 11 after Wednesday night's 63-60 loss at Nebraska, where they shot sub-40% for the second straight game, and second time this season.
To put that in perspective, Ohio State shot exactly 40% last week against Minnesota, at the time setting a season low in that department. Buckeyes sixth-year head coach Chris Holtmann said it was his team's worst offensive performance of the season. Since, Ohio State has had back-to-back outings where it's shot at an even worse clip.
The Buckeyes' offense is struggling to get into its actions and, on occasion, appears stagnant. Ohio State has now posted four straight games with single-digit assists. In the six games before the losing streak started, the Buckeyes were averaging 18 assists per contest.
Offense has been Ohio State's calling card, not only this season but throughout the Holtmann era. The Buckeyes got off to a 10-3 start, including 2-0 in Big Ten play, largely because of their talent on that end of the court — talent that's produced four 90-point games this year. But, with limited offensive execution, the Buckeyes' defensive deficiencies have been spotlighted and tight games have been difficult to close.
Still out of sync, Buckeyes lose fifth straight at Nebraska
After not scoring in the first five minutes over the weekend at Rutgers, Ohio State mustered just two points before the first media timeout Wednesday night at Nebraska.
The Buckeyes also endured a six-and-a-half minute field goal drought in the second half, during which the Cornhuskers built a multi-possession lead that they clung to down the stretch. Except, Nebraska missed a pair of free throws in the final minute, and that allowed Ohio State an opportunity back into the game. Unfortunately for the Buckeyes, Sean McNeil's potential game-tying 3-pointer at the buzzer rimmed out, and Ohio State lost its third one-possession contest of the month.
The Buckeyes have now tied the longest skid in the Holtmann era. They also lost five in a row during the 2018-19 season. That year, Ohio State got off to a 12-1 start before losing five straight games, only one of which was decided by fewer than nine points. The Buckeyes rounded out the year 20-15, including 8-12 in league competition. They still made the NCAA Tournament but were bounced in the second round by a Houston team that's run stopped in the Sweet Sixteen.
Ohio State lands former Louisiana-Monroe offensive lineman Victor Cutler
Ohio State football added its fourth transfer of the offseason Wednesday: former Louisiana-Monroe offensive lineman Victor Cutler.
Cutler has two years of eligibility remaining after starting 21 games across three seasons for ULM. The 6-foot-3, 302-pound Cutler has started games at center, right tackle and left tackle. Most notably, he allowed a combined one pressure and one sack at left tackle against Texas and Alabama this season, according to Pro Football Focus.
The addition of Cutler follows the departure of three starting Ohio State offensive linemen — center Luke Wypler, left tackle Paris Johnson Jr. and right tackle Dawand Jones — to this year's NFL Draft.
For more on Cutler and what his role could be in Columbus, go here.
Counting down
Buckeyes vs. Indiana: 226 days
Buckeyes vs. Michigan: 310 days
Are you subscribed yet?
Are you ready to get all your latest Ohio State news in one place? Become a member of Lettermen Row today. With your Lettermen Row/On3+ membership, you'll not only have access to the everything that's happening with the Buckeyes, but you'll also be able to peruse other fan sites within the network to hear just how rivals are feeling about Ohio State, as well. Make sure to follow along on Twitter, Instagram and on Youtube for all the latest Buckeyes news you need to know.