Scarlet Sunrise: Buckeyes forward Owen Spencer earns scholarship after Iowa win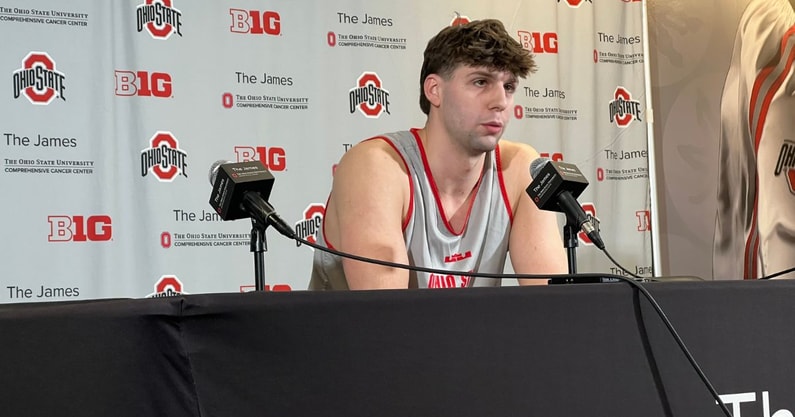 Good morning, Ohio State fans, and welcome to the Scarlet Sunrise. Football will always be our focus, but every day we'll cover news, notes and analysis from across Buckeyes sports. Join us each morning to get caught up on everything you missed in the world of Buckeyes football, recruiting, basketball and more in Scarlet Sunrise.
Buckeyes forward Owen Spencer earns scholarship after Iowa win
Following Ohio State's 93-77 win over Iowa Saturday afternoon, Buckeyes reserve forward Owen Spencer was put on scholarship. Spencer transferred in to Ohio State and joined the program as a walk-on after spending the first two seasons of his career at The Citadel.
The 6-foot-9 Cincinnati native has appeared in five of the Buckeyes' 19 games this season, amassing a total of three points and seven rebounds in 12-and-a-half minutes of play. But his impact extends far beyond the season game log.
For an undersized Buckeyes team, Spencer's presence is extremely valuable in practice situations. His game experience helps, too. He appeared in 23 games at The Citadel, where he recorded a total of 20 points and 41 rebounds.
Spencer played his high school ball at Turpin High School. He was a three-time letter winner there and captained the team as a senior.
Now he's on scholarship at Ohio State.
Led by Isaac Likekele, Ohio State gets back on track at home
It's finally over. Ohio State's five-game losing streak, tied for the longest skid in the Chris Holtmann era, is over. The Buckeyes got back on track offensively against Iowa, the top-scoring team in the Big Ten, shooting 56.3% from the field, including 8-of-16 from downtown.
Brice Sensabaugh bounced back from three turnovers in the game's opening 81 seconds to score a career-high 27 points. And Oklahoma State grad transfer guard Isaac Likekele turned in a stat line of 18-10-7. His 18 points were a season high. Likekele had scored a combined 10 points over the last seven games. Saturday against Iowa, though, he was on triple-double watch.
Likekele wasn't the only unlikely contributor versus the Hawkeyes. Freshman guard Roddy Gayle Jr. made his first career start and registered nine points, his most against a power conference opponent this season.
For a full recap of the game, go here, and for information about center Zed Key's late-game knee injury, go here.
Buckeyes safety Josh Proctor returning for final season of eligibility
Ohio State safety Josh Proctor is coming back for the 2023 season, what will be his sixth and final year in the college ranks. Proctor will return to a safety room that's losing both Ronnie Hickman and Tanner McCalister to the NFL Draft.
Proctor began the 2022 season as a starter, but that role was short-lived. He didn't recover the gig after allowing a 54-yard reception to Notre Dame wide receiver Lorenzo Styles Jr. on the Buckeyes' first defensive play of season opener. Lathan Ransom, who took Proctor's place as a starter in the back end, is also returning for the 2023 campaign.
Proctor still made his mark in a rotational capacity this season. In just 192 defensive snaps, per Pro Football Focus, he logged 21 tackles, 1.5 TFLs, a sack and two pass deflections, not to mention his continued contributions on special teams.
READ: Buckeyes safety Josh Proctor returning for final season of eligibility
Counting down
Buckeyes vs. Indiana: 223 days
Buckeyes vs. Michigan: 307 days
Are you subscribed yet?
Are you ready to get all your latest Ohio State news in one place? Become a member of Lettermen Row today. With your Lettermen Row/On3+ membership, you'll not only have access to the everything that's happening with the Buckeyes, but you'll also be able to peruse other fan sites within the network to hear just how rivals are feeling about Ohio State, as well. Make sure to follow along on Twitter, Instagram and on Youtube for all the latest Buckeyes news you need to know.