Roddy Gayle Jr. makes first career start, takes step offensively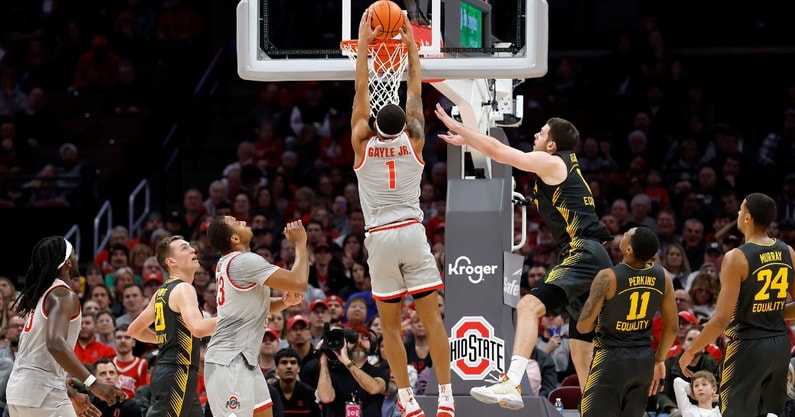 COLUMBUS — Around New Year's, Ohio State head coach Chris Holtmann and associate head coach Jake Diebler pulled freshman guard Roddy Gayle Jr. aside.
Forward Brice Sensabaugh had emerged as the team's leading scorer and as a potential NBA first-round draft pick. Point guard Bruce Thornton was atop the Buckeyes' minutes leaderboard and playing highly-efficient basketball. Center Felix Okpara even flashed his potential against one of the best bigs in the country — North Carolina's Armando Bacot — recording four points, four steals, three rebounds, two blocks and two assists in the CBS Sports Classic on Dec. 17.
Gayle was drifting behind the other three contributing Ohio State freshmen. He hadn't scored more than three points against a power conference team.
So when Holtmann and Diebler talked to Gayle during the holidays, they wanted to check in on the first-year guard's mental health and instill confidence in him for the upcoming Big Ten sprint.
"Roddy's a really talented player," Diebler told reporters earlier this month. "And I think, sometimes, when you when you have players kind of like Malaki [Branham] or Brice from a production standpoint as freshmen, it can kind of get lost. But we have high-level belief in Roddy's talent."
Gayle recounted that Holtmann and Diebler wanted him to be "an aggressive on-ball, two-way player," in addition to informing him that they were going to need more minutes from him for the upcoming league stretch.
"I just want to have like a big impact on the game," Gayle said earlier this month. "When he told me defensively is going to be where I'm gonna have to bring it, I really enabled that role — and try to like make my game known."
Holtmann has discussed this season that Gayle's defense has been ahead of his offense. Although Gayle has held his own guarding older and more experienced backcourt players, he's struggled finding his scoring chops against high-major opponents.
That was, until Saturday afternoon against Iowa when Gayle made his first career start.
The Niagara Falls, New York, native chipped in nine points on 4-of-7 shooting in the Buckeyes' 93-77 win over the Hawkeyes.
There was an opening in Ohio State's starting five after West Virginia grad transfer Sean McNeil, still dealing with the effects of a "dental emergency," asked to come off the bench. Gayle seized that opportunity.
"He had a really good couple days of practice," Holtmann said. "I think it probably helped him being at home, too, where you're just a little bit more comfortable as a young kid."
McNeil ended up logging 24 minutes and 10 points in the streak-snapping victory against Iowa. So, even though Gayle started, he still played only 17 minutes. He wasn't perfect. In fact, his plus/minus was -8 — compared to McNeil's +25 — and Gayle committed four fouls.
Still, it was a step in the right direction for the springy guard's offense. He showed how effective he can be as a slasher on the dribble-drive with a trio of layups, including an and-one. Most notably, though, Gayle finished a no-look pass from Oklahoma State grad transfer Isaac Likekele with a two-handed dunk.
"I definitely give huge props to Coach Diebler and stuff," Gayle said Monday of the slam, which called for him to adjust mid-air. "He always tells me, if I want to make money playing this sport, then I'm gonna have to use my athleticism and be able to dunk the basketball.
"It was amazing experience looking over at the bench, seeing all my teammates jump and stuff, seeing all around the arena, everybody's going wild. It's just them type of energy plays that I think our team can use once in a while."
Seven of Gayle's nine points came in the second half. He was instrumental in helping the Buckeyes maintain their double-digit lead over Iowa, the top-scoring team in the Big Ten.
Gayle said Monday it was a "great feeling" to make his first career start at home in front of a lively Saturday afternoon Ohio State crowd at The Schottenstein Center while lending a hand to end a season-altering, five-game skid.
Gayle was candid earlier this month about the struggles of dealing with social media, and the criticism that often comes with it, particularly when a team is struggling like the Buckeyes have been in January.
It hasn't been a seamless transition to the collegiate level for Gayle, and he's well aware.
"I wouldn't lie," Gayle said Monday. "Coming into college, you would think like, 'Alright, I'm gonna have the best year. I'm going to be a starter. I'm gonna do this, do that.' But, the reality is, it starts in practice. So you're gonna have to grind it out every practice."
Gayle is often matched up with McNeil in practice. When asked who wins those battles, Gayle didn't hesitate.
"Sean, every time. Every time," he said with a smile.
But Gayle gave props to McNeil for helping him learn the ropes. McNeil, who started 55 games across the last two seasons at West Virginia, is well accustomed to high-major competition. Gayle is appreciative of that experience.
Holtmann added that Gayle has a supportive family that understands his development is "a process," and that, in the sixth-year head coach's eyes, is critical. So is Holtmann's confidence in Gayle's ability.
"I think the game has been fast for him," Holtmann said. "But you can see glimpses of his talent. That's what we've seen as coaches. You just see glimpses of his talent. And you're saying, 'Boy, he's gonna be a really good player.' And he is.
"There's no question in my mind he's gonna be a really good player."