Zed Key available for Ohio State at Illinois after injury scare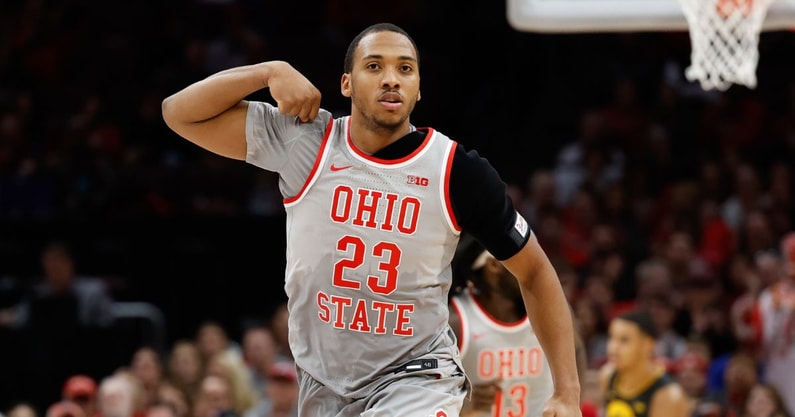 COLUMBUS — Ohio State center Zed Key is available for Ohio State's Tuesday night matchup at Illinois. Key practiced Monday and was a full-go at shootaround Tuesday.
Key went down with a left knee injury in the final minute of the Buckeyes' 93-77 win over Iowa Saturday afternoon. The junior center had to be helped off the court after experiencing pain on the dismount of a two-handed dunk he delivered with the game already in hand.
In his press conference availability Monday, Buckeyes head coach Chris Holtmann described Key's knee injury as "a day-to-day situation that we're monitoring."
Ohio State knew it wasn't a long-term injury right away
When Holtmann was asked about Key's injury postgame Saturday, he admitted he didn't know the specifics, but he reiterated that it didn't appear to be a long-term injury.
A few hours later, Key offered some encouraging words on social media.
Holtmann was asked about Key's status during his radio show on 97.1 The Fan Monday.
"No real update other than the knee has responded well to some of the treatment that our medical staff has done with Zed," Holtmann said. "We do not expect it to be a long-term injury of any type. It's not a long-term injury. What his availability will be for Tuesday, it's still too early to say."
Key finished with 11 points and nine rebounds in Ohio State's double-digit win over the Hawkeyes. It was his fourth straight game with at least 10 points and eight rebounds. Key has six double-doubles this season and is the team's leading rebounder (8.1 boards per game) and third-leading scorer (12.1 points per game).
Why was Key still on the floor late vs. Iowa?
When Holtmann was asked on his radio show about potentially subbing out Key with a double-digit lead in the waning minutes of the second half, Holtmann pointed out a few things. He noted that Iowa had come back from seven points down with 2:18 to go against Michigan to force overtime and beat the Wolverines earlier this month.
Holtmann explained that Iowa has the top-scoring offense in the Big Ten. Notably, only 14 teams in the country hold the ball for less time per possession than the Hawkeyes. Head coach Fran McCaffrey's team can score quick.
"The last kind of three minutes went pretty fast," Holtmann said on 97.1 The Fan. "I think if we had had a dead ball, maybe I would have subbed everybody out. [The lead] went from being kind of 10 to 8-10 to 12-14 pretty quickly. And there wasn't ever a stoppage where I felt like, 'OK let's get everybody out.'"
Holtmann continued: "You never coach anticipating a guy having an injury. In past games, if we've had a 20-point lead going into the last four minutes of the game, we'll typically sub guys out. In this game, it really didn't enter my mind. We were just kind of playing. And, fortunately, it doesn't look like it's going to be any type of a long-term issue."
Injuries have been an issue for Key of late
Key is still wearing a compression sleeve for the left shoulder sprain he sustained against Purdue on Jan. 5. Key exited that game early in the first half and didn't return. He was sidelined for the following contest at Maryland, where Buckeyes freshman center Felix Okpara made his first career start. Ohio State's 80-73 loss to the Terrapins is the team's lone defeat this month that wasn't decided by one possession or decided in overtime.
Key returned for the Minnesota game on Jan. 12, but he didn't make his way back to the starting rotation until last Wednesday's game at Nebraska. That said, Key has played at least 28 minutes in each of his four games since he came back to the court.