Zed Key's late-game knee injury not believed to be long term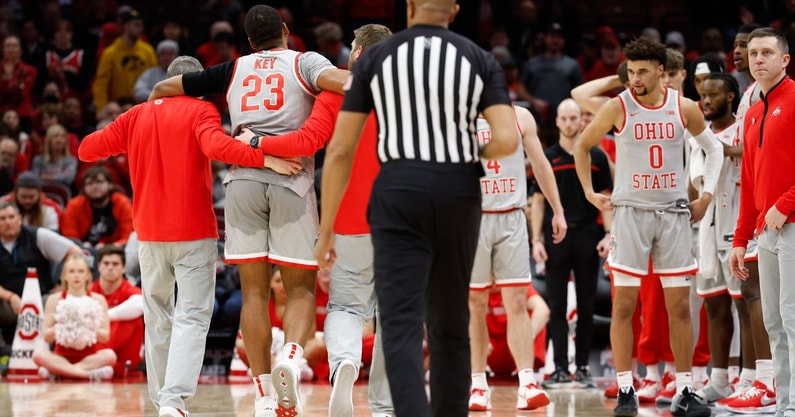 COLUMBUS — Ohio State center Zed Key suffered a left knee injury Saturday in the final minute of a 93-77 win over Iowa.
The Buckeyes were up by 14 points, having maintained a double-digit advantage practically the entire second half, but still had the meat of their rotation on the floor.
Key received a three-quarter court pass, spun and dribbled to the wide-open basket for a two-handed dunk. Except, the junior five man injured his left knee on the dismount, immediately limping after his feet landed on the hardwood.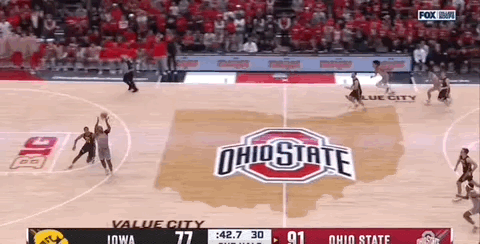 Before long, the game was stopped for Key who was down on the floor gripping his knee in pain. Key, still wearing a compression sleeve on the left shoulder he sprained against Purdue on Jan. 5, had to be helped off the court by Ohio State trainers. Key missed only one full game because of his shoulder sprain, although he came off the bench the next two matchups after that.
That injury wasn't as serious as fans feared, and this one might not be, either.
"I don't have anything specific right now," head coach Chris Holtmann said, when asked about Key's injury postgame.
"It does not look like a long-term injury, as of now. I asked him why he dunked it, and he just said, 'Well, I was open.' So he felt good about that one. He did feel some pain, but it does not look like a long-term injury."
Key offered some encouraging words on social media Saturday night, too.
Key finished with 11 points and nine rebounds in Ohio State's double-digit win over the Hawkeyes. It was his fourth straight game with at least 10 points and eight rebounds. Key has six double-doubles this season and is the team's leading rebounder and second-leading scorer.
His minutes haven't taken a hit since his shoulder injury, despite him coming off the bench against Minnesota and Rutgers. In Key's four games back, he's averaged 28.75 minutes per outing.
When Key was last out, Buckeyes freshman center Felix Okpara was called on to play more minutes. Okpara played a season-high 31 minutes against Purdue, and he made his first career start at Maryland while Key was sidelined. The Maryland game, however, was rough for Okpara, who registered more fouls (three) than points (two) in a seven-point loss to the Terrapins.
For the season, Okpara is averaging 13.0 minutes, 3.4 points and 3.4 rebounds per game.