Zed Key expected back 'relatively soon,' considered day-to-day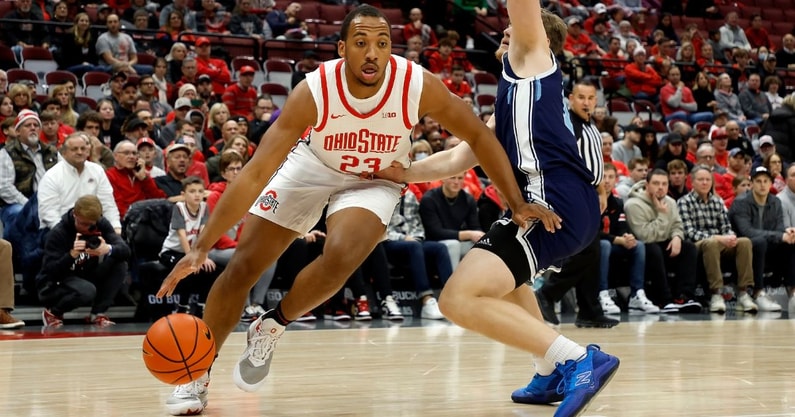 COLUMBUS — Ohio State head coach Chris Holtmann provided an update on center Zed Key during his weekly radio show Monday.
"We're anxious to get him back," Holtmann said. "It's a significant injury for us as a team but also one we expect him back relatively soon.
"When that's going to happen is kind of day-to-day at this point."
How the injury happened…
Key suffered a left shoulder sprain less than four minutes into Thursday's 71-69 loss to then-No. 1 Purdue while jostling for a rebound with Boilermakers 7-foot-4 center and National Player of the Year candidate Zach Edey.
Immediately, Key began holding his shoulder, bent over in pain. Moments later, after an Edey dunk, Key was subbed out and escorted to the locker room.
It's the shoulder Key injured at Duke earlier this season. The injury occurred on the same kind of play, with Key battling for a rebound — back then on the offensive glass against Duke center Ryan Young but very late in the nine-point loss.
Key said postgame at Duke that he stretched back too far for the ball but noted that the injury was "nothing too serious."
Key didn't miss a game after the Duke flare-up. But he didn't return to action Thursday against Purdue after leaving the floor before the first media timeout. And he was sidelined for Sunday's 80-73 loss at Maryland.
Holtmann added during the press conference portion of his Monday media availability that Key is making "regular progress in regards to his shoulder."
What did Buckeyes miss most about Zed Key at Maryland?
When asked where Ohio State missed Key the most Sunday, Holtmann pointed out that he's familiar with Maryland head coach Kevin Willard's teams and what they throw at you defensively, given that he faced Willard last year when Willard was still at Seton Hall and several times before that during Holtmann's Butler days.
"I think where I sensed it the most is," Holtmann said, "when we played against a team like that changes their defenses, I think the ability to play through [Key] and him to play with his physicality with his back to the basket and his rebounding.
"Certainly would have helped defensively, too."
Holtmann admitted that the Buckeyes still could have lost with a healthy Key. Additionally, he made it clear that Maryland deserves credit and that he didn't want to attribute the road defeat to his center's absence.
"But if you said, 'Hey, where are the specific areas?' It was the lack of physicality in the paint that he provide. Certainly the offensive and defensive rebounding that I think we've missed with him, and just Zed's ability to get guys in foul trouble because of how physical he is in the low post," Holtmann said.
"We don't have another guy like that. That's not Felix [Okpara]'s game right now. He's just a different post player."
Without Zed Key, Felix Okpara has been handed bigger role
Ohio State doesn't have much depth at the five, so Key's injury has forced Okpara to take on an increased role.
The 6-foot-11 Okpara held his own against Purdue, registering 30 minutes after having not played more than 19 in his first 13 outings at Ohio State. In the process, the freshman center logged five points, five rebounds, three blocks and two assists.
At Maryland on Sunday, though, Okpara found himself in early foul trouble. He picked up two personals in the first nine minutes of action and a third with just under five minutes to go in the first half.
Okpara notched just seven minutes in the second period and finished with more personal fouls (three) than shot attempts (two) in the defeat.
"I think it's a learning experience for Felix," Holtmann said Monday. "His last two fouls in the first half were, I think, legitimate fouls. His first one, I had some argument about it, but he's just gotta learn. In this particular situation, the last foul he needed to let go because we needed him in the game."
Holtmann continued: "In his defense, we didn't put him in great position because we went for a couple shot fakes on his last foul. Our perimeter guys, we just need to be better with that. But it is a conversation we had with him going into the game. It's a conversation we'll continue to have because his value right now is he needs to be able to give us 20 to 25 good minutes. His size and length is so vital."
Ohio State was able to hang around with Maryland without Okpara on the floor, in part because the Terrapins don't have a traditional Big Ten big in their rotation. Three Maryland starters are at least 6-foot-8, but, of that trio, Julian Reese is the tallest at 6-foot-9.
So a smaller lineup, which occasionally had 6-foot-6 veteran forward Justice Sueing as the biggest player on the court for the Buckeyes, was viable. But that won't be the case against most Big Ten opponents. Look no further than Ohio State's next opponent, Minnesota — the Golden Gophers are led by the 6-foot-11 Dawson Garcia, who is averaging 14.6 points and 6.5 rebounds per game.