Rounding up newest bowl projections for Ohio State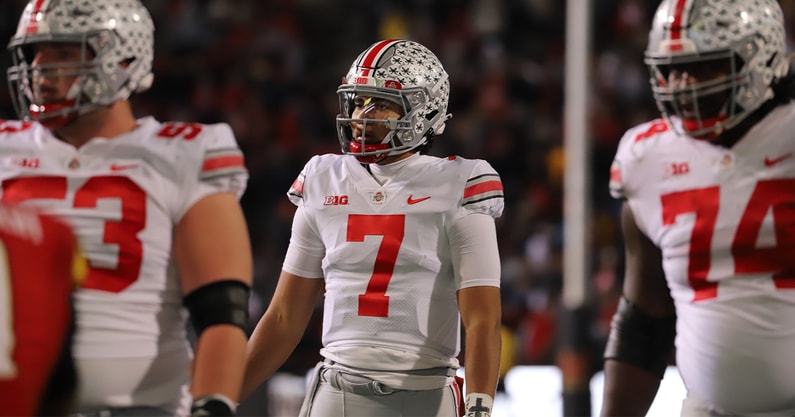 COLUMBUS — This past weekend was about survival for the top-four teams. No. 1 Georgia scraped out a 16-6 win against an underperforming Kentucky team. No. 2 Ohio State needed all four quarters to quell an upset bid from a Maryland squad that was coming off back-to-back losses. Both No. 3 Michigan and No. 4 TCU required late-game field goals to remain undefeated as well.
What's most relevant, though, is that all four won. No. 5 Tennessee, after all, couldn't say the same — the Volunteers saw their magical season come crashing to Earth with a 63-38 defeat to unranked South Carolina. The biggest winner was USC, which climbed into the top five for the first time in five years after taking down UCLA. In fact, the Trojans are taking Tennessee's College Football Playoff spot in several bowl projections.
It's looking like The Game will determine not only the Big Ten champion but also which team from the league makes the CFP. That's how ESPN college football reporters Mark Schlabach and Kyle Bonagura see it.
Bonagura, who has had Michigan in the CFP the last few weeks, finally moved Ohio State into the Fiesta Bowl slot. Bonagura now has the Buckeyes facing TCU in that semifinal matchup. Both Bonagura and Schlabach have Michigan in the Rose Bowl, however, Bonagura has the Wolverines playing Washington, and Schlabach has them paired with Oregon. The latter appears to be the more common selection across major bowl projections.
Bonagura and Schlabach pit Georgia and USC against each other in the Peach Bowl, leaving Ohio State and TCU to duke it out in Glendale, Arizona.
Bonagura, via ESPN: "Would the committee dare select the Ohio State/Michigan loser ahead of a one-loss champion from the Pac-12 (USC) or ACC (Clemson)? It's doubtful but not out of the realm of possibility. How about a two-loss SEC Champion in LSU? The committee had LSU ranked ahead of USC and Clemson prior to this weekend's games. Does the Trojans' win against UCLA change that? It should. If USC wins out, the Trojans have to like their chances."
Schlabach, via ESPN: "None of the top contenders were particularly dominant, but at this time of the year, it's about surviving and not style points. I'll stick with my top four of Georgia, Ohio State, TCU and USC. I'm picking the Buckeyes to defeat the Wolverines at home Saturday."
Lettermen Row rounds up a handful of other major bowl projections after Week 12.
Action Network: Fiesta Bowl vs. TCU
WHERE THEY HAVE MICHIGAN: Rose Bowl vs. Oregon
This is the most popular projection for Ohio State right now. TCU is on a ride reminiscent of Auburn's 2013 season — a roller coaster that's seemingly coated with luck, in addition to timely turns. The Horned Frogs have won five one-possession games this season. That includes back-to-back victories that have had TCU fans holding their breath. This past weekend, the Horned Frogs needed a field goal at the buzzer to escape an upset-minded Baylor team.
The Buckeyes last played TCU in 2018. The late Dwayne Haskins threw for 344 yards and two touchdowns, and Ohio State emerged with a 40-28 win in a matchup that was still a one-score game going into the final frame.
CBS Sports: Fiesta Bowl vs. TCU
WHERE THEY HAVE MICHIGAN: Rose Bowl vs. Oregon
Sporting News: Fiesta Bowl vs. TCU
WHERE THEY HAVE MICHIGAN: Rose Bowl vs. Oregon
Athlon Sports: Fiesta Bowl vs. TCU
WHERE THEY HAVE MICHIGAN: Rose Bowl vs. Oregon
Sports Illustrated: Fiesta Bowl vs. USC
WHERE THEY HAVE MICHIGAN: Rose Bowl vs. Oregon
Sports Illustrated's Richard Johnson believes USC won't just sneak into the CFP — he actually has the Trojans as the No. 3 seed in the field. Johnson sees TCU playing Georgia in the Peach Bowl and USC playing Ohio State in the Fiesta Bowl. The Trojans were in search of a signature victory in the first year of Lincoln Riley's stay, and they got it against UCLA this past weekend. Plus, quarterback Caleb Williams made his case for the Heisman Trophy with 470 passing yards and three total touchdowns. USC's lone loss this season came at the hands of Utah, which is now ranked No. 14 after a three-point loss to Oregon.
The Buckeyes and Trojans haven't met since the 2017 Cotton Bowl when Urban Meyer's Ohio State limited Clay Helton's' USC to just seven points in a three-score victory. Before that, the programs hadn't faced each other since 2009: That was a Jim Tressel-Pete Carroll matchup in Columbus that went down to the wire, with USC prevailing, 18-15. The Trojans lead the all-time series, 13-10-1.