Scarlet Sunrise: Dallan Hayden earns Big Ten co-Freshman of the Week honors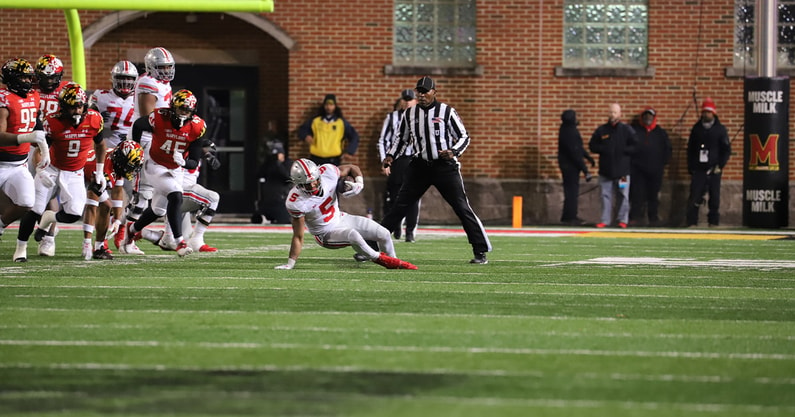 Good morning, Ohio State fans, and welcome to the Scarlet Sunrise. Football will always be our focus, but every day we'll cover news, notes and analysis from across Buckeyes sports. Join us each morning to get caught up on everything you missed in the world of Buckeyes football, recruiting, basketball and more in Scarlet Sunrise.
RB Dallan Hayden earns Big Ten co-Freshman of the Week honors
Ohio State running back Dallan Hayden played hero last weekend at Maryland, where he rushed for 143 yards and three touchdowns in the second half of a thrilling 43-30 win. That performance earned Hayden Big Ten co-Freshman of the Week honors. He shares the accolade with Penn State running back Kaytron Allen, who piled up 117 yards and a score on a mere 11 carries in a 55-10 victory over Rutgers.
Hayden now has back-to-back 100-yard games. He also eclipsed the number in Ohio State's blowout of Indiana after starter Miyan Williams went down with an apparent right leg injury. At Maryland, TreVeyon Henderson got the start in the backfield, making his return to the lineup after missing the previous two games with a foot injury that he's been dealing with since the Toledo game. But Henderson still seemed affected by the injury in College Park. He rushed for a putrid 19 yards on 11 carries. Ohio State's offense, which scored only 10 points in the first half against Maryland, needed a spark. Hayden was that spark.
Michigan head coach Jim Harbaugh discusses The Game in Monday presser
Last year, Michigan head coach Jim Harbaugh didn't hold back when talking about Ohio State. In fact, Harbaugh took a shot at Ohio State head coach Ryan Day following Michigan's 42-27 victory in The Big House. Harbaugh at the time: "Sometimes, there are people standing on third base that think they hit a triple. … But they didn't."
During the lead-up to this year's game in Columbus, however, Harbaugh has been more complimentary of the Buckeyes. He even compared the top-three showdown to two "superheroes" squaring off.
READ: What did Michigan head coach Jim Harbaugh say about the Buckeyes?
Looking ahead to Ohio State's first home game versus Michigan since 2018
Ohio State, like the rest of the top four, survived this past weekend without a loss. But, as soon as the clock hit zeroes at Maryland's SECU Stadium, the Buckeyes began turning their attention to Michigan.
So did Lettermen Row, which was back inside the Horseshoe Monday to briefly re-examine what we learned from Ohio State's victory over the Terps, in addition to looking ahead at to The Game.
Spencer Holbrook, Andy Backstrom and Tim May are breaking down how the Buckeyes fared at Maryland, plus what it all means for Michigan with the newest Lettermen Row video: The Monday After. Every Monday following Buckeyes games, Spencer, Andy and Tim will reconvene and chat about what they saw Saturday afternoon.
What's the weather looking like for The Game?
Low of 44º, high of 52º, mostly cloudy skies, 58% chance of rain, winds 5-10 mph
Counting down
Buckeyes vs. Michigan: 4 days
Are you subscribed yet?
Are you ready to get all your latest Ohio State news in one place? Become a member of Lettermen Row today. With your Lettermen Row/On3+ membership, you'll not only have access to the everything that's happening with the Buckeyes, but you'll also be able to peruse other fan sites within the network to hear just how rivals are feeling about Ohio State, as well. Make sure to follow along on Twitter, Instagram and on Youtube for all the latest Buckeyes news you need to know.
Already signed up? Don't forget to join us in the Lettermen Lounge to talk about the latest Ohio State sports news.