Scarlet Sunrise: Dawand Jones breaks Senior Bowl wingspan record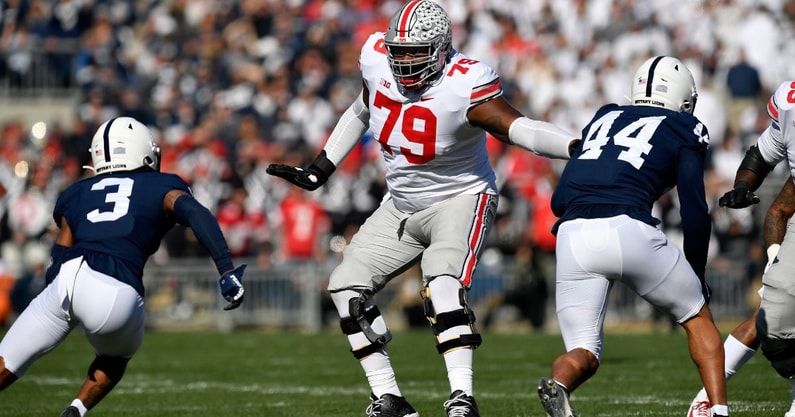 Good morning, Ohio State fans, and welcome to the Scarlet Sunrise. Football will always be our focus, but every day we'll cover news, notes and analysis from across Buckeyes sports. Join us each morning to get caught up on everything you missed in the world of Buckeyes football, recruiting, basketball and more in Scarlet Sunrise.
Former Buckeyes OT Dawand Jones breaks Senior Bowl wingspan record
Former Ohio State offensive tackle Dawand Jones has made Reese's Senior Bowl history. Jones, a first-team All-American at right tackle for the Buckeyes this past season, recorded the longest wingspan in the pre-draft all-star game's history. As Senior Bowl Executive Director Jim Nagy pointed out, Jones' wingspan of 89.5 inches is equivalent to a normal wingspan of a person who stands 7-foot-5.
Jones checked in at 6-foot-8, 359 pounds for the 2022 season. He allowed only five pressures this season, the fewest given up by a tackle with 300-plus pass blocking snaps this season, according to Pro Football Focus. Plus, Jones' PFF run blocking grade of 85.0 was 17th nationally among all tackles.
Jones is one of two former Buckeyes participating in this year's Senior Bowl. The other is safety Ronnie Hickman. Defensive end Zach Harrison had accepted an invitation to the event in Mobile, Alabama — which culminates in game on Saturday at 2:30 p.m. — but he's no longer listed on the Senior Bowl roster.
The Senior Bowl will be broadcast on NFL Network. Both Jones and Hickman are part of the National Team, which is led by Las Vegas Raiders defensive coordinator Patrick Graham.
Also this week is the East-West Shrine Bowl. That pre-draft all-star game kicks off Thursday at 8:30 p.m. and will be broadcast on NFL Network as well. Former Ohio State cornerback Cameron Brown and defensive tackles Jerron Cage and Taron Vincent are participating.
Trey Sermon lone former Ohio State player to make Super Bowl LVII
There's only one former Buckeyes player headed to the Super Bowl this year, and that's running back Trey Sermon, who played sparingly for the Philadelphia Eagles this season. In fact, Sermon appeared in just two games and carried the ball twice for 19 yards. Ironically, the Eagles beat the San Francisco 49ers, which drafted Sermon in the third round of the 2021 NFL Draft, in the NFC Championship.
Sermon started his one-year stint with the 49ers as the team's third-string running back. He made his first career start in Week 3 of the 2021 NFL season and recorded a rushing touchdown in the process. But that was the highlight of a rookie season that saw him placed on IR because of an ankle injury he suffered in Week 12.
Sermon was released by San Francisco at the end of last August, and Philadelphia claimed him off waivers before the start of the 2022 season. Sermon has been the fourth running back on the Eagles' depth chart behind Miles Sanders, Kenneth Gainwell and Boston Scott.
But, even so, he's in play for a Super Bowl ring.
Sermon was Ohio State's leading rusher during the 2020 season. He transferred in from Oklahoma and averaged a whopping 7.5 yards per carry while racking up 870 yards on the ground in an eight-game, COVID-19-affected campaign, proving to be a critical part of a Buckeyes team that made the national title game that year.
What James Laurinaitis joining coaching staff means for Buckeyes
Ohio State head coach Ryan Day poached former Buckeyes legend James Laurinaitis from Notre Dame's coaching staff this past week. Laurinaitis, a three-time All-American from 2006-08 and eventual eight-year NFL veteran, is joining Ohio State as a defensive graduate assistant who will work the team's linebackers.
"I am thrilled for our program and especially for our current and future Buckeyes who will benefit so much from having James on staff," Day said in a statement. "James is a terrific young man with wisdom as a Buckeye and experience as an eight-year NFL veteran. He is going to be a very important part of our program going forward."
So what does the addition of Laurinaitis mean for the Buckeyes' coaching staff, roster and program moving forward? Lettermen Row breaks it down.
READ: What James Laurinaitis joining coaching staff means for Buckeyes
Counting down
Buckeyes vs. Indiana: 215 days
Buckeyes vs. Michigan: 299 days
Are you subscribed yet?
Are you ready to get all your latest Ohio State news in one place? Become a member of Lettermen Row today. With your Lettermen Row/On3+ membership, you'll not only have access to the everything that's happening with the Buckeyes, but you'll also be able to peruse other fan sites within the network to hear just how rivals are feeling about Ohio State, as well. Make sure to follow along on Twitter, Instagram and on Youtube for all the latest Buckeyes news you need to know.