Injury updates on Jaxon Smith-Njigba, Buckeyes running backs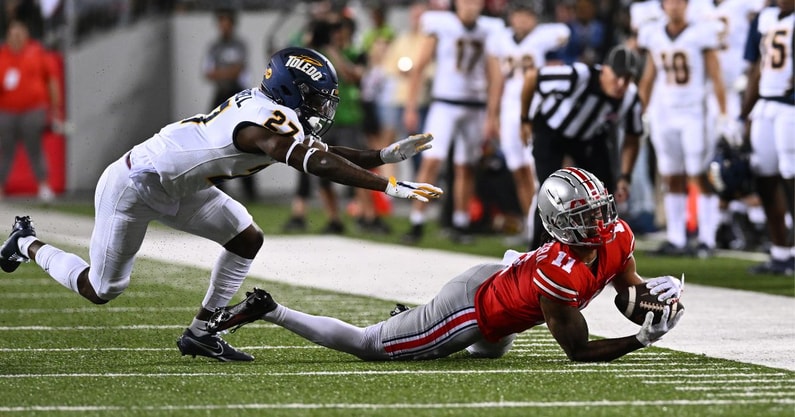 COLUMBUS — In the Peach Bowl on New Year's Eve, Ohio State will need every bit of its offensive firepower to beat a top-ranked Georgia team that's second nationally in scoring defense.
Of course, star wide receiver Jaxon Smith-Njigba, who has played in just three games this season after suffering an injury in the opener, would give the No. 4 Buckeyes a lift in Atlanta.
Ohio State head coach Ryan Day was asked about Smith-Njigba's status when he met with the media Sunday afternoon in the Woody Hayes Athletic Center, following the announcement of the program's fifth College Football Playoff berth.
"We'll see," Day said. "The whole thing's been unfortunate. Certainly nobody wants to play more than Jaxon. But, again, we'll probably have more [information] in a few days."
It's not an encouraging sign for Smith-Njigba, who broke out in the slot last year with 95 receptions for 1,606 yards and came into 2022 as a favorite for the Biletnikoff Award.
After leaving the Notre Dame game early, Smith-Njigba returned for limited snaps a few weeks later against Toledo and then once more after the bye against Iowa. But he made an early exit from the Iowa matchup and hasn't played in a game since.
While Day said "we'll see" about Smith-Njigba, he offered more positive insight on the Buckeyes' other injuries.
"Everybody else I think we should have," Day said. "That was a little bit part of the story this year. To be at full strength, or almost at full strength, is going to be important to go beat these guys."
One position group, in particular, that's been hampered by injuries is Ohio State's running backs. Most notably, TreVeyon Henderson and Miyan Williams — both 500-plus-yard rushers for the Buckeyes in 2022 — have missed at least two games this season.
Henderson has been dealing with a foot injury since the Toledo game. Williams was sidelined at Michigan State with a knee injury and then missed the Maryland game with an apparent lower-leg injury.
"The running back position, especially those guys, it was hard for them," Day said Sunday. "There's nobody that wanted to get on the field more than Tre and Miyan. But they just had some things that were just limiting what they could do. And I give them a lot of credit to keep trying every week."
Day added: "There's two things. There's one, you can get bruised or you can get kind of hurt. Then there's things where you get injured — that you just physically can't do it, and it gets frustrating. This allows us some time to heal from those so that we can hopefully get some of that stuff behind us. So we can have a full strength team going into it."
Ohio State, as a whole, was banged up toward the end of the regular season. Right guard Matthew Jones was out for the finale with an apparent lower-body injury. Right tackle Dawand Jones missed the Indiana game. Linebacker Tommy Eichenberg has been playing with casts on both of his hands the last few weeks. Safety Lathan Ransom broke his thumb at Maryland.
As is often the case for many teams in November, the Buckeyes were going through it.
Now, they have the luxury of much-needed rest before the start of a second season — a chance for a CFP run that was far from guaranteed just a week ago.