Scarlet Sunrise: Kyle McCord tied for fifth in 2023 Heisman Trophy odds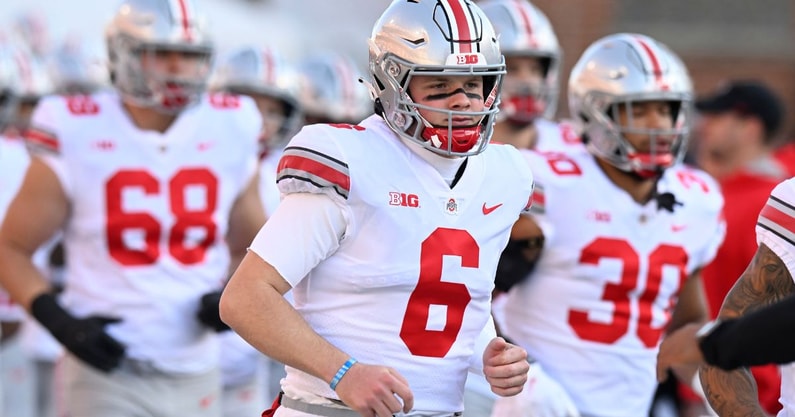 Good morning, Ohio State fans, and welcome to the Scarlet Sunrise. Football will always be our focus, but every day we'll cover news, notes and analysis from across Buckeyes sports. Join us each morning to get caught up on everything you missed in the world of Buckeyes football, recruiting, basketball and more in Scarlet Sunrise.
Buckeyes QB Kyle McCord tied for fifth in 2023 Heisman Trophy odds
Ohio State quarterback C.J. Stroud is a two-time Heisman Trophy finalist. Although Stroud hasn't officially declared for this year's NFL Draft yet, the projected top-five pick is expected to make that announcement in the coming days. That's reflected in the early odds for next season's Heisman Trophy winner. Kyle McCord, Stroud's backup the last two years and a former five-star recruit, is tied for fifth with +1600 odds to win the Heisman in 2023, according to Caesars Sportsbook.
Here's what Caesar Sportsbook's Heisman pecking order looks like right now:
Before McCord can start a Heisman campaign, however, he needs to win the starting job. His biggest competition appears to be Class of 2022 five star Devin Brown.
McCord has waited his turn. He completed 16-of-20 passes for 190 yards and a score in relief of Stroud this season. As a true freshman in 2021, he appeared in five games and even started one against Akron when Stroud was sidelined. That game, the Mt. Laurel, New Jersey, native went 13-of-18 for 319 yards, two touchdowns and an interception.
McCord starred at St. Joseph's Prep in Philadelphia with wide receiver Marvin Harrison Jr., who broke out this season as a Biletnikoff Award finalist.
Buckeyes O-Linemen Paris Johnson Jr., Luke Wypler declare for NFL Draft
Ohio State has an offensive line rebuild on the horizon. Two pieces of the Buckeyes' decorated front declared for this year's NFL Draft Tuesday.
Paris Johnson Jr. was the first. Johnson became the first Ohio State offensive tackle to be crowned a consensus All-American this season since Orlando Pace got the unanimous tag in not only 1995 but also 1996. Johnson accomplished that feat after making the move from right guard, where he started the 2021 season, last offseason.
Johnson is the No. 9 overall 2023 NFL Draft prospect, according to ESPN's latest consensus top-10 overall prospect rankings.
READ: Ohio State left tackle Paris Johnson Jr. declares for NFL Draft
Hours after Johnson's announcement, center Luke Wypler followed with his declaration for the league's draft. Wypler's decision came as more of a surprise to Ohio State fans than Johnson's.
The third-year center anchored the Buckeyes' interior offensive line the last two seasons. Wypler registered a career-best 82.4 Pro Football Focus offensive grade in 2022, in large part because he took his PFF pass blocking grade from 75.7 last season to 84.1 this season. He allowed just one sack and eight pressures, per PFF.
Of ESPN's top-four draft analysts, three have Wypler among their top-five centers. Most notably, Matt Miller has Wypler first.
READ: Buckeyes center Luke Wypler declares for NFL Draft
Where does Ohio State fall in the way-too-early top 25 for next season?
Ohio State finished the season No. 4 in the AP Top 25, behind Michigan, TCU and Georgia (in that order). That's after the Buckeyes very nearly knocked off Georgia in the Peach Bowl College Football Playoff semifinal, and the Bulldogs pulverized TCU — which took down Michigan in the Fiesta Bowl — in the national title game.
Nevertheless, the offseason is underway, and there's already speculation about who will win it all next year. Several outlets put out way-too-early top-25 rankings for the 2023 season Tuesday.
Lettermen Row rounded them up. Check out where the Buckeyes fell.
Counting down
Buckeyes vs. Indiana: 234 days
Buckeyes vs. Michigan: 318 days
Are you subscribed yet?
Are you ready to get all your latest Ohio State news in one place? Become a member of Lettermen Row today. With your Lettermen Row/On3+ membership, you'll not only have access to the everything that's happening with the Buckeyes, but you'll also be able to peruse other fan sites within the network to hear just how rivals are feeling about Ohio State, as well. Make sure to follow along on Twitter, Instagram and on Youtube for all the latest Buckeyes news you need to know.