Ohio State opponent preview: Michigan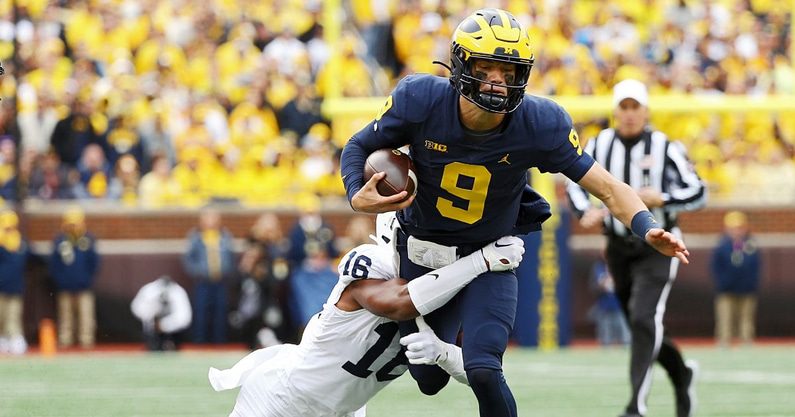 Last year, Michigan made The Game a game, knocking off the Buckeyes for the first time since 2011. The win gave one of sports' best rivalries a serious shot in the arm.
It was also the final straw for an Ohio State defensive staff that failed to live up to expectations in Columbus. This past offseason, Buckeyes head coach Ryan Day moved on from defensive coordinator Kerry Coombs and linebackers coach Al Washington, plus secondary coach Matt Barnes — who was given Coombs' play-calling duties early in the 2021 season — left to become the DC at Memphis.
Enter, Jim Knowles.
The Buckeyes' new defensive coordinator/linebackers coach came from Oklahoma State with a track record of turning around defenses. He's done it again, this time at Ohio State, which has jumped from 38th to 10th in points per game allowed and from 43rd to seventh in yards per play allowed from last year to this year. Knowles has been assisted by first-year safeties coach Perry Eliano and first-year cornerbacks coach Tim Walton.
Ohio State has done everything it can to correct last year's disaster in The Big House. The 2022 season has not only been about getting back to this point unscathed but doing so with "toughness" so that when The Game came around again, a repeat of Michigan's bullying effort wouldn't be possible.
"We have scars that motivated us all offseason," Day said Tuesday. "We've worked very hard to get to this moment right here. And now it's time to prepare the best we can."
When is Ohio State playing Michigan?
Saturday, Nov. 26, 12 p.m.
Where is Ohio State playing Michigan?
Ohio Stadium, Columbus, Ohio
Series history
Michigan leads the all-time series, 59-51-6 but has won only two games against the Buckeyes in its last 17 tries. Ohio State's eight-game win streak — its longest in the series — was snapped last year in Ann Arbor when a College Football Playoff-bound Michigan squad got the monkey off Jim Harbaugh's back with a 42-27 victory. The third quarter proved to be the difference, as the Wolverines turned a one-point halftime lead into a two-score advantage. Ohio State shot itself in the foot with 10 penalties and couldn't stop a persistent Michigan rushing attack that produced 297 yards. Hassan Haskins tied a school record with five rushing touchdowns, and Blake Corum added 87 yards on the ground with just six carries. Meanwhile, Aidan Hutchinson sacked Buckeyes quarterback C.J. Stroud three times. Stroud put up fine numbers, completing 34-of-49 passes for 394 yards and two touchdowns, but the Buckeyes couldn't keep pace in the snow with an overpowering Wolverines run game.
The game went down as Harbaugh's first win over Ohio State in his seven years as head coach. It also went down as Day's first Big Ten defeat. Afterward, Harbaugh clapped back at Day with his infamous "third base" comments. Since the loss to Michigan in 2021, Ohio State has rattled off 12 straight wins, dating back to last year's Rose Bowl victory over Utah.
Breaking down the 2022 Wolverines
Michigan's Record: 11-0 (8-0 Big Ten)
Offense: It's no secret that Michigan wants to pound the rock. The Wolverines have the fourth-ranked rushing offense in the FBS (243.8 yards per game). They lean heavily on Corum, a Heisman Trophy candidate running back that's racked up 1,457 yards on the ground this season, not to mention 18 rushing touchdowns — a total that's tied for the second most in the country. Corum is dealing with an apparent knee injury that he suffered in the second quarter of Michigan's 19-17 win over Illinois last weekend.
Harbaugh didn't provide an update on Corum this week, however, he did confirm earlier that there was no structural damage. That said, fifth-year Wolverines left tackle Ryan Hayes did say something about Corum's injury Monday that raised eyebrows.
"I think we've planned on this," Hayes said. "He's a great player, but I think everybody else is just going to step up with him out and we're up to the challenge, and I think that we're up to the challenge."
Day, Knowles and the rest of the Buckeyes are preparing as if Corum is going to give it a go in the Horseshoe. Corum has accounted for 50.3% of the Wolverines' carries this season. Donovan Edwards, who missed the Illinois game with an undisclosed injury, is the second option in the backfield. Edwards (70 rush, 471 rushing yards, 4 touchdowns) and RB3 CJ Stokes (53 rush, 268 rushing yards, 1 touchdown) are both averaging at least 5.1 yards per tote. They're running behind an offensive line that's hoping to get left guard Trevor Keegan back this week and is tied for 20th in Pro Football Focus run blocking grade (73.9). Center Olusegun Oluwatimi — who hasn't given up a sack this season — notably grades out as Michigan's top run blocker this year, per PFF.
You can't talk about the Wolverines' run game without mentioning quarterback J.J. McCarthy. The sophomore has the fourth most carries on the team (49). He's a threat to pull it on the zone-read, and he's a capable — albeit not always accurate — thrower on the move.
McCarthy's leading receiver is wideout Ronnie Bell, who has 48 catches for 641 yards and two touchdowns this season. He also likes Luke Schoonmaker, although it's important to note that the 6-foot-6 senior tight end was dressed but didn't play against Illinois because of injury. Cornelius Johnson is another tall target for McCarthy — the 6-foot-3 Johnson is third on the team with 25 catches and 300 yards, in addition to leading the Wolverines with four touchdown grabs.
Drops, on occasion, have been a problem for this group. That was on full display versus Illinois. In fact, McCarthy's receivers had three hiccups in that department in the nail-biting win. McCarthy missed his fair share of opportunities, too. He's completing 66.8% of his passes and ranks 10th in the Big Ten in passing yards (1,952). He does have a 14:2 touchdown-to-interception ratio, but Michigan doesn't take as many shots downfield, as evidenced by his 36 attempts on throws traveling 20 or more yards through the air. To put that in perspective, nine other Big Ten quarterbacks have more attempts in that depth, per PFF.
Defense: Boy, do the Wolverines need Mike Morris for this game. Morris went down against Nebraska and, like Schoonmaker, suited up but didn't play versus Illinois. He's Michigan's top edge rusher and arguably its most valuable defensive player. The senior is first among all Wolverines players with 35 pressures — fellow EDGE Jaylen Harrell is second with 21, per PFF. Morris has separated himself from the pack with 7.5 sacks in 2022, good for second in the Big Ten.
But don't get it twisted. The Wolverines aren't a one-trick pony defensively. They have so many playmakers and so many ways to get the job done on that side of the ball, where they rank second in yards per play allowed (4.1) and second in points per game allowed (11.7). In the first year of co-defensive coordinators Jesse Minter and Steve Clinkscale's system, the Wolverines have showed a variety of personnel for what Harbaugh has called their "no-star defense." But they're typically in a four-man front, with two standing EDGE defenders and a nickel package with five defensive backs. Similar to Ohio State, Michigan rotates a lot on its defensive line. Ten Wolverines defensive linemen have mounted at least 100 snaps this season, per PFF.
What's more, PFF credits eight of them with multiple sacks this year. Mazi Smith is a name to know. The interior D-Lineman is sixth on the team with 40 tackles. Smith is a force inside plugging up gaps and freeing up his teammates to make stops when he isn't the one registering the tackle himself.
At linebacker, Junior Colson and Michael Barrett run the show. Just a sophomore, Colson leads the team with 73 total tackles this season. Barrett is a far second with 46 total tackles, but he does have two interceptions, one of which he took to the house. Interestingly enough, takeaways have been hard to come by for Michigan this year. The Wolverines have gained only 11 turnovers in 2022, ranking 113th nationally in that department. Fortunately for them, they're up near the top in just about every other category, namely pass defense, where they are fifth in the FBS. Michigan is conceding a mere 161.7 yards through the air per game, and their seven passing touchdowns allowed are tied with Georgia for the fewest given up by any defense this season.
It's certainly the stiffest test Stroud and the Buckeyes will have faced this year. True freshman Will Johnson is the Wolverines' top cover corner, according to PFF. He has as many picks (1) as touchdowns allowed this season (1), and he's given up only 15 catches for an average of 11.4 yards on 30 targets, per PFF. His 6-foot-2 size could come in handy if he's tasked with guarding Ohio State star Marvin Harrison Jr. Of Michigan's corners, senior DJ Turner has been picked on the most, however, he's handled it quite well, allowing 22 catches on 52 targets — a 42.3% reception percentage — plus he has a team-leading eight passes defended. Watch out for safety Rod Moore, who is third on the team with a PFF tackling grade of 84.7 and is second among all Wolverines players with 27 solo tackles.
Special Teams: Two words. Jake. Moody. The Wolverines wouldn't be in this position without their graduate kicker. Moody made all four of his field goals against Illinois, especially the game-winning, 35-yard kick with nine seconds remaining. Three of Moody's four field goals came in the fourth quarter, and he earned Big Ten Special Teams Player of the Week honors for the third time this season. The reigning Lou Groza Award winner is arguably the best kicker in Michigan history. He's 25-of-30 this year with a long of 54 yards.
Brad Robbins handles punting for the Wolverines. He's 11th in the Big Ten in punt average (42.3 yards per punt), and he's got just 12 punts inside the opponent's 20-yard line, but he's the only one in the league without a touchback this season. Wide receiver A.J. Henning is the Wolverine's punt returner. Injury kept him out last week against Illinois, but he's someone to watch for — Henning is tied for third in the Big Ten with 7.4 yards per punt return, and he housed one versus UConn earlier this season.
Numbers to Know
2.82 — sacks per game Michigan has averaged this season, tied for 22nd most in the country.
47.37% — red zone touchdown percentage of Michigan's opponents this season — the Maize and Blue are tied for 15th nationally in that defensive category.
18 — number of rushing touchdowns Wolverines star running back Blake Corum has logged in 2022.
ESPN FPI
The database gives Ohio State a 71.8% chance of beating Michigan in Week 13.
Outlook
This is the first time Ohio State and Michigan have both been undefeated heading into The Game since 2006. It's a matchup of No. 2 and No. 3, respectively. The Big Ten East is on the line. A trip to the College Football Playoff is probably on the line. And, of course, pride is on the line.
If Michigan wins two in a row, suddenly the optics are that the pendulum of has shifted back toward Ann Arbor in a rivalry that's seen both programs stand over the other at times. If Ohio State reclaims bragging rights, Harbaugh's prevailing effort in 2021 could be viewed as an outlier.
It doesn't get better than this. It's a one-score spread for a reason.