Scarlet Sunrise: Resale ticket prices indicate most expensive Ohio State-Michigan game in recent memory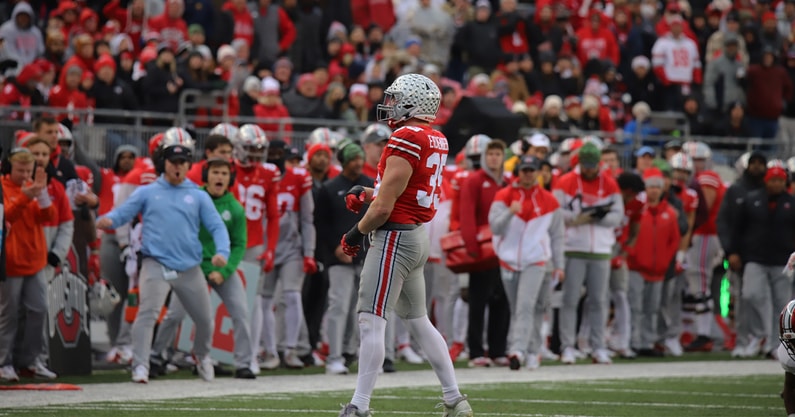 Good morning, Ohio State fans, and welcome to the Scarlet Sunrise. Football will always be our focus, but every day we'll cover news, notes and analysis from across Buckeyes sports. Join us each morning to get caught up on everything you missed in the world of Buckeyes football, recruiting, basketball and more in Scarlet Sunrise.
Resale ticket prices indicate most expensive Ohio State-Michigan game in recent memory
TicketIQ began tracking data in 2011. Since, the average price for resale Ohio State-Michigan tickets has never been higher than it is right now. Here's a look at the cheapest ticket price on the secondary market for The Game over the years, via TicketIQ:
2022 at Ohio State: $380
2021 at Michigan: $337
2019 at Michigan: $183
2018 at Ohio State: $269
2017 at Michigan: $204
2016 at Ohio State: $276
2015 at Michigan: $175
2014 at Ohio State: $160
2013 at Michigan: $80
2012 at Ohio State: $160
2011 at Michigan: $120
The average cost for resale tickets, however, is a staggering $1,583, according to TicketIQ.
Saturday will be the first time Ohio State and Michigan will both enter the rivalry matchup undefeated since 2006. It will also be the first Ohio State-Michigan game in Ohio Stadium since 2018.
Buckeyes, rest of top four stay put in College Football Playoff rankings
As was the case in the AP Top 25 this week, the top-four teams didn't budge in Tuesday's College Football Playoff rankings. Georgia is still No. 1. Ohio State is still No. 2. Michigan is still No. 3. TCU is still No. 4. All four survived scares last weekend.
CFP chair Boo Corrigan was asked if there's conversation, or debate, about TCU's positioning and if the Horned Frogs should be ahead Michigan or Ohio State.
"There's conversation," he said. "Every week we go through it and make sure that the first thing we do is look at 1 through 4 and make sure that we're comparing it and looking at the games from the previous week as well as both offense and defense."
Corrigan continued: "When you look at the balance of Ohio State, the balance of Michigan, TCU is 8-0 against teams above .500, which is really impressive, and it's been impressive to the committee, but again, as we look at their ability to come back in games, where, to a large degree, Ohio State and Michigan have not [had to]. And, as I said last week, that win over Notre Dame by Ohio State is an impressive second wind on top of the Penn State win."
The Buckeyes and Wolverines are two of the three Big Ten teams currently in the CFP rankings. The other is Penn State, which remained at No. 11. That means there are no Big Ten West teams ranked by the committee at the moment.
It's worth noting that Notre Dame continues to climb the CFP rankings and is now No. 15. The Buckeyes beat the Fighting Irish in the season opener. Initially, that triumph didn't look like the top-five win that it was at the time because Notre Dame went on to lose to Marshall and Stanford. But that Ohio State victory has been looking better and better recently.
Here are the top-seven in those CFP rankings, as of Tuesday night:
Georgia
Ohio State
Michigan
TCU
USC
LSU
Alabama
Full coverage of Ohio State preparation for Michigan
Spencer Holbrook, Andy Backstrom and Tim May were back inside the Woody Hayes Athletic Center on Tuesday, discussing The Game in the latest Practice Report presented by Byers Auto. Every Tuesday following the media session with the Buckeyes, Spencer, Andy and Tim will chat about what they saw the previous Saturday and look ahead to what to expect from Ohio State the coming weekend.
After hearing from head coach Ryan Day, defensive coordinator Jim Knowles and a handful of Buckeyes players, the Lettermen Row crew is back for a full report on what it learned.
Tim May Podcast: Tim May, John U. Bacon set scene for historic top-five rivalry clash
Tim May knows the history of The Game better than just about anyone else. And the Tim May Podcast is back for a special edition to break down the rivalry.
This must-listen episode features an interview with John U. Bacon, the author of multiple books about Michigan football. Bacon and Tim discuss this season's top-three showdown, Jim Harbaugh's turnaround the last two seasons and the current state of Ohio State-Michigan in general.
Check it out in the link below and find more episodes of the Tim May Podcast on our YouTube channel.
What's the weather looking like for The Game?
Low of 45º, high of 50º, partly cloudy skies, 60% chance of rain, winds 5-10 mph
Counting down
Buckeyes vs. Michigan: 3 days
Are you subscribed yet?
Are you ready to get all your latest Ohio State news in one place? Become a member of Lettermen Row today. With your Lettermen Row/On3+ membership, you'll not only have access to the everything that's happening with the Buckeyes, but you'll also be able to peruse other fan sites within the network to hear just how rivals are feeling about Ohio State, as well. Make sure to follow along on Twitter, Instagram and on Youtube for all the latest Buckeyes news you need to know.
Already signed up? Don't forget to join us in the Lettermen Lounge to talk about the latest Ohio State sports news.