Scarlet Sunrise: Ohio State announces players of the game from Western Kentucky win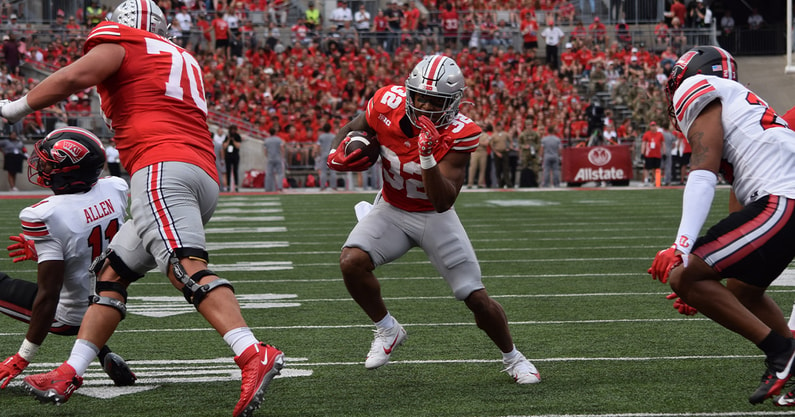 Good morning, Ohio State fans, and welcome to the Scarlet Sunrise. Football will always be our focus, but every day we'll cover news, notes and analysis from across Buckeyes sports. Join us each morning to get caught up on everything you missed in the world of Buckeyes football, recruiting, basketball and more in Scarlet Sunrise.
Ohio State announces players of the game from Western Kentucky win
Ohio State rolled to a 63-10 win over Western Kentucky in Week 3. The Buckeyes thrived on both sides of the ball, forcing four turnovers on defense — two that went for defensive touchdowns — and piling up 562 yards on offense, including a season-high 204 yards on the ground.
It was a successful Notre Dame tune-up in the 'Shoe.
As always, Ohio State recognized its players of the game Sunday: running back TreVeyon Henderson (offense), cornerback Denzel Burke (defense) and defensive end Caden Curry (special teams).
Henderson: For the second game in a row, Henderson found the end zone twice. He rushed for a season-high 88 yards on 13 carries. His touchdowns came on runs of 21 and seven yards in the first two quarters of the game.
Burke: The standout cornerback's impressive junior season continued against WKU. A week removed from ending the Ohio State cornerback interception drought, Burke created another takeaway against the Hilltoppers, this time forcing his first career fumble. He also recorded two pass breakups.
Curry: Curry has been seeing a good bit of action at defensive end this season, but he made an impression on special teams last year. And the sophomore has built on that reputation early this season, especially this past Saturday when he earned a 71.8 Pro Football Focus special teams grade — his best mark of 2023 in that department — after logging 12 snaps in that phase of the game.
Ohio State stays put in Week 4 AP Poll after rolling past Western Kentucky
Ohio State didn't move up or down in this week's AP Top 25. The Buckeyes are holding steady at No. 6, despite looking their best this season in their 53-point win over Western Kentucky.
Some notable movement: Florida State dropped from No. 3 to No. 4 after getting a scare at Boston College; Alabama fell out of the top 10 for the first time since 2015, sliding to No. 13 with an underwhelming win at USF; Oregon cracked the top 10 following a beatdown of Hawaii; and Tennessee plummeted 12 spots to No. 23 after losing to now-No. 25 Florida.
Here's a look at the top five, and Ohio State, which is on the outside looking in right now:
Georgia
Michigan
Texas
Florida State
USC
Ohio State
To get the complete Week 4 AP Top 25, go here.
Buckeyes already preparing for 'matchup game' at Notre Dame
As soon as Ohio State walked off the field after beating Western Kentucky in Week 3, the Buckeyes shifted their attention to No. 9 Notre Dame.
It's their first "matchup game," after all. The Fighting Irish will host Ohio State for the first time since 1996, and the stakes of the top-10 showdown are just about as high as they could be at this point of the season.
Ohio State is well aware, and that's why preparation for the Week 4 contest in South Bend started Saturday night.
For the full story, head on over here.
RELATED
True freshmen Carnell Tate, Jermaine Mathews Jr. show glimpse of Buckeyes future in blowout
Ohio State combined for three points in the fourth quarter the first two weeks of the season. Then the Buckeyes scored two touchdowns in the final frame over the weekend against Western Kentucky.
They can thank wide receiver Carnell Tate and cornerback Jermaine Mathews Jr. for that — the pair of true freshmen found the end zone in the last stages of the lopsided victory.
It was a glimpse of Ohio State's future at two marquee skill positions.
For more on that, go here.
Counting down
Buckeyes vs. Notre Dame: 5 days
Buckeyes vs. Michigan: 68 days
Are you subscribed yet?
Are you ready to get all your latest Ohio State news in one place? Become a member of Lettermen Row today. With your Lettermen Row/On3+ membership, you'll not only have access to everything that's happening with the Buckeyes, but you'll also be able to peruse other fan sites within the network to hear just how rivals are feeling about Ohio State, as well. Make sure to follow along on Twitter, Instagram and on Youtube for all the latest Buckeyes news you need to know.