Ryan Day asked about Jim Harbaugh's 'third base' insult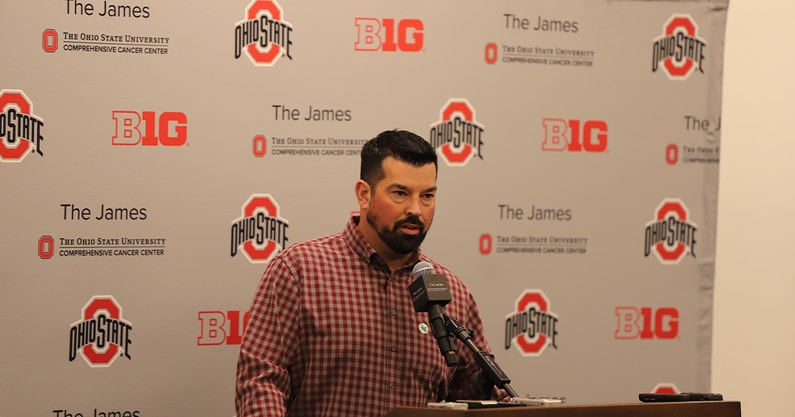 COLUMBUS — Ohio State head coach Ryan Day was asked about Michigan head coach Jim Harbaugh's infamous "third base" insult Tuesday in the Woody Hayes Athletic Center.
"I'm not going to talk about it right now," Day said. "Maybe there's another time to hit on that. But, like I said, there's certain things you listen to. There's certain things you don't. And any time you're in a high-profile game with a lot of stuff going on, there's a lot of things said. But there's a time and a place to talk about that.
"It's not now."
Harbaugh got the monkey off his back last year, beating Ohio State for the first time in seven years as Michigans' head coach.
Following the 42-27 win in Ann Arbor, Harbaugh took a jab at Day, who reportedly told his players in a 2020 fall camp team meeting that the Buckeyes were "going to hang 100" on Michigan — a statement that came on the heels of a heated back-and-forth Big Ten coaches conference call that reportedly saw Harbaugh accuse Ohio State of breaking on-field instruction rules.
So when Michigan defeated the Buckeyes in the Big House a year and a half later — the teams didn't play in the COVID-19-affected season — Harbaugh used the opportunity to counterpunch.
"Sometimes people that are standing on third base think they hit a triple, but they didn't," Harbaugh said.
Day and the Buckeyes haven't lost since, stringing together 12 straight wins, starting with a Rose Bowl victory over Utah. Now, Ohio State and Michigan are No. 2 and No. 3, respectively, and are facing off in the rivalry's first undefeated-v-undefeated bout since 2006.
Harbaugh was asked Monday if the back-and-forth shots between him and Day the last few years are good-hearted rivalry talk.
"I guess," Harbaugh said. "Kind of irrelevant is what I think. I think it's irrelevant."
Harbaugh emphasized that there's "no need for hate" in the rivalry.
"It's about being grateful," he said. "It is Thanksgiving week. Grateful for this opportunity. These circumstances. Grateful to be tested against this opponent at this time."