Dotting the 'Eyes: Ohio State pushing for Wandale Robinson, St. Louis wideout likes Brian Hartline
Aritcle written by: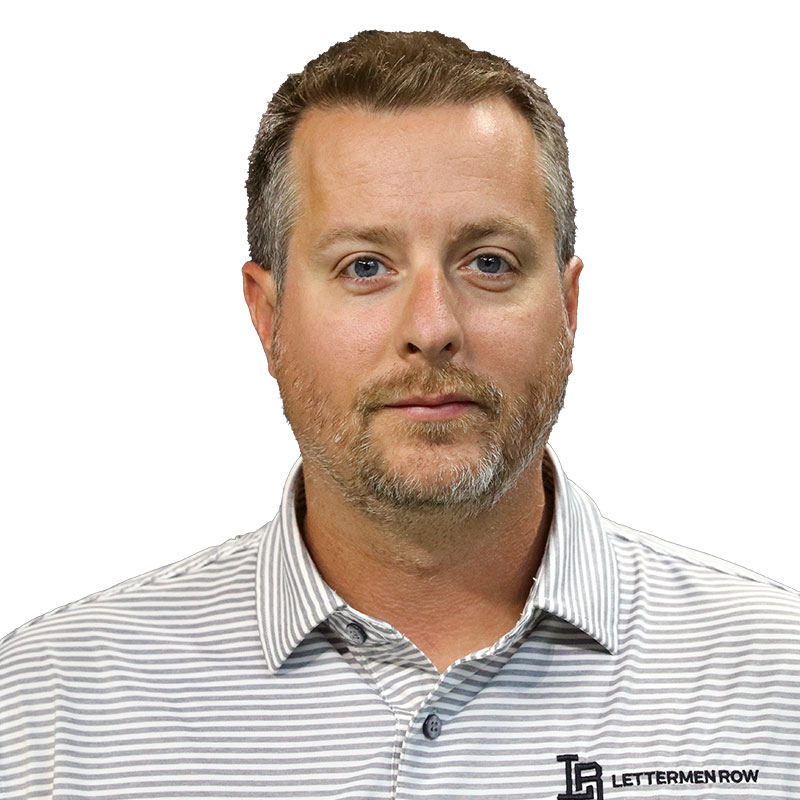 Jeremy Birmingham
Birm
Stay in touch or be left out because Ohio State recruiting is a 24-hour, seven-day-per-week obsession. What's the latest news as the Buckeyes build for the future? Get that and more Monday through Friday on Lettermen Row.
Brian Hartline, Ohio State pushing for Wandale Robinson
Ohio State has just one commitment from a wide receiver in the Class of 2019 despite being quite positive that at least four big-time contributors will be leaving the program following the 2018 football season.
That makes a player like Frankfort (Ky.) 4-star athlete Wandale Robinson pretty important at this point. The problem when it comes to his recruitment as it pertains to Ohio State is that Robinson himself hasn't always felt important to the program. That's changing as new wide receivers coach Brian Hartline continues to work double time on building a bond with the 5-foot-9, 175-pound star of Western Hills High School.
"[Contact] has gone way up," Robinson told Lettermen Row."I really like Coach Hartline, he's really detail oriented and he's been recruiting me really hard.
"We have discussed an official visit but have not set a date."
This is where things get tricky for the Buckeyes as they jump back into the mix for Robinson. He's already taken official visits to Michigan and Purdue, and has plans in September to head to Nebraska (Sept. 1) and Alabama (Sept. 22). He's not hidden the fact that he wants to make a college decision by the end of September or in early October, so if the Buckeyes are going to host him for an official visit during a game weekend, it almost has to be Sept. 8 when Ohio State hosts Rutgers.
Does Ohio State really have a chance here? There are variables in play for the Buckeyes that simply aren't in play anywhere else, and Robinson is honest that they're affecting how heavily he's considering Ohio State as opposed to Michigan, Alabama, Purdue, Kentucky and others.
"If Urban Meyer stays as the head coach, I'll still consider them heavily," he said. "Coach Hartline as the receivers coach helped a lot."
If there's no decision made on the Meyer front by the beginning of September, it's likely that the country's fourth-ranked all-purpose running back heads anywhere but Ohio State, which views him as a slot receiver and return man. He last visited the Buckeyes in June and was a fan of what he saw there, but now it's just a waiting game to see what happens.
"I really like the message they gave to me with the different things I can bring to their offense," he said. "Just how they are as a football program and everything they stand for."
Ohio State target Jordan Johnson gets to know new faces
Staying at wide receiver, but moving to the Class of 2020, we'll talk about St. Louis (Mo.) DeSmet High School 4-star Jordan Johnson briefly.
Johnson was one of the key underclassmen visitors that made a trip to Ohio State for Friday Night Lights at the end of June. And he was a prospect that former wide receivers coach Zach Smith had made a strong early connection with in the process.
"I had been talking to Coach Smith for a couple of weeks," Johnson said. "He was my dude, and it sucks what's been happening. Coach Hartline reached out to me. I like him. He seems like he has good energy."
Now Johnson, the country's No. 48 overall prospect in 2020, has to find a way to grow his relationship more with Hartline. That will be easier when Sept. 1 rolls around and the lines of communication between coaches and 2020 players open up, but the biggest key is a return visit to the school. The 6-foot-2, 180-pound wide receiver wants to do that in late November.
"I kind of have a visit planned," he told Lettermen Row. "I want to be able to get up there and see the game against [Michigan]."
Doug Nester's leadership role expanding
It's getting closer to football season, and that means more chances to tell the tales of players from around the country stepping into the spotlight and becoming better players, people and leaders.
On Tuesday, we talked about Ohio State commitments Harry Miller and Sampson James. Tonight, we'll head to Huntington, W.Va., the home of future Ohio State offensive lineman Doug Nester.
Nester became the first commitment in the Buckeyes 2019 class back in the summer of 2017, and since then he's tried to maintain a relatively low profile. He's a private, almost shy, kid. But as he gets closer to college, he knows he will have to break out of his shell a bit. That's one reason why his senior season is important. It's time for Nester to step into a leadership role right now for the Spring Valley High School.
From Larry Butcher of the Herald-Dispatch:
Leading Spring Valley back to Wheeling is Nester's focus. Nester said he welcomed a leadership role and wanted to fill in the shoes of former teammate Owen Porter, a freshman defensive lineman for the Marshall Thundering Herd.

"Owen was our alpha dog," Nester said. "I'm trying to take his spot and trying to get everyone to just hop on the train. Last year I took it on a little bit but its hard to do it all the time, really."
Nester is a well-liked guy, and he's not really that shy. But he isn't a young man that opens the door to his mind for everyone. You've got to know him for him to trust you, but when he does, he's a supportive, uplifting teammate, something that endears him to others.
"People gravitate to Doug," Dingess said. "Owen was one of the most-vocal players I've ever had. Doug is more encouraging with his words. He won't get in peoples' faces. He's a positive guy."
That change for Nester is a positive step for his future at Ohio State. Give Butcher's whole story a read, it's worth it.
Need more Ohio State recruiting? Check out the Lettermen Row forums and let us know what's on your mind. Don't forget to sign up for the tri-weekly recruiting newsletter, just in case there's anything you've missed during the week.