Dotting the 'Eyes: Jaden McKenzie rumblings, new 2020 offers extended
Aritcle written by: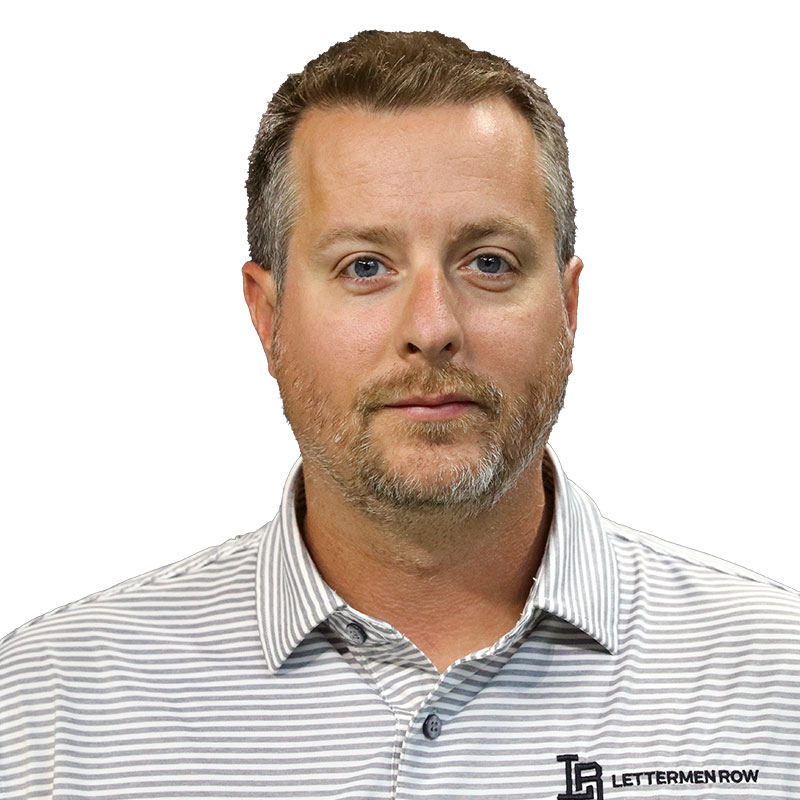 Jeremy Birmingham
Birm
Stay in touch or be left out because Ohio State recruiting is a 24-hour, seven-day-per-week obsession. What's the latest news as the Buckeyes build for the future? Get that and more Sunday through Thursday on Lettermen Row, including tonight's discussion about Jaden McKenzie and an update on a handful of new 2020 offers sent out by the Buckeyes.
Jaden McKenzie becoming a real option for Ohio State?
Months ago, I added Wake Forest (N.C.) 3-star defensive tackle Jaden McKenzie to the Lettermen Row "most wanted" list for Ohio State's 2019 recruiting class. He was actually removed from that list in November when it seemed unlikely he'd make an official visit to the Buckeyes, but when he did at the end of November, he was placed right back on the list and had moved up considerably.
As of Thursday morning, I would add him to my 247Sports.com crystal ball list for the Buckeyes.
McKenzie, 6-foot-3 and 285-pounds, is the 40th-ranked player in the state of North Carolina. But he's a player who was identified by Larry Johnson months ago as the type of prospect who could thrive in the Ohio State defensive system. As noted, he visited for the game against Michigan and Johnson has made two visits in the last two weeks, including a Wednesday night trip with Ryan Day.
If that doesn't indicate where McKenzie sits on Ohio State's priority list, nothing will.
The majority of the buzz around McKenzie had been with North Carolina for months, and sources close to the Buckeyes were skeptical that he'd be willing to leave home. But in recent weeks, that stance has softened, and there's now real optimism he could be the defensive tackle option Ohio State has been seeking.
As I've written a bit here recently, there have been four primary targets at that spot: McKenzie, Cavon Butler, D'Von Ellies and Jared Harrison-Hunte. In my opinion, McKenzie has been the preference of that group, and it's been likely the Buckeyes would only take one of them in the class of 2019. Cavon Butler, the Kentucky commit from Toledo, confirmed as much on Wednesday.
If I had to wager guesses on what happens from here, it'd be this: McKenzie to Ohio State, Butler to Michigan State or Kentucky and Ellies and Harrison-Hunte to Penn State.
As for McKenzie, he's been incredibly lowkey about his recruitment from the start, so I don't know that I'd expect any kind of announcement out of him prior to signing day. There's also no doubt that North Carolina and new coach Mack Brown are going to work overtime to keep him home.
That's the asterisk, of course: It's recruiting, and it can change in the blink of an eye.
Bangally Kamara continues to hear from Ohio State
Ohio State hosted East (Akron) High School 2020 safety prospect Bengally Kamara for two separate games this season. The latest trip was The Game against Michigan.
"It meant a lot to be invited to that game," Kamara told Lettermen Row. "It was phenomenal, the atmosphere was amazing."
The news of Urban Meyer's retirement came as quite a shock to 6-foot-2, 190-pound Kamara.
"It was a major surprise to me," he said. "[Ohio State linebacker coach Bill] Davis said that they will still be recruiting me and nothing is going to really change.
"He said the recruiting process is getting further along. He came up to the school last week and was telling me about the Urban Meyer situation."
Ohio's 31st-ranked 2020 prospect has not had a chance to meet Ryan Day, but he's been kept informed of the lack of major changes so far at Ohio State — including with the role as linebackers coach for Davis.
"I haven't met Coach Day yet, but you don't become the head coach at Ohio State if you're not a great coach," he said. "And Coach Davis said he would be staying."
Michael O'Shaughnessy eager to get to Ohio State
Few folks love punters more than Ohio State fans, so they should be glad to know that New Albany punter Michael O'Shaughnessy is still planning on signing with Ohio State despite Urban Meyer's retirement. Growing up a fan made it all that much easier when deciding between Ohio State and his other options.
"The hardest part for me was figuring out where I think I will become the best possible person and player I can be out of all my choices," O'Shaughnessy told Lettermen Row. "Growing up being a die-hard Buckeyes fan, I believed that Ohio State was the best choice to satisfy both of those.
"I kind of expected [Meyer's retirement], so I wasn't surprised, but I was a little disappointed that I wouldn't be able to be coached by one of the greatest coaches of all time. I am still super excited that I have the opportunity to play for Ohio State and I think Coach Day will be a great coach moving forward. The Buckeyes will continue to dominate in years to come."
O'Shaughnessy is regarded by Chris Sailer Kicking as a 5-star punter prospect with an ideal frame for a Division I punter. He's accepted his opportunity with Ohio State as a preferred walk-on, knowing he's likely in line to be placed on scholarship when Drue Chrisman's eligibility is gone after the 2019 season. He will enroll in classes and start his Ohio State career on June 22.
"It is a dream come true, to put it simply. I can't really put it into words how excited I am. I have been a Buckeye fan for as long as I can remember and it is crazy that I will be on the team in the Horseshoe next year," O'Shaughnessy said. "I'm extremely excited, and this just goes to show you that lots of hard work will help you achieve your dreams."
Ohio State offers a handful of young prospects 
The coaching staff has been all over the country in the last ten days, and Ohio State handed out a number of offers to talented young prospects on Wednesday.
The first was to 5-star star receiver Johnny Wilson from Calabasas (Calif.). Wilson is the country's 22nd-ranked prospect in the Class of 2020.
Blessed to say I have received an offer from THE…Ohio State University!!! 🌰 #GoBucks #Wavy20 pic.twitter.com/78stJwP74P

— Johnny Wilson (@jjohnnywilson) December 12, 2018
Ohio State also offered a pair of Indiana offensive linemen, Avon's Blake Fisher and Beech Grove's Josh Fryar. Fryar is a 3-star prospect who visited the Buckeyes in October and is the Hoosier State's third-ranked prospect in the Class of 2020.
Blessed and Honored to receive an offer from THE Ohio state university🌰🌰@CoachStudOL @ryandaytime @OSUCoachKDub pic.twitter.com/ucgf9KMH1d

— Josh Fryar (@joshfryar2) December 12, 2018
Fisher is — pardon the pun — a big fish. He's Indiana's top-ranked 2021 prospect and an early top-100 player out of Avon, the same school that produced former 2019 commit Sampson James. It will be challenging for Ohio State to pull him out of Indiana as Notre Dame is already heavily involved. But the pieces are in place to make a run at him.
Blessed to receive an offer from The Ohio State University. I would like to thank @OSUCoachKDub @CoachStudOL @ryandaytime for this opportunity. #BuckeyeNation⭕️⚪️⚫️ pic.twitter.com/NUaFu2bTP7

— Blake Fisher (@bfisher54_) December 12, 2018
The Buckeyes also offered a 2020 tight end on Wednesday. His name is Lukas Ungar, and he's a 4-star prospect from Morristown, N.J.
Excited to receive an offer from THE Ohio State University!! #B1G @OSUCoachSchiano @alexgleitman @RivalsFriedman @OhioStateFB pic.twitter.com/4pm5IFfDRH

— Lukas Ungar (@lungar13) December 12, 2018
Ungar is the country's 5th-ranked 2020 tight end and the second player at that position offered by Ohio State.
Lettermen Row will have more on these players in the near future.
Commits Big Board after Urban Meyer retirement
As of 4:00 p.m. on Thursday, here's where things seem to stand with the Buckeyes and their current crop of 2019 and 2020 commitments.
Decommitments
2020 offensive lineman Jake Wray
2020 defensive back Lejond Cavazos
Here's where things are with the other commits already in the mix.
2019 QB Dwan Mathis: Solid.
2019 RB Steele Chambers: Solid. Will take second official visit in January and plan to sign in February.
2019 RB Marcus Crowley: Solid.
2019 WR Garrett Wilson: Solid.
2019 WR Jameson Williams: Solid.
2019 TE Cormontae Hamilton: Solid.
2019 OL Ryan Jacoby: Solid.
2019 OL Doug Nester: Some concern, took Ohio State official visit but Virginia Tech, Georgia and Penn State remain threats.
2019 OL Harry Miller: Solid.
2019 DL Noah Potter: Solid.
2019 LB Cade Stover: Solid.
2019 DB Bryson Shaw: Solid.
2019 DB Ronnie Hickman: Solid.
2019 DB Craig Young: Solid.
2019 DB Jordan Battle: Some concern. Ryan Day makes in-home visit Thursday night and a final decision could come soon after.
2020 QB Jack Miller: Solid.
2020 RB Darvon Hubbard: Some concern.
2020 WR Jaxon Smith-Njigba: Solid.
2020 OL Paris Johnson: Mostly solid, but likely to make other visits while he gets to know Ryan Day.
2020 OL Luke Wypler: Solid.
I'll continue updating this list as changes happen.